Roche's Aphinity Succeeds, Boosting Breast-Cancer Business
By
Swiss drugmaker plans to discuss study results with regulators

Shares gain 6.9 percent on optimism of cancer sales boost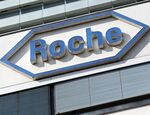 Roche Holding AG's breast cancer medicine Perjeta succeeded in the drugmaker's most hotly anticipated patient study, a key step for a franchise that could exceed $9 billion in sales by 2021. The stock soared.
Patients who took Perjeta alongside chemotherapy and Roche's long-used drug Herceptin after surgery for early breast cancer faced a lower risk of dying or seeing tumors return than those on the older treatments alone, the Swiss drugmaker said in a statement Thursday. Roche didn't disclose the magnitude of the benefit, which doctors and regulators will scrutinize to determine whether and how to change treatment for thousands of women.
Success was vital for Roche to defend its breast cancer franchise as Herceptin, the company's second-best seller, faces its first competition from cheaper copies. Some 70 percent of the drugmaker's $6.8 billion in Herceptin revenue last year came from patients who might benefit from the combination tested in the trial, dubbed Aphinity. Sales of Herceptin and Perjeta could reach $9 billion by 2021, analysts estimate.

Now investors will wait for the full study data to be released at a medical conference this year -- perhaps the American Society of Clinical Oncology's meeting in Chicago in June -- in order to read the tea leaves on exactly how successful the new combination could be, said Tim Anderson, an analyst for Sanford C. Bernstein & Co. in New York.
High Hurdle
"Some degree of hand-wringing will likely continue," Anderson wrote in a note to clients.
Roche shares surged as much as 6.9 percent to 262.90 Swiss francs in Zurich trading, the biggest gain in almost eight years. They were up 5.4 percent at 10:35 a.m. local time. The stock had gained 5.7 percent this year prior to today, tracking a 5 percent increase in Switzerland's SMI Index.
The trial had a high hurdle to clear: Since it was introduced in 1998, Herceptin has transformed treatment for women with an aggressive type of early breast cancer, essentially curing more than four out of five patients in that specific group when used with chemotherapy after surgery.
In order to gain wide usage, the Perjeta combination will probably need to ensure that 92 percent to 94 percent of women in the trial live at least three years without breast tumors returning, said Jeffrey Holford, an analyst with Jefferies LLC in London. That's because Herceptin and chemotherapy alone have shown a three-year disease-free survival rate as high as 90 percent, Holford said. The big improvement will be important, because at current prices, adding Perjeta more than doubles the cost of treatment to about $10,000 per month, the analyst wrote in a note to clients.
Roche looks forward to discussing the research with regulators, Sandra Horning, the company's chief medical officer and head of global product development, said in the statement. The drug's safety profile was consistent with previous studies, Roche said.
Like Herceptin, Perjeta targets patients with a mutated gene called HER2, which appears in about one-fifth of the 1.7 million people diagnosed with breast cancer around the world each year. The new drug won U.S. approval in 2012 for HER2-positive tumors that have spread.
Before it's here, it's on the Bloomberg Terminal.
LEARN MORE