Norman Foster on Taking the Torture Out of Flying
The British starchitect believes airports should quicken the pulse as well as soothe.
By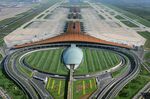 Cities have leveled mountains and dredged harbors for architect Lord Norman Foster and his airports. His firm, Foster + Partners, has designed them for Beijing, Hong Kong, London, Panama City, and Amman, Jordan. Soon the firm—which also recently designed the London headquarters of Bloomberg LP—will add Mexico City to its list of air terminals. That hub, conceived in partnership with the Mexican architect Fernando Romero, isn't scheduled to be completed until 2020, but the renderings adorning kiosks in the existing airport show a building that resembles a spaceship. It will be a feat of engineering: The largest space under its Buckminster Fuller-esque glass ceiling spans more than 170 meters, or 558 feet.
Reached by phone in Madrid, Foster talked with Bloomberg's James Tarmy about what separates a good airport from a bad one and, more important, what travelers can expect from the airport of the future.
 
What do you want out of an airport?
Traveling is a kind of tense affair. It quickens the pulse—and, statistically, the incidence of heart attacks is high in airports. Anything that makes that experience more delightful and more relaxing, more calming and more pleasurable, is in that sense the goal.
 
How is that achieved?
Why don't I start with the first airport I was asked to do [Stansted, England, completed in 1991]. The guy who handed out contracts at the British Airports Authority, an engineer named Norman Payne, said, "Just thinking about a new generation of airports: If you had a clean sheet of paper, what would you do?" And so I said, "Wouldn't it be nice if we could see the sky and had natural light? And wouldn't it be great if you could see if it was cloudy or rainy or the sun was shining?
 
Seems uncontroversial.
Airports are deep and not very permeable. They rely on a blind man's bluff to guide you. But what if you could see the scenery outside? In an ideal airport, you move through it seamlessly—it's navigable, and it's intuitive.
 

 
I'm not sure I've been in a totally intuitive airport, ever.
There's nothing more disconcerting than this feeling of helplessness, of being lost in a maze. It might be one thing to be lost in a maze on the grounds of a country house for pleasure, but if you're lost in an airport and looking at your watch and searching for your departure gate, that disorientation is disturbing. It's not an accident that it's used as a form of torture in its more extreme cases.
 
There's a certain irony—that you're laboring to open up airports just as air travel has become even more miserable for everyone who steps on a plane.
Historically, whether they're train stations or airports or seaports, they're gateways to a nation, and they do have highly symbolic qualities. They were all celebratory, even if your destination was a metal tube. Even when you boarded great ships with their grand decks, you eventually ended up huddled in a cabin, so there is a historic continuity here.
 
Which airports, excepting your own of course, do you admire?
It's at a small scale, but the Dulles Airport that Saarinen designed in Washington, D.C., with the concept of the mobile lounge was truly radical then, and would almost be radical at any time. I think that Tempelhof (in Berlin) is also an inspirational example from the past. If you look at images of that vast cantilever, where aircraft would drive underneath this huge protective roof, I think that this was bold and farsighted in its time.
 
That's an unexpected choice, no?
I'm aware that any conversation of that airport, depending on the company you're in, can be contentious, because it was born out of a rather difficult historical period. But the architecture transcends.
 
And on the flip side, which airports do you abhor?
The trouble is, if I tell you, you'll quote it, and I think you know the airports without my naming them. It's no secret that as a research project we've been promoting [a Thames] estuary airport. [Heathrow] can do a Band-Aid here and a Band-Aid there, and at a certain point you're getting diminished value, and at a certain point you have to make a fresh start. You would never put Heathrow where it is now.
 

 
So the Mexico City airport is designed to avoid these mistakes?
Mexico is one of those radical moves. Instead of having a horizontal roof and vertical walls, we've elected to create a kind of continuous skin, a membrane which can be a wall, a roof, a link to the aircraft. It takes those positive qualities I've described and lifts them one step further.
 
Presumably you didn't know travel would be so politicized when you began your designs. Nevertheless, the resonance of a giant global airport in Mexico is hard to avoid.
I know what you're referring to, but the politics of a nation are cyclical. A globally connected world is not going to suddenly become a series of separate islands. We're not going to close down airports in the U.S. or U.K., either. There's no way. You can't disconnect a connected world in one political cycle that's four years or eight years. It's a blip in economic and social history.
Before it's here, it's on the Bloomberg Terminal.
LEARN MORE