You Can't Escape The Movie Toys This Year
Almost a third of action figures, race cars, and spaceships are tied to Hollywood. But with 25 movies shilling fun stuff, 2017 will be unprecedented.
By and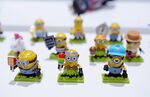 Three giant yellow minions were bobbing to and fro at the New York Toy Fair last week, posing for photos with kids in a showy promotion tied to the next iteration of Despicable Me. Minion dolls and plush toys sat on display next to singing minions and mystery minion packs. Children cheerily bashed remote-controlled minions into each other on the floor. 
It's the biggest line of Despicable toys yet, hitting stores alongside the third installment of the animated series starring Steve Carell as the comical voice of a former supervillain-turned-good guy. Elsewhere in the room, Universal Pictures Ltd. showed off the rest of its toy lineup, such as its Fast & Furious cars and action figures, Mummy figurines, and colorful Trolls with blazing hair.
A typical year sees seven or eight movies with toy tie-ins. This year, there are about 25—an unprecedented number for the $20 billion toy industry. Among them: three Marvel Comics titles, two Lego movies, two DC Comics films, Cars 3, another Pirates of the Caribbean, one more Transformers, a new Smurfs, and the live-action reboot of Beauty and the Beast. 
"This is the studios leading the charge," said Jim Silver, a toy industry veteran who runs the website TTPM. "Making movies that are family-oriented—that kids want to play out at home—[is] becoming a major revenue stream."

Once, the Walt Disney Co. was the champion of fashioning playthings from films, squeezing dollars out of such lucrative franchises as Disney Princesses, Marvel, and now Star Wars. Its Pixar movies have long done well with toys. Now Warner Bros., Universal, Fox, and others are jumping on board—with some help from the master.

Executives trained in Disney's merchandising arts can be found at the upper reaches of those other studios. In 2014, Universal brought on ex-Disney global toy head Vince Klaseus to oversee its consumer products and games. Last year Warner Bros. put former Disney executive Pam Lifford in charge of its consumer products operations and enlisted former Disney fashion and home executive Soo Koo as chief creative officer. This January, Fox hired Disney veteran Jim Fielding to lead consumer products for 20th Century Fox.
The barrage of licensed toys this year is such that the Toy Industry Association added "movie mania" as one of its 2017 trends, a list of industry-defining topics it releases every year during toy fair. "[This] is a huge year for family friendly movies," said Adrienne Appell, the association's spokeswoman. Because many movies are being released early in the year, it could help bolster toy sales prior to the holiday season, she added. "The majority of toy sales do occur in the fourth quarter, but a movie earlier in the year can drive people to the toy aisle," she said.
A big movie can also help boost the entire licensed toy industry. Year over year, licensed toys make up roughly 30 percent of all toy sales, according to market researcher NPD. When Star Wars: The Force Awakens came out in 2015, however, licensed toys represented 31.3 percent of the industry. The following year it dipped to 29.6 percent.

That might be an incremental change, but in an industry worth more than $20 billion, it means a lot of action figures, plushies, and swipes of your credit card. 
This year "does feel very heavy in terms of the number of movies out. But some movies simply are ... more 'toyetic' than other movies," said Juli Lennett, toy analyst for NPD. "Cars is a very toyetic movie. Star Wars, Transformers, those kinds of movies." With the year packed with these toyetic movies, sales for licensed products could be as strong as they were during 2015. 
Oddly, movies that parents like but might not be appropriate for children, such as Fast and Furious and Mummy, are also helping toy sales. Parents who are fans of the series are more likely to buy their children a toy from that movie, Lennett explained. At a preview of the toy line, Universal displayed a slew of Vin Diesel movie-themed products, from small toy cars for children to collectible vehicles for adults and an apparel line. 
"Our toy offering is expanding," Julian Montoya, vice president of global toys for Warner Bros. Consumer Products, said. "Films drive a lot of demand from consumers and retailers, which in turn generates more demand across our television and classic franchises."

Lego also experiences a bigger boost when a movie becomes a hit. Branded LEGO content "fares very well across franchises" and has a "halo" effect for the company, Michael McNally, senior director of brand relations at Lego, said. He cited The LEGO Movie, which premiered in 2014: "We saw a rise in sales across our overall brand, not just the one theme."
He added that the company hopes the just released LEGO Batman movie will have a similar knock-on effect.
There's also the reverse license, of sorts. When a toy is really successful, the manufacturer puts out entertainment to match it, such as Shopkins, makers of small collectibles, which introduced a web series. 
In recent years, Hasbro Inc. has produced nine live-action feature films based on toys, including Battleship, Ouija, G.I. Joe, and Transformers. Other toymakers have released dozens of direct-to-video releases or television films for such dolls as Mattel's Barbie, Monster High, and MGA Entertainment's Bratz. This year, the Lego Ninjago Movie, My Little Pony: The Movie, and the latest Transformers movie are all born of toys.
"The price to go to market for content has changed quite a bit because of the YouTube and Netflix type of avenues," Lennett said. "We do know that content is helping to drive toy sales." Appell echoed the sentiment: "We're seeing toy companies really act as entertainment companies in a lot of ways."
Before it's here, it's on the Bloomberg Terminal.
LEARN MORE