Macron Offers Something for Everyone in French Policy Plan
By and
French front-runner holds two-hour presentation in Paris

Slaps at legal problems of main rivals Fillon and Le Pen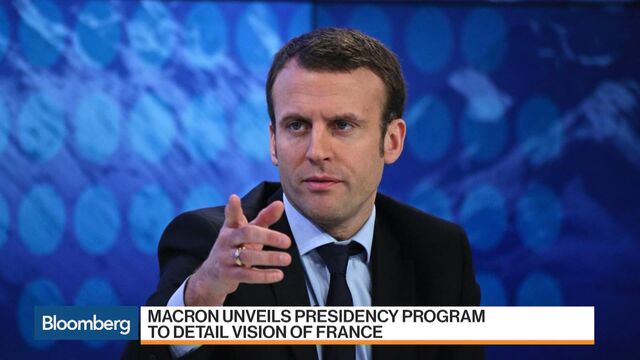 French presidential front-runner Emmanuel Macron presented a platform that calls for cutting costs and bureaucracy to boost hiring, and promoting investment in what he called the economy of the future.
Macron has been under fire from rivals for what they say has been the vagueness of his program. In a two-hour presentation on Thursday, he detailed his proposals in what he termed six main priorities: education, work, economic modernization, security, democratic renewal and international engagement.
Analysts say that so long as he can beat Marine Le Pen and maintain France's engagement in the European Union, that will be reason enough to buy French assets.

"The most important is the commitment to the EU," said Jens Peter Sorensen, chief analyst at Danske Bank A/S in Copenhagen. "For the market it's all about campaign and politics. In terms of pricing it is the polls that are important."
Macron says he'll slash the cost of labor and raise take-home pay through reductions in payroll taxes, unify France's disparate pension systems, encourage labor negotiations at the company level, but wouldn't raise the retirement age or cut pensions. He announced plans to trim class sizes, give more independence to schools, and subsidize access to more culture for young people.
"Everyone will ask if it's a program of the left or of the right," he said. "I want it to be a program that brings France into the 21st century. It's essential to liberate sectors of our economy, but at same time to provide protections for all."
French bonds rose for a second day, with the 10-year spread over German bunds narrowing by 2 basis points to 62 basis points as of 3:40 p.m. in Paris.
The Republican team working with Macron's rival Francois Fillon, currently in third place, blasted the centrist for his tepid economic approach.
"It's totally unclear on pensions: Macron says nothing will change, not the retirement age and not the level of pensions," former Budget Minister Eric Woerth told journalists. "But someone has to explain to the French that living longer means working longer."
'Back to the Past'
On security, an issue where he's often considered less credible than his two main rivals, Macron said he'd hire more police, increase military spending to 2 percent of gross domestic product, and create a unified domestic anti-terrorism intelligence unit.
For a table of French presidential election voting intentions, click here
Polls show Macron running just behind anti-euro candidate Le Pen for the April 23 first round of the elections, then easily beating her in the May 7 run-off. Macron, who set up his own, centrist political movement last year, has extended his lead in recent weeks over Fillon, who had been in second place until hit with graft allegations in January. Le Pen is also facing charges of misuse of public funds, and both she and Fillon have blamed their legal woes on what they say is a politicized judicial system.
"Two candidates have not only presented programs that pull the country back into the past, but have also decided to attack the rule of law by calling our justice system into doubt," Macron said.
Buy European
On Europe, the former economy minister said he wanted greater integration of defense forces and energy markets, and would introduce a "Buy European Act" to limit public contracts to companies with at least half their operations in Europe. In negotiations with Britain over its departure from the EU, he said he'd "defend the integrity" of the single market.
QuickTake How You Should Read French Election Polls
"We need to propel the euro zone forward," he said. "The French-German partnership is the motor of the euro zone. I propose to restore the credibility of France in the eyes of the Germans to be able to convince them of the need for a relaunch of growth."
While Macron officially unveiled his platform Thursday, most elements had already been presented in months of interviews and other media appearances.
His other policy proposals include:
* a cut in corporate income tax to 25 percent from 33.3 percent, shifting the wealth tax to property only, introducing a flat 30 percent tax on capital gains, and abolishing a local poll tax for four-fifth of households
* a 50 billion-euro ($53 billion) investment program, with funds to promote renewable energies, upgrade agriculture, and support training and medical innovation
* a 10 billion-euro fund with state holdings of publicly traded companies to finance "industry of the future"
* no further restrictions on Muslim-style head-scarves in schools and universities. All the same, he would dismantle any group that used religion to justify not respecting French law, and would strictly enforce the equality of the sexes
* a cut in the number of deputies and senators, term limits, and merge some regional administrations. He's also studying ways to introduce of some degree of proportional representation
* loosening administrative rules and introducing a "right to err" that would eliminate fines for minor bureaucratic transgressions
Before it's here, it's on the Bloomberg Terminal.
LEARN MORE