technology
Greece Is Serious About Joining the Space Race
By
Greek space agency to coordinate public, private institutions

Agency said to create numerous new jobs for Greek scientists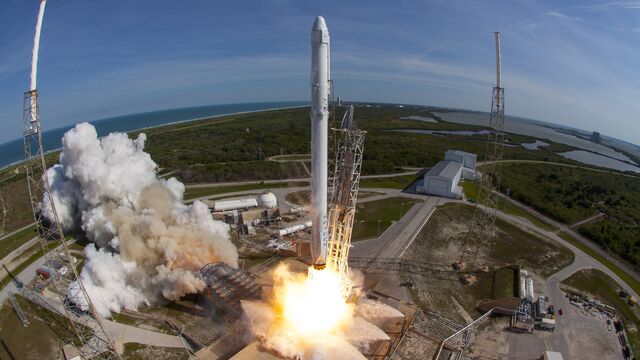 Nikos Pappas, Greece's Minister of Digital Policy, Telecommunications and Media, is serious about going into space.
"Greece is one of the few European countries that was lacking a space agency," Pappas said in an interview with Bloomberg at Mobile World Congress in Barcelona this week. "The Greek space agency will coordinate public and private institutions in order to make best use of the country's capabilities in the sector of space and satellite applications."
The launch of the space agency is part of the Greek government's drive to stem the country's brain drain. Since the start of the crisis in 2008, Greece's Central Bank estimates around 427,000 educated Greeks have left the country. The new agency will "create numerous new jobs, offering opportunities to Greek scientists to either stay or come back to the country," said Pappas.
Previously an economic researcher in Strathclyde, Scotland, Pappas joined the Greek government in January 2015, and became telecoms minister in November. In January, he presented a draft bill for the creation of National Center for Space Applications.
The Greek government will not own any satellites. Hellas Sat 3, built by U.K. firm Inmarsat Plc. and Greece's Hellas Sat Consortium Ltd., is currently under construction in Cannes, France, and is set to be put into orbit from French Guiana on June 28.
"In early summer, the launching of Hellas Sat 3, the new satellite that will take its place on the Greek orbital position, will significantly broaden the Greek capacity to host satellite applications, both for the public and the private sector," said Pappas.
Greece's main opposition leader Kyriakos Mitsotakis said Pappas is from "another planet," addressing the minister during a parliamentary debate on Feb. 1. Socialist Pasok party posted to Twitter a picture of Pappas, Prime Minister Alexis Tsipras and Greek Defense Minister Panos Kammenos in a spaceship commenting on the government's decision to set up the service.
Ιt is not the first time Greece has attempted to conquer space in the era of the bailouts. In 2013, the Defense Minister of Antonis Samaras's government, Fofi Gennimata, had announced the government's intention to set up a space missile launch base in Kalamata, southern Greece.
Pappas is hoping that Greece's nascent space agency can aid the country's security and agriculture industries, as well as helping to prevent floods and wildfires.
However, Pappas is also keen to promote startups as well as space adventures. The Greek government and its exhibitors have spent around 400,000 euros ($421,600) on its presence at Mobile World Congress in Barcelona, a flagship telecommunication conference that took place this week.
Examples include Viva, an app that helped users bypass the need for cash during Greece's capital controls, through the use of electronic wallet payments, and the first Greek company to be granted an Electronic Money Institution license by the European Central Bank. Another is Upstream, a mobile commerce platform, which received 25 million euros in financing by the European Investment Bank in February.
"Mobile technology exports are bigger than olive oil," said Yiannis Kotsis-Giannarakis, general manager of the Hellenic Association of Mobile Application Companies.
— With assistance by Eleni Chrepa
(
Government corrects spending in 10th paragraph.
)
Before it's here, it's on the Bloomberg Terminal.
LEARN MORE