French Republicans Abandon Fillon as Alain Juppe Seen Ready
By , , and
More than 60 politicians say they can no longer support him

Some party members call for Alain Juppe to take over campaign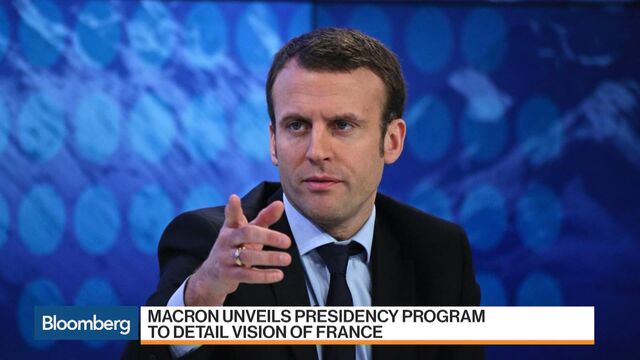 French presidential candidate Francois Fillon's woes deepened as a stream of elected officials from his party disowned his campaign and police searched his Paris home on Thursday.
More than 60 politicians said they could no longer support a candidate facing charges for the alleged embezzlement of public funds. The string of departures, including Fillon's campaign treasurer Gilles Boyer and senior adviser Bruno Le Maire, was followed by an open letter by 20 politicians urging him to withdraw.
Alain Juppe, another former prime minister who was defeated by Fillon in the Republican primary, is telling friends he is ready to come back if necessary, Le Parisien reported Friday. The resignations came as independent candidate Emmanuel Macron unveiled details of his election platform and the National Front's Marine Le Pen intensified her anti-euro rhetoric, saying in a speech in Paris that the "question is not if we'll leave the euro, but when and how."
"I don't think we have a single minute to lose in showing we have the ability to react to what has happened," Georges Fenech, a Republican lawmaker said on BFM television. "I think Alain Juppe offers an alternative."
Just over 50 days before the first round of the presidential vote, the current Republican nominee's determination to stay in has made the election the most tumultuous in recent French history. Investors from New York to Tokyo are following each twist with the centrist Macron now in pole position to stop Le Pen's bid to rip France out of the European currency union.
French bonds rose for a second day on Thursday as bookmakers shortened the odds on a Macron victory, with the spread between 10-year debt and German bunds narrowing 2 basis points to 61 basis points.

Le Parisien daily, meanwhile, said police searched Fillon's home as part of its probe into the alleged fictitious jobs held by his wife and children. The financial prosecutor's office declined to comment and Fillon's lawyer didn't immediately return a call for comment.
Fillon Family Pay Revelations Muddy French Race: QuickTake Q&A
The 62-year-old Fillon, who has characterized his judicial woes as a "political assassination," ranks third in the polls for the first round of the ballot, behind Le Pen and Macron, risking his elimination from the second round. That would mark the first such exit for the center-right mainstream party since the creation of the current Constitution nearly 60 years ago.
Front-Runner
Fillon, who was the front-runner as little as two months ago, has seen his campaign marred since mid-January by the investigation into his employment of his wife.
French Right's Voters In Play as Fillon Digs In Over Probe (2)
Fillon has dismissed the exodus of his party members. Asked about it by a Le Monde reporter, he said, "we'll do it without them." During a visit to the southern city of Nimes on Thursday, he said his "base is holding on. The right-wing voters are holding on."
"The man standing in front of you is a fighter," the Republican candidate told his supporters in Nimes. "I'm in the race to break the scenario that they want to write for us."
Rally Planned
Fillon is planning a crucial rally of supporters in Paris on Sunday. The gathering on an esplanade overlooking the Eiffel Tower is meant to be a show of force, though many officials from the Republican party have said they won't be attending.
Tensions have been running high since President Francois Hollande warned against any protest rallies calling the country's justice system into question.
After an initial plunge in his polls numbers by 5 points to 20 percent over the investigation, Fillon's support has stabilized. The latest daily poll by Ifop showed Fillon's support at 21 percent in the first round on April 23, unchanged from Wednesday. Le Pen maintained her first-round lead with 26 percent and Macron would qualify for the run-off with 24 percent. Macron would win against the National Front leader on the May 7 vote, 61 percent to 39 percent, Ifop said.
Macron said a return of Juppe won't put him off.
"A presidential campaign isn't a series of catch-ups," he said on RTL radio Friday. "I'll continue to advance and march no matter what happens."
— With assistance by Geraldine Amiel
Before it's here, it's on the Bloomberg Terminal.
LEARN MORE