business
Data-Dependent Yellen Running Out of Reasons to Delay Hike
By and
U.S. economy near Fed goal of stable prices, full employment

Dudley signals 'compelling' case, Brainard tilts hawkish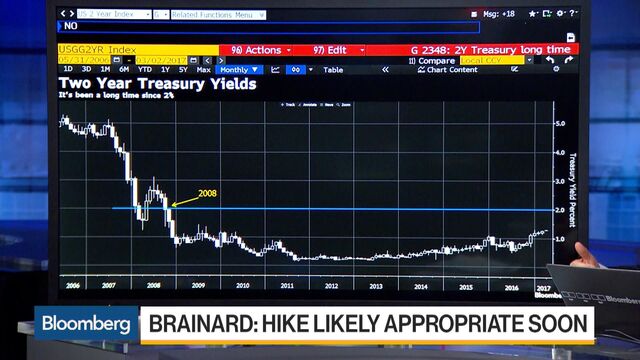 By most real indicators, the U.S. economy is not too hot or cold, yet financial markets are betting that a core group of Federal Reserve officials who set interest rates are suddenly raring to go.
They could have those convictions confirmed or tempered when Fed Chair Janet Yellen gives an economic outlook speech in Chicago on Friday. If her remarks from January are a guide, Yellen will give investors an update on progress toward the Fed's goals of full employment and stable prices. It wouldn't be hard to make a case for higher rates, and doing so would put Yellen in line with many of her colleagues. But part of Yellen's style is to also offer caveats on headline indicators. 
Depending on how Yellen balances her comments, she could set up a March increase or walk back market expectations, which currently place odds of an increase this month at about 88 percent. Here are the moving parts to watch.
Other Members
Even ahead of Yellen, other voters on the Federal Open Market Committee have been making it clear that they favor an increase soon, stirring expectations in financial markets that saw only about a 40 percent chance of a hike at the end of last week.
On Wednesday, Fed Reserve Governor Lael Brainard -- who has long been a proponent of keeping rates lower for longer -- reversed course, saying that "the economy appears to be at a transition" and "it will likely be appropriate soon to remove additional accommodation."
William Dudley, the committee's vice chairman and president of the New York Fed, told CNN International in an interview on Tuesday that the case for a rate increase has become "a lot more compelling." Speaking Thursday on CNBC, Fed Governor Jerome Powell said the case for a rate increase at the March meeting has come together, as the economy maintains solid momentum, inflation draws close to the Fed's 2 percent goal, and fiscal policy tilts growth risks to the upside. Powell said he still supports three rate increases this year. Those statements matter because the Fed decides on policy as a group, though Yellen's voice is the most important one at the table.
Labor Market
When it comes to Yellen's speech, be prepared for a jobs discussion. The hallmark of Yellen's chairmanship so far has been her focus on labor market performance. Her first significant speech as Fed chair gave "particular attention to the labor market and conditions faced by workers," to use her words from March 2014. The labor market was again Yellen's first indicator during a speech in January and in her testimony to Congress last month.
Yellen noted in January that average job gains have been "well above" the 75,000 to 125,000 monthly need to keep the unemployment rate stable. Forecasters surveyed by Bloomberg expect a gain of 174,000 for February, enough to drive the unemployment rate down to 4.7 percent from 4.8 percent, according to the median estimate. That would be slightly below the committee's estimate for full employment. The next jobs report is scheduled for release on March 10.
A Labor Department report Thursday underscored the strong demand for workers. First-time filings for unemployment benefits fell to 223,000 in the week ended Feb. 25, the lowest level in almost 44 years.

For all those impressive gains, Yellen could point to labor compensation as a reason why the Fed could be patient in raising interest rates and an indication of remaining labor market slack. Pay has been picking up slowly, but it's hardly breakneck acceleration. Without stronger wage gains, both spending and price mark-ups are likely to be moderate. Consumer spending, adjusted for inflation, fell 0.3 percent in January.

Another feature of Yellen's policy strategy is to avoid actions that would put the expansion at risk, a carefulness that manifested itself in 2016, when the Fed made just one rate increase.
Symmetric Risks
But risks, in Yellen's view, are also symmetric. That means allowing the economy and inflation to run ahead of policy would also be an error.
"The Fed doesn't want to be in the business of disruption," said Scott Clemons, chief investment strategist at Brown Brothers Harriman & Co. in New York. "I think she will caution against the risk of waiting too long" to raise rates. Yellen's term as chair ends in just one year. Clemons said she probably doesn't want to be behind the economy's momentum at that time.
Recent reports on prices suggest Yellen may need to update her view on inflation. In January, she said labor market slack was no longer putting downward pressure on prices, and that inflation is likely to "move up to 2 percent over the next couple of years." Inflation rose 1.9 percent for the 12 months ending January, placing the Fed very near its goal, though that reflects a boost from often-volatile energy prices.

A strong March signal in her speech Friday would require Yellen to make the case for the urgency of moving now instead of waiting a few more months to give the economy some room to run. Whether she makes the leap or not will be the news of the day.
"It's important for her to come in and essentially tell the market whether our rate expectation, whether the odds that the market has priced in for March, is accurate or not," said Omair Sharif, senior U.S. economist at Societe Generale in New York. "We need Yellen to either lay out a case for March or lay out a case for why they can be patient."
(
Adds comments from Fed Governor Powell in sixth paragraph.
)
Before it's here, it's on the Bloomberg Terminal.
LEARN MORE