business
Chinese Aston Villa Owner Also Held Talks for Southampton Team
Bloomberg News
Xia was in talks for Southampton in the run-up to Villa deal

Now he's frustrated by the sport's resistance to change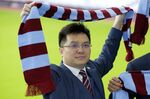 For Chinese businessman Tony Xia, it didn't matter whether he bought Aston Villa or Southampton, as long as he bought an English soccer team.
"It wasn't just Southampton, we also held discussions with a lot of clubs," Xia said in an interview in Beijing last week. "Even if we didn't buy Villa, we would have entered the sports industry through other means."
But he did buy Villa in May 2016 after striking up a relationship with the club's former owner, American billionaire Randy Lerner. That deal expanded China's blossoming relationship with the world's most popular -- and richest -- game and the seemingly insatiable appetite for assets that's continued into this year.
The purchase also fit into President Xi Jinping's endorsement of a plan to develop China's sports economy and, in particular for the soccer-loving leader, a national team that might one day win the World Cup. Since then, businesses have poured billions into the sport, with some of the country's richest people grabbing clubs abroad. They include Southampton, which China's Lander Sports Development Co. agreed to buy a stake in earlier this year.
"Now that we have control of Villa, we will leverage this opportunity and use it to further our business in the sports industry." That might include a partnership with a "prestigious" French team whose controlling shareholder approached the club for a partnership, he said.
Fallen Giant
The Chinese businessman was so keen on an acquisition that he wrote to bankers expressing interest in Premier League team Southampton. That was days before completing his 60 million-pound ($74 million) deal in May 2016 to buy Aston Villa in Birmingham.  
Xia's sudden arrival in England mirrored that of other Chinese buyers. Almost every major club in the West Midlands region of central England is now owned by investors from Asia.
Aston Villa is somewhat of a fallen giant. It was a major club in its heyday, with fans from England's second-largest city crammed into one of the country's most prominent stadiums to watch a team that was European champion in 1982. It dropped into the second tier last year, and there's little prospect of an immediate return as Villa languishes in the bottom half of the 24-team division.
Xia is chairman of Recon Group, a conglomerate with interests in such things as health care, finance and sport. He had no experience in soccer before the acquisition and it hasn't been easy on the pitch or off it. 
He's already onto his second coach after firing his first hire, Roberto di Matteo, a former European champion at London club Chelsea, and spent millions of pounds on recruiting new players. In replacement Steve Bruce, Xia has opted for an experienced hand. A former Manchester United captain, Bruce has taken teams up to the Premier League four times and is no stranger to working with overseas owners. 
Being Tactical
Bruce has also found it tough. Villa won its last two games, though only to break a win-less streak going back to December.
"The current coach was picked because he has experience," said Xia. "But what we have seen shows it doesn't work if you rely on past experience entirely. What makes a coach great is his ability to constantly learn and adjust."
In the narrow world of English football where loyalties are fierce and traditions passed down through folklore, Xia has also challenged what he calls soccer's cultural "rigidness." "Of all the industries I've operated in, soccer is the one most resistant to change," he said.
Typically chairman and owners of English teams steer clear of getting involved in on-field matters. Not Xia. He's a regular on Twitter, sometimes sending multiple messages a day to share his thoughts on player trading and the team's performances. The plan is to one day help support President Xi's dream of building a winning team.
"Now I probably know much better than most when it comes to being a coach of a club, how to arrange training and match tactics," he said. "I'd like to figure out one day how to help Chinese soccer."
— With assistance by Tariq Panja, and Jing Yang De Morel
(
Rewrites headline and first three paragraphs for clarity.
)
Before it's here, it's on the Bloomberg Terminal.
LEARN MORE