Brazil Has a School Problem
It spends heavily on universities but neglects K-12.
By and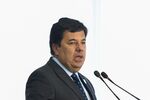 Brazil's state universities enjoy a sterling reputation. But students who qualify for admission come largely from exclusive and expensive private schools. Pupils who attend public schools usually don't move very far up from their crumbling and often violent neighborhoods.
Former President Luiz Inácio "Lula" da Silva and his successor, Dilma Rousseff—who was impeached last year—attempted to solve the problem by plowing what the federal audit court estimates at 43.2 billion reais ($14 billion) into a student loan program called Fies from 2009 to 2015. The loans supported students turned away from state universities who could use the funds to attend a network of for-profit colleges. Those institutions now educate about 6 million—76 percent of all college students in Brazil.

The for-profit universities are dominated by Kroton Educacional SA, the world's largest education company, with about 1 million undergraduates. Kroton and its rivals have thrived by expanding their client base through distance-learning classes, where students at centers from the Amazon jungle to beach towns gather weekly to attend lectures.
The gains in enrollment, fourfold over the past 20 years, have been cheered by ordinary Brazilians as a major advance for the middle class in Latin America's biggest economy. But the subsidies raised the government's higher education budget by 30 billion reais over six years. In the same period, kindergarten-to-high school spending rose just a third of that. "We've got our priorities all backwards," says José Mendonça Filho, who became education minister after Rousseff's impeachment last May. In 2015, Brazil spent 27 percent more as a share of gross domestic product on basic K-12 education than its peers in the Organization for Economic Cooperation and Development. Yet 30 percent of its workforce remains functionally illiterate, according to the nonprofit Instituto Paulo Montenegro. The average Brazilian worker is a quarter as productive as his U.S. counterpart. "From the moment the average child learns to read and write in Brazil, he starts piling up deficiencies," Mendonça Filho says.
At the same time, little is known about the quality of education received by students in for-profit colleges. There are no numbers on employment rates or the salaries of graduates. Loan default rates collected by the audit court paint a bleak picture. In December 2015, 49 percent of Fies students who were supposed to be paying back their loans were late; 26 percent were more than 360 days overdue.
Mendonça Filho has some fixes in the works: a system that places high school students in programs based on academic strength and a planned overhaul of Fies. Kroton, which was Brazil's best- or second-best-performing stock three years running through 2014, is down 25 percent from its November 2014 peak on concerns that the government is going to rein in its support.
Rodrigo Galindo, Kroton's chief executive officer, says a retrenchment of the loan program would be a major blow to Brazil's middle class. While he acknowledges that the academic performance of students at public universities ranks higher, he says Kroton is offering what to many is the only avenue for exiting poverty. "Is there a gap? Of course there is," he says. "The students who come to us are poorly prepared."
About 80 percent of Kroton's student body is made up of people educated in public schools, forcing the company to offer freshmen free catch-up courses that go over everything they should have been taught in high school. Anticipating a change in government support, Kroton has started offering its own student loan program and now relies on federal aid for 4 percent of its latest incoming class.
"The money Brazil invests in education isn't the problem—it's how we're spending the cash," says Ana Maria Diniz, daughter of billionaire Abilio Diniz and head of the family's philanthropic arm. At the grocery chain the family founded, she says it was a major struggle trying to find qualified people, even for basic jobs such as restocking shelves and counting out change for customers. "If we could fix the system, Brazil would take off," she says. "I'm just guessing, but I bet our GDP could grow by half."
The bottom line: For-profit universities in Brazil enroll most of the country's college students, who are often ill-prepared and need remedial work.
Before it's here, it's on the Bloomberg Terminal.
LEARN MORE