Trump to Appeal $5.7 Million Loss in Florida Golf Club Case
By
Members were told to get lost if they didn't like new rules

After trial, U.S. judge found Jupiter club breached contract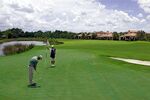 A Florida golf course owned by President Donald Trump plans to appeal a judge's order to refund $4.85 million in deposits to former club members.
Trump National Golf Club Jupiter filed notice Tuesday that it wants a higher court to review a federal judge's ruling a month ago that the club breached the former members' contract by denying them access and failing to refund their deposits within 30 days. The judge also directed the club to pay $925,010 in interest.
Trump, who has bragged about his success in courts in posts on Twitter, is still embroiled in lawsuits that predate his election victory in November. Since becoming president he's become the target of additional cases over his executive orders on immigration and sanctuary cities.
"We're confident that we'll prevail on appeal and protect the judgment," Seth Lehrman, attorney for the former club members, said Wednesday.
The former members of the Trump National Golf Club Jupiter sued to get their money back after Trump changed the membership rules following his 2012 acquisition of the money-losing venture from Ritz-Carlton Hotel Co.
The golf club members were on a list of people who had asked to resign from the club. They were to get their deposits back once new members joined. Under the Ritz-Carlton rules, they could continue to use the club until they received their refunds. They paid $35,000 to $210,000 in deposits.
Trump barred them from the facilities and told them if they didn't like the new rules to get lost. In a letter, Trump told them if they chose to remain on the resignation list: "You're out."
This is who sued Donald Trump before he became President
In court, Trump and his son Eric initially argued that they hadn't changed the membership rules and that they didn't bar the former members from the club's facilities, but Eric Trump admitted during an August trial in West Palm Beach that he was wrong and that some members had been banned.
He also said the Trumps spruced up the club and "made it great again."
U.S. District Judge Kenneth A. Marra said in a Feb. 1 ruling that Trump's club breached a contract to provide "persons lawful permission to use and access the club." Without a right to access, "no membership would exist" and an "essential purpose of the membership contract would be nullified," the judge said.
The Trump Organization's chief legal officer, Alan Garten, said when the judgment was issued that the company intended to appeal.
"We respectfully disagree with the judge's decision," Garten said.
The case is Hirsch v. Jupiter Golf Club LLC, 13-cv-80456, U.S. District Court, Southern District of Florida (West Palm Beach).