Trump's Scant Specifics Leave Questions on His Border-Tax Plans
Lynnley Browning and John Voskuhl
President gives no details on vision for 'historic' overhaul

He 'came within striking distance' of controversial proposal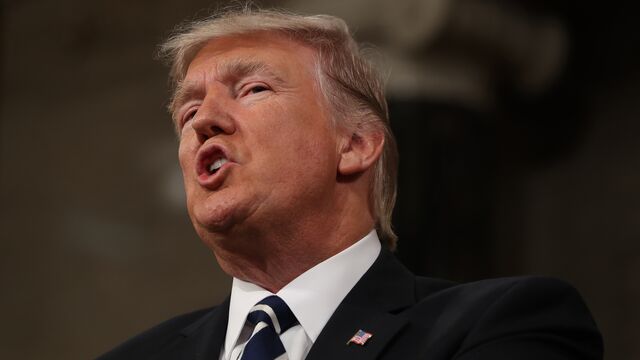 President Donald Trump offered no new details of his plan to overhaul corporate and individual taxes -- renewing questions about whether he supports a controversial proposal to tax U.S. companies' imports while excluding their exports.
While some investors expected Trump to flesh out his tax vision, he fell back on his familiar complaints that other countries charge "very high tariffs and taxes" and put U.S. products at a disadvantage. He stopped short of endorsing a plan favored by House Speaker Paul Ryan for a "border-adjusted" tax.

Likewise, Trump -- who has promised the outline of a "phenomenal" tax plan soon -- offered only a broad description of his blueprint for individual taxes: "We will provide massive tax relief for the middle class," he said. While his administration has yet to release a detailed plan, independent analyses of the proposals he offered during his campaign have suggested that higher earners would benefit the most.
Read more: Understanding the 'border adjustment' tax plan
By referencing foreign taxes on American exports, Trump "came within striking distance of supporting" Ryan's plan for border adjustments, said Henrietta Treyz, managing partner at Veda Advisers, a registered investment adviser and consulting firm. That plan, which would replace the current 35 percent corporate income tax with a 20 percent tax on companies' domestic sales and imports, has divided corporate America -- and the president's own White House staff.
Retailers' Opposition
Retailers, automakers and oil refiners that rely on imported oil oppose the plan and say it would mean higher costs for consumers. A national retailers group released a new ad hours before Trump's speech that said a border-adjusted tax would increase an average U.S. family's costs on food, gas, clothing and prescription medicines "by as much as $1,700 in the first year alone."
"Retailers remain hopeful that Congress and President Trump will focus their collective efforts on policies that grow our economy and fatten the paychecks of working-class Americans," said Brian Dodge, a spokesman for the Retail Industry Leaders Association, in an email. "We do not support raising prices on American families to give corporations a tax cut."
Proponents, including General Electric Co. and Oracle Corp., say border adjustments would lead to increased domestic production, more jobs and a stronger dollar. A stronger dollar would reduce the costs of imports and increase the costs of exports, they say -- evening out the tax's effects.
Advisers Disagree
Bloomberg News reported Tuesday that Trump's own advisers disagree on border adjustments. His top strategist, Steve Bannon, supports the provision, as do Stephen Miller, a senior policy aide; Chief of Staff Reince Priebus; Commerce Secretary Wilbur Ross and trade adviser Peter Navarro, according to a senior administration official.
National Economic Council director Gary Cohn and Treasury Secretary Steve Mnuchin oppose the border-adjustment concept, the official said.
The proposal would raise more than $1 trillion over 10 years, based on an independent estimate -- making it central to GOP hopes of offering tax rate cuts to businesses and individuals.
Ryan and others have said they hope to keep their plan revenue-neutral overall -- a way to avoid the U.S. Senate's usual 60-vote threshold and pass a tax overhaul with only GOP votes.
'Life Support'
Still, Republican senators have been cold to the border-adjustment provision. Senate Majority Whip John Cornyn earlier this month said it was "on life support" and urged his colleagues to look for other options. Senator Orrin Hatch, who chairs the Senate Finance Committee, on Tuesday told CNBC that he still has "real reservations" about the proposal.
If the measure is to succeed, Trump will need to offer his enthusiastic support, Treyz said. Senate Republicans "will need some serious arm twisting that can only come from Trump himself," she said. "To get 50 Republican Senators to take a vote on border adjustment will require the full weight of the President's bully pulpit."
Federal lawmakers agreed that details remain to be seen. "I think he is waiting for the House legislation," said Representative Devin Nunes, a California Republican who has endorsed border adjustability. "He shows an understanding that it has to be done."
"It may match up, it may not," said Representative Jim Renacci, an Ohio Republican who has said he has questions about the border-adjustment plan. "I don't think he specifically endorsed it."
Individual Plans
Trump's tax plans for individuals also remain to be clarified. During his campaign, he proposed across-the board rate cuts for individuals, along with a higher standard deduction and a new deduction and other tax benefits for child and dependent care. His plan would condense the existing seven individual tax rates to just three, and reduce the top rate from 39.6 percent to 33 percent.
Despite the large cut in the top marginal rate, Mnuchin said in late November that the president's plan would eliminate enough deductions and other tax breaks to provide "no absolute tax cut for the upper class."
However, an independent analysis of Trump's campaign tax plan found that it would provide the biggest tax cuts to high-earning individuals. Taxpayers in the top 0.1 percent by income -- those earning more than $3.7 million -- would get an average tax cut of $1.1 million, or 14 percent of their after-tax income, according to the analysis by the Tax Policy Center, a joint venture of the Urban Institute and Brookings Institution. By contrast, taxpayers in the middle fifth of incomes would get a tax cut of about $1,010, or 1.8 percent of after-tax income.
An analysis by the conservative leaning Tax Foundation found a similar, but less pronounced, effect. Taxpayers in the bottom 80 percent of the national income distribution would see an average increase in their after-tax adjusted-gross incomes of no more than 8.3 percent, it found, while those in the top 1 percent would see a 21.6 percent increase.
The lack of detail may disappoint some investment managers. Before the speech, markets were "ready for more specifics from Trump," said Ben Emons, the chief economist and head of credit portfolio management at Intellectus Partners LLC, a wealth management firm.
"The market really wants specifics on some of the policy changes being contemplated related to taxes and infrastructure spending," said Katie Nixon, the chief investment officer for wealth management at Northern Trust Corp.
The scant detail "reflects the fact that he doesn't have a tax team in place," said Edward Kleinbard, a professor at the University of Southern California Gould School of Law and a former chief of staff of the congressional Joint Committee on Taxation.
Trump "chose the path of least resistance -- to hunker down for a few more months" before Congress puts forth a tax bill, Kleinbard said. In the end, he said, that bill probably won't include border adjustments. "It's too complex -- it requires a year or two of debate, not several months."