Trump's Golf Courses Would Benefit From His Water-Rule Rollback
By
His executive order raises conflict-of-interest concerns

Golfing industry and others have lobbied for this change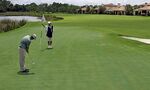 President Donald Trump's order on Tuesday to rescind and rewrite federal water regulations not only coincides with his conservative agenda but also could cut his costs as an owner of a dozen U.S. golf courses, again raising concerns about conflict of interest in the White House.
The directive to reconsider the 2015 "Waters of the U.S." rule, which formed part of a larger elaboration of the Clean Water Act, is a win for critics of the Environmental Protection Agency who say it gives the federal government too much power over waterways.
"I would say this is a very high priority to us," Bob Helland, head lobbyist for the 17,000 member Golf Course Superintendents Association of America, said in an interview. "We are pleased to see that there is an effort to revisit the rule under this executive order."
The Trump Organization lists 17 golf courses among its properties, including 12 in the U.S. that probably would be subject to the rule. The golf industry, along with numerous business groups, has been trying to kill the rule since before President Barack Obama finalized it in June 2015. It has been under legal challenge and so far hasn't been put into effect. Once it takes effect, it would raise costs for golf courses.
'Economically Burdened'
Although the industry has been decreasing its use of water, the golfing association, which includes more than 20 Trump employees, helped lead the opposition, spending $30,000 on lobbying during the quarter when the rule was finalized, according to filings to the Senate Office of Public Records required under the Lobby Disclosure Act. In November 2014, the association's chief executive officer, Rhett Evans, joined others to write that courses "would find themselves economically burdened, if not unable to operate profitably" under an earlier version of the rule.
The Trump Organization did not hire anyone to work on the issue directly.
Trump -- an avid golfer whom "Golf Digest" magazine called the "Golfer-in-Chief" -- has occasionally weighed in on the appearance of courses, as when he tweeted about "the horrible look of Pinehurst" during the 2014 U.S. Open. The club had decreased watering as part of conservation-minded efforts.
Trump's opponents were quick to see his move as driven by his own interests rather than the country's.
"Trump's water-rule rollback is great for golf-course owners, but not so much for people who drink water," said Adrienne Watson, a spokeswoman for the Democratic National Committee. The owners, including Trump, are "probably pleased," she added, but the "actions hurt the health of Americans and jeopardize the well being of our planet."
A White House spokeswoman did not immediately respond to requests for comment.
Conflict Questions
Before his inauguration, Trump's presidential transition team provided a list of organizations from which it said he had resigned as an officer. He has faced criticism for retaining an ownership stake in more than 500 companies all over the world with $3.6 billion of assets and more than $600 million in debt.
Top government ethicists, several Democratic politicians and even some Republicans have said he should have divested from his unprecedented holdings, as his modern predecessors have, to avoid both the possibility for influence and questions about his decisions.
Trump's plan to step down without divesting is "meaningless from a conflicts-of-interest perspective," Walter Shaub, director of the U.S. Office of Government Ethics, said after Trump announced his plan Jan. 11.
Lack of Clarity
Helland, the golf-association lobbyist, said he hasn't met with members of the administration and cited lack of clarity about owners' obligations under the rule. He noted the treatment of man-made water features as an area of concern, especially when, he said, the average golf course has 11 acres of water bodies, including lakes, ponds, wetlands and streams.
Course owners weren't alone in opposition: Groups including the U.S. Chamber of Commerce, Chevron Corp., the National Association of Home Builders and the National Mining Association all lobbied on the issue during the quarter when it was finalized, according to the filings, as part of broader lobbying efforts worth more than $60 million.
In addition, dozens of states as well as business and agricultural groups challenged the rule in federal court. The administration will ask the court to cease consideration during the review, according to a White House official, who spoke on condition of anonymity. Trump's picks for his administration, especially EPA Administrator Scott Pruitt, also have expressed broad opposition to several environmental regulations.
Before it's here, it's on the Bloomberg Terminal.
LEARN MORE