High Court Orders New Look at Virginia Voting District Suit
By
U.S. justices unanimous in sending case back to lower court

Black voters challenged map as improperly relying on race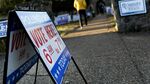 The U.S. Supreme Court told a lower court Wednesday to reconsider whether Virginia's Republican lawmakers unconstitutionally drew state legislative districts along racial lines, giving a partial victory to black voters who challenged the voting map.
The lower court had upheld 12 challenged state House districts, all designed to have a voting-age population at least 55 percent black. The Supreme Court unanimously said 11 of those districts required closer scrutiny, though the justices differed in their reasoning.
Republican officials in Virginia say they were trying to comply with the Voting Rights Act, the landmark 1965 law designed to protect racial minorities. Democrats and black voters say the goal was to dilute minority voting strength and preserve the power of neighboring white Republicans.
Writing for the Supreme Court, Justice Anthony Kennedy said the three-judge panel was too quick to dismiss arguments that race improperly played a predominant role in setting the lines. The lower court had said it didn't need to look at the motivations of the people who drew the maps as long as the lines could be explained by traditional map-drawing criteria.
"Race may predominate even when a reapportionment plan respects traditional principles," Kennedy wrote.
One of 12
Kennedy said the lower court was right to uphold the 12th of the challenged districts, saying the use of race there was justified as a means of complying with the Voting Rights Act and ensuring that black voters there didn't lose the ability to elect their preferred candidate.
Five justices joined the entirety of Kennedy's opinion. Justices Clarence Thomas and Samuel Alito wrote separately to say they would have held the state to an even tougher legal standard.
Thomas raised questions about the practice of trying to draw majority-black districts. He said the 11 districts should have to meet a demanding legal test known as strict scrutiny. Thomas also said he would have thrown out the 12th challenged district.
The significance of the high court ruling was a matter of dispute. Mark Elias, the lawyer who represented the voters at the Supreme Court, tweeted that the ruling was a "major victory" that would have important practical ramifications.
But Rick Hasen, who teaches election law at the University of California, Irvine, said the ruling broke little new ground.
"It is more of a punt than a major decision," Hasen wrote in a blog post.
The justices also are weighing a similar case involving two congressional districts in North Carolina. The court didn't act in that case Wednesday.
The cases is Bethune-Hill v. Virginia State Board of Elections, 15-680.
Before it's here, it's on the Bloomberg Terminal.
LEARN MORE