Lack of Specifics from Trump Are No Problem for Market Bulls Bent on Reflation
By and
Global economic data surprising to upside by most since 2010

Rising inflation expectations primarily an oil story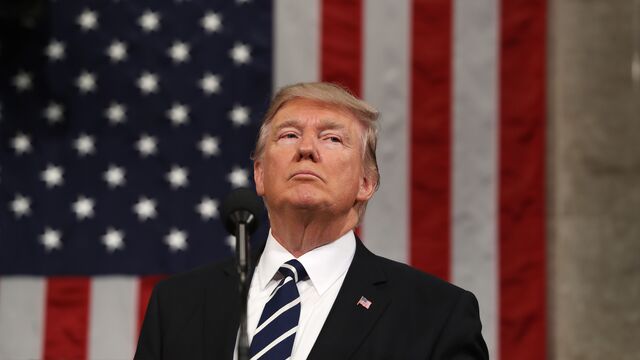 President Donald Trump took credit for the $3 trillion surge in the value of U.S. stocks since his election. But a growing chorus of analysts are contending it's the economy that deserves the plaudits.
Wednesday's surge in risk assets adds weight to their theory. Pundits said markets would buckle if Trump skimped on policy specifics in his congressional address. By most accounts, he skimped, and yet stocks are having their best day of an already red-hot 2017. 
To the economy's cheerleaders, it's no coincidence that manufacturing and price data Wednesday from China to Germany and the U.S. reinforced arguments that the global foundation of the reflation trade was built well before November and shows no signs of cracking. It's been bolstered by accommodative monetary policy and a resurgence in the price of crude. To these Wall Street bulls, Trump's broad promises to boost spending and cut taxes after a contentious election season act more like the removal of an impediment than a pillar.
"The reflation trade was quietly in place before the election," said Neil Dutta, head of U.S. economics at Renaissance Macro Research. "The end of it merely gave an excuse for many investors to get on board. Inflation and global growth has been turning for quite some time."

That's not to say Trump hasn't been a catalyst for the four-month surge that's pushed up stocks, the dollar and Treasury yields. Equities rallied the night of his win and have rarely gone down since. But his election doesn't explain the resurgence in U.S. corporate profits, where estimates have been moving higher since March, suggesting that stocks at all-time highs are supported by strong fundamentals.
It also doesn't account for the uptick in economic data around the world. An indicator that combines the Citigroup Inc. global economic and inflation surprise indexes has surged in the past few months to reach its highest level in data going back 14 years. JPMorgan's Global Manufacturing PMI index shows that industrial activity, after losing momentum for two years, began a renaissance in the middle of 2016.
"Paradoxically, as investors try to weigh every communication by the new President, the U.S. economic surprise index is close to new highs, real long-term rates keep plunging thereby loosening monetary policy," writes Sean Darby, chief global equity strategist at Jefferies LLC. Data Wednesday from China showing an increase in the nation's official factory gauge last month "once more highlighted how good overseas growth is."

Growth in Europe last year exceeded that in the U.S., sending measures of factory prices gains and consumer confidence surging in the 19-country bloc. German consumer prices notched a 2.2 percent rise in February, data released Wednesday showed, the first time inflation has advanced above 2 percent since 2012. Meanwhile, consumer prices for the euro-area as a whole rose 2 percent in February from a year earlier, its fastest pace since January 2013, figures published Thursday show.

Gone, too, is the drag on inflation from the price of crude, which a year ago was plumbing depths last seen in 2003. That's fueled the rebound in market-based measures of inflation expectations, with five-year U.S. breakeven rates now at the highest levels since 2014.

The firming in oil prices, buoyed by OPEC's agreement to limit production, is helping to support activity in commodity-producing nations. In Canada, a country hard-hit by the downturn in crude that started in mid-2014, capital spending in oil and gas is projected to rise more the 2 percent this year.
Emerging market currency, stock and debt markets have been on a tear this year, also thanks to these robust commodity prices -- not to mention rising trade volumes, a stable yuan, and improving balance-of-payments positions. That has helped spur capital inflows and keep liquidity conditions loose, offsetting the triple threat of Fed rate hikes, a stronger dollar, and U.S. protectionism.