GM, Nissan Beating U.S. Sales Estimates Tempers Inventory Angst
By and
Ford posts narrower February decline than analysts projected

Toyota and Fiat Chrysler drop on down month for Lexus, Jeep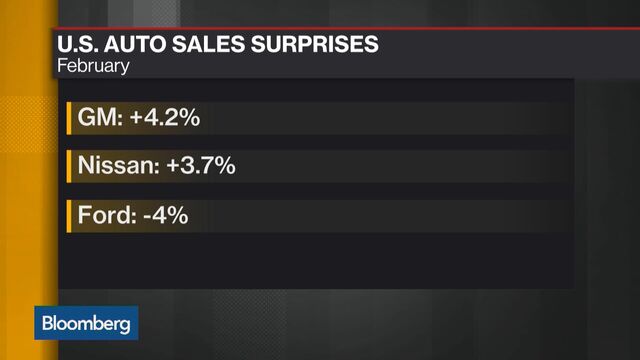 General Motors Co. and Nissan Motor Co. posted U.S. sales gains that beat analysts' estimates, as surging demand for pickups and sport utility vehicles tempers concerns about swelling inventory on dealer lots.
GM said deliveries climbed 4.2 percent last month, while Nissan reported a 3.7 percent increase and Ford Motor Co.'s sales dropped less than analysts estimated. The companies were buoyed by consumers snapping up Chevrolet Silverado trucks, Nissan Rogue crossovers and Ford Escape SUVs.
Car dealers have started the year overstocked, particularly with slow-selling passenger cars, coming off record annual sales in 2016. Stronger-than-projected demand in February may ease concerns automakers will have to boost profit-sapping discounts or make deeper production cuts to reduce supply entering a seasonally stronger spring selling season.
"This will help the inventory situation," Jeff Schuster, an analyst with researcher LMC Automotive, said by phone Wednesday. "There's always an inventory buildup this time of year. I think over the next couple of months, it will work itself out."
The industry sales pace slowed last month to a seasonally adjusted annualized rate of about 17.6 million light vehicles, from 17.7 million a year earlier, according to Autodata Corp. The result beat analysts' average estimate of 17.5 million in a Bloomberg News survey.

Sales Misses
Fiat Chrysler Automobiles NV, Toyota Motor Corp., Hyundai Motor Co. and Kia Motors Corp. broke from their peers and posted wider sales declines than analysts estimated for last month. Honda Motor Co. said deliveries rose 2.3 percent, in line with estimates.
Shares of GM, Ford and Fiat Chrysler gained Wednesday in New York trading. The 22-member Bloomberg Americas Auto Parts & Equipment Index advanced 1.7 percent.
Ford car sales tumbled by about a quarter last month, offsetting rising demand for its SUVs, pickups and the Lincoln brand. The company's total deliveries fell 4 percent.
Fiat Chrysler's changeover to a new design for its Compass model dragged on the Jeep SUV brand, which posted a 15 percent drop last month.
Toyota's Lexus luxury division sales plunged 21 percent, as every model within the brand's lineup declined.
The Nissan Rogue supplanted Honda's CR-V as the top-selling SUV for the month, with deliveries surging 54 percent.
Pickup Incentives
GM offered big discounts on its full-size trucks last month, helping fuel a 17 percent jump in combined sales of the Chevy Silverado and GMC Sierra models. The largest U.S. automaker spent 26 percent more on incentives for each Chevy Silverado truck than Fiat Chrysler paid per Ram and 85 percent more than Ford allocated for F-Series during the first dozen days of February, according to J.D. Power dealer data obtained by Bloomberg News.
In a statement, GM said internal data showed overall incentive spending was "essentially flat" and that its figures were in "sharp contrast" with J.D. Power estimates.

As GM staged a "Truck Month" promotion in February, Nissan advertised as much as $5,050 off 2017 Altima sedans in some markets. While incentives rose more than $400 per vehicle industrywide last month, SUVs and pickups that tend to sell at higher prices helped lift the average price consumers paid by more than $600, according to TrueCar Inc.'s ALG.
'Structural Shift'
"We have seen a structural shift in consumer buying behavior," Mark LaNeve, Ford's U.S. sales chief, said on a conference call. Passenger cars were about 35 percent of industry deliveries last month, compared with more than half in February 2010, he said. "That's structural and deep."
Automakers have supplied dealers as though the U.S. market will keep growing following last year's record 17.55 million cars and light trucks sold. The inventory glut that's built up early this year also suggests more production cuts are ahead for slumping passenger cars.
GM and Fiat Chrysler have eliminated shifts, laid off employees or scheduled days off early this year at factories assembling models such as the Chevrolet Cruze compact, Dodge Charger muscle car and Buick Lacrosse sedan.
"The automakers are in a tricky spot," Jessica Caldwell, an analyst at car-shopping site Edmunds.com, said in an email. "Aggressive incentives are already starting to eat into profits and residuals, but it takes discipline to pull back the production reins in what's still a fairly strong market."