Fashion
Is Donald Trump Finally Dressing Like a President?
Fashion designers and historians break down his outfit.
By and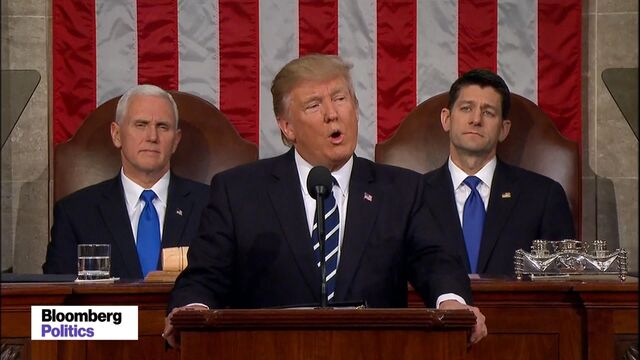 They say the suit makes the man. In President Donald Trump's case, it may be the suit that makes the president.
A big takeaway from his first address to Congress Tuesday was how presidential the New York real estate magnate came across. While much of that had to do with the more hopeful tone of his speech, compared with the foreboding tenor of his campaign and first month in office, optics were also a factor.
Trump, 70, selected a more on-trend navy striped tie, rather than his signature broad, red one that he wore at his inauguration and in several high-profile events since. Standing in front of Congress last night, the Republican kept his suit jacket buttoned (it's often open), giving a cleaner, more tailored look. Even his hair seemed less brassy, one White House historian noted. Given all these subtle modifications, Trump, on this night, drew a rare bit of sartorial praise.
"For the outsize personality, reality-show persona of Donald Trump, he toned all that down," said Barbara Perry, a presidential historian at the University of Virginia's Miller Center of Public Affairs. The importance of his look, gestures, and delivery is "not to be minimized," she said, because throughout the campaign and the transition, the public wondered when—and if—he would ever become more presidential.

"The president looked and sounded like the leader he is," said White House spokeswoman Hope Hicks, who declined further comment on Trump's wardrobe or whether this sleeker version is the beginning of a new phase.
For presidents, looking the part can be an irritating battle. Former President Barack Obama's closet selection was roundly panned on the few occasions he wore a tan suit, generally in warmer months. One outraged Republican congressman from New York, Peter King, went so far as to call him out, deriding the choice for a "lack of seriousness."
Trump too has drawn criticism for dressing sloppy and for looking unkempt. The Washington Post called him out for wearing giant, boxy suits that don't fit. Jezebel said that, while Trump buys suits from masterful tailors, he can "never quite pull them off." Business Insider declared the length of his neckties, which often break fashion code by hanging far below the belt, a "tragic mistake."

Has a new era begun, or was trimmer Trump a one-time thing? Here's a breakdown of his makeover, as seen last night.
The ensemble
The suit Trump wore was a dark navy, one of the most formal colors, and a better fit than usual. With the navy tie, the combination exuded seriousness.
The suit jacket
He also ditched the overlong, flowing jacket for a more modern silhouette that gave him appropriate proportions, said Joseph Abboud, the fashion designer and chief creative director of Tailored Brands. (Abboud once dressed Obama when he ran suitmaker Hart Schaffner Marx.)
The button
Then there's the button. Trump has rarely buttoned his suit jacket in the past, a decision that signals a casual atmosphere or that you're about to sit down. But this time he did it up while speaking before the nation's lawmakers—as one does.
The tie
As for the tie, Trump has stuck with that shiny, fire-engine red number for years. He stuck with solid red ties at his most important speeches—his inauguration, before the Conservative Political Action Conference, during his first press conference as president, and at some of his biggest rallies. But Abboud said that chunky red cloth "feels passé," a relic of swaggering Manhattan money men from the 1980s. "I'm glad he wasn't wearing that," he said.
Last night wasn't the first time Trump has worn a striped navy tie. He donned one when addressing the Central Intelligence Agency and while announcing Neil Gorsuch as his pick from the U.S. Supreme Court. 
John Ballay, chief executive of custom menswear service Knot Standard, whose suits were worn by Donald Trump Jr. and Eric Trump for the inauguration, said their father had a "superior look" this time. The sleeve lengths on his jacket and shirt were balanced and he showed the right amount of cuff, Ballay said.
"This was a step in the right direction in terms of appearance," added Abboud. "We want our presidents to be presidential but also look presidential. I think he looked more presidential last night than we've seen in the last 18 months."

—With assistance from Toluse Olorunnipa in Washington and Lindsey Rupp in New York.
Before it's here, it's on the Bloomberg Terminal.
LEARN MORE