technology
Instacart In Talks to Raise About $400 Million
CEO said a year ago he didn't expect to seek a new round of funding.
By and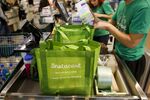 Grocery-delivery startup Instacart is said to be in talks with investors to raise about $400 million, more than two years after its last major round of funding.
The new funding would value the San Francisco company at $3 billion, according to people familiar with the matter. The startup, which uses workers to pick groceries off the shelves of stores such as Whole Foods and deliver them to customers' doorsteps, previously raised funding in January 2015 at a $2 billion valuation. Sequoia Capital, which already has a stake in Instacart, is likely to lead the round, one of the people said.
A year ago, Instacart Chief Executive Officer Apoorva Mehta told Bloomberg that the company had a plan for becoming sustainable, and he didn't expect to raise funding again in the future. At the time, the company said that it was gross margin profitable in some of its markets -- in other words, that it brought in more on orders than it cost to fulfill them, minus central operations costs. An Instacart spokeswoman declined to comment on the new funding round. The funding talks were reported earlier by Axios.
The company charges for delivery and collects other fees directly from its customers, but it also has worked to expand other revenue streams. Instacart said a year ago that delivery fees were less than half of the company's revenue. It also collects a commission on goods sold through the app at its partner retailers, and revenue from consumer goods companies like Red Bull and Doritos that want to advertise or offer coupons on the Instacart app.

Last year, Instacart also sold about $36 million in equity to Whole Foods as part of an expanded partnership between the two companies.
Before it's here, it's on the Bloomberg Terminal.
LEARN MORE