technology
Foxconn's Gou Says 'Very Serious' About Toshiba Chip Unit Bid
Bloomberg News
Hon Hai's founder already succeeded in winning Sharp

'We can't afford not having this technology,' Gou says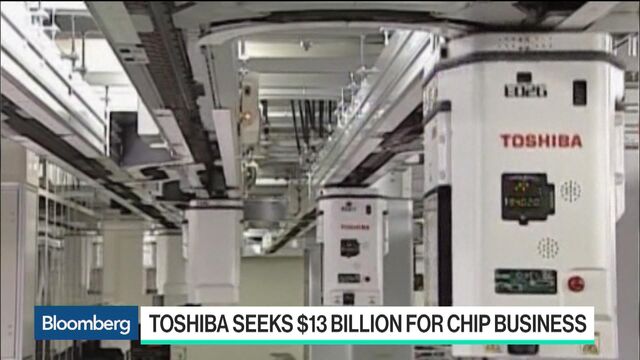 Terry Gou is heading back to Japan.
The founder of Taiwan's Foxconn Technology Group, who waged a years-long battle against regulators and rivals for control of Sharp Corp., said he is "very serious" about bidding for Toshiba Corp.'s memory chip business. Toshiba plans to sell some or all of the operation to shore up its balance sheet and is soliciting bids from financial and strategic investors.
Gou sees an opportunity at Toshiba similar to Sharp. Toshiba's operation will be able to expand if it has access to more capital resources, while Foxconn, whose main listed unit is Hon Hai Precision Industry Co., needs the target's supplies as it builds iPhones and other devices for its customers. Flash memory will be used in increasing quantities for products such as 8K high-resolution displays and data centers.
"We can't afford not having this technology," Gou said at event in southern China on Wednesday to open a new $9 billion display plant.
Toshiba shares rose as much as 4.5 percent in early Tokyo trading Thursday. The stock had dropped 25 percent this year before today.
Foxconn's Gou Just Took the Lead in Toshiba Chip Chase: Gadfly
Gou made similar proclamations when he embarked on the mission to buy Sharp, a deal originally resisted by the target's management and some regulators. He saw an opportunity to shake up the struggling Japanese company and take more control over the supply chain for electronic products such as Apple Inc.'s iPhone and Sony Corp.'s PlayStation. He prevailed against stiff cultural resistance and a politically connected rival bidder.
With Toshiba's memory unit, Foxconn would be able to bring together display and memory technology, as well as assembly and supply, under one roof. Toshiba is sending letters soliciting offers for the unit and is seeking bids that value it at about 1.5 trillion yen ($13 billion). 
Sharp and Foxconn are also now considering expanding display production in the U.S., though Gou said that project wasn't nailed down yet. Foxconn hadn't decided on the location for such a factory, which may also depend on the Trump administration's tax reforms. Gou, who just returned from a trip to Washington, said Foxconn may train 5,000 to 10,000 skilled workers to staff such a plant.
The Toshiba auction takes place as memory prices have surged. The contract price for 128 gigabit TLC NAND has climbed 58 percent since June, according to data from Inspectrum Tech Inc.
"We're at this point of a utopian memory market," said Anand Srinivasan, a senior analyst at Bloomberg Intelligence. "Prices are high and it's tough to get enough supply. But it won't stay this way. That's the nature of this industry."
Terry Gou's Tenacity Clinched Foxconn Deal to Take Over Sharp
Gou sees potential in geographic expansion beyond Japan.
"We can help Toshiba to build factories in China, while they can leave the core technologies in Japan," Gou said at the event. Toshiba needs massive manufacturing capacity and a partner to co-develop next-generation technologies and Foxconn can provide both, he said.
Toshiba's rivals in flash memory, including South Korea's SK Hynix Inc., have expressed interest in the unit, but such a combination may face regulatory review and delay a transaction Toshiba needs for quick cash. Gou pointed out that he wouldn't have to deal with such problems because Foxconn isn't in the business now.
"Antitrust is not an issue for us," he said.
— With assistance by Yuan Gao
(
Updates with stock price in fifth paragraph.
)
Before it's here, it's on the Bloomberg Terminal.
LEARN MORE