Fed's Brainard Says Interest-Rate Hike Likely Appropriate 'Soon'
By and
U.S. economy looks to be 'in transition,' she says at Harvard

Fed close to reaching full employment, inflation goals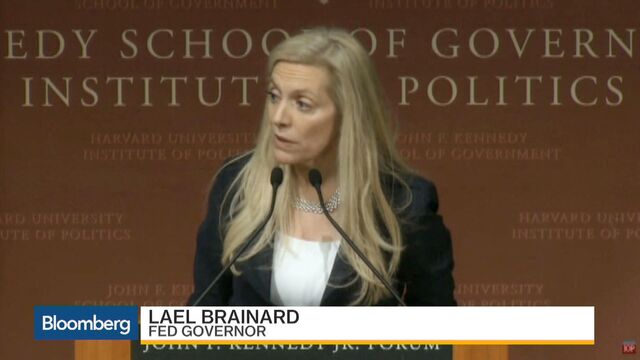 One of the Federal Reserve's biggest skeptics about the strength of the global expansion signaled the U.S. economy may be strong enough to withstand an interest-rate increase soon, as key policy makers coalesce around tightening at their next meeting in mid-March.
"Assuming continued progress, it will likely be appropriate soon to remove additional accommodation, continuing on a gradual path," Fed Governor Lael Brainard said in the text of a speech Wednesday at Harvard University in Cambridge, Massachusetts. "We are closing in on full employment, inflation is moving gradually toward our target, foreign growth is on more solid footing and risks to the outlook are as close to balanced as they have been in some time."
Brainard, who for months has played the role of lead dove at the Fed by arguing to keep rates lower for longer, said the U.S. economy "appears to be in transition." If continued, that would allow the central bank not only to normalize rates gradually but also begin considering when and how to reduce the size of its $4.5 trillion balance sheet, she said.
Her improved outlook may add momentum to rising expectations among investors that the Fed will raise rates by a quarter percentage point when the Federal Open Market Committee gathers in Washington March 14-15.
Hawkish comments from New York Fed President William Dudley and San Francisco's John Williams on Tuesday already significantly boosted those expectations.
Rising Yields
Yields on two-year U.S. Treasuries have climbed about 0.14 percentage point this week, briefly breaching 1.30 percent for the first time in more than seven years. The probability of a March rate hike implied by prices in federal funds futures contracts has climbed.
Brainard said she expects the U.S. economy to continue making progress toward the Fed's goals, driven by growth in consumption, adding that signs of improved business investment are rising. "The contrast with the situation a year ago is sharp," she said.
Read more: What does 'full employment' really mean?
A former undersecretary of the Treasury for international affairs, Brainard also pointed to favorable developments in a number of major foreign economies.
"Near-term risks to the United States from abroad appear to have diminished," she said. "Recoveries are gaining traction in China, Europe and Japan, in part reflecting greater confidence in their respective policy environments."
In China, she said, government officials had "stabilized growth and calmed fears of financial instability" by boosting credit and fiscal stimulus and clamping down on capital outflows.
In Europe, despite threats posed by the U.K. vote to exit the European Union and from capital stresses to German and Italian banks, "the recovery has proven to be increasingly resilient."
In Japan, core consumer prices fell 0.2 percent in December. Data for January is forecast to show the index at zero percent, versus the central bank's 2 percent target. "Scope for additional monetary policy accommodation is limited, leaving the economy vulnerable to adverse demand shocks," said Brainard.
Perils Remain
Brainard warned that perils remain for the Fed in navigating interest rates out of historically low territory. Chief among those was the persisting proximity of rates to zero and the likelihood that rates would return there if the economy suffered a negative shock.
Still, upside risks posed by an improving global economy, as well as by expectations for an expansionary fiscal policy under the Trump administration, mean "risks to the outlook are more balanced today than they had been for the preceding two years," she said.
Regarding an emerging debate over the Fed's balance sheet, Brainard sided firmly with officials who say that shrinking the portfolio of bonds should be done in a "gradual, predictable way."
She added that the balance sheet should ultimately be "considerably smaller than its current size but larger than its pre-crisis level." It stood below $1 trillion before the first round of bond purchases in 2008.
Before it's here, it's on the Bloomberg Terminal.
LEARN MORE