Australia Avoids Recession as Household Spending, Mining Boost Economy
By
Gross domestic product gains 1.1% from previous quarter

Household savings ratio falls to lowest level since 2008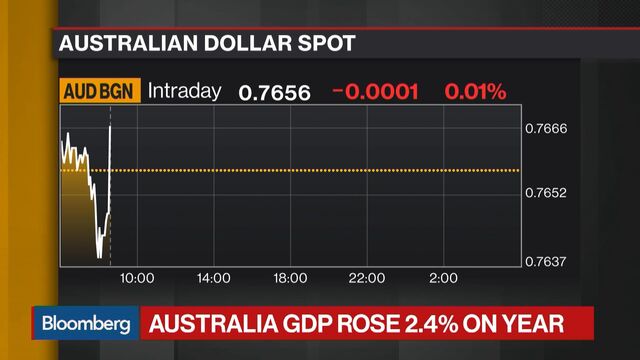 Australia's economy expanded faster than forecast in the fourth quarter of 2016 as household savings fell to the lowest level in more than eight years as consumers opened their wallets.
Key Points
Gross domestic product rose 1.1% from prior quarter; economists estimated 0.8% gain
Economy grew 2.4% from a year earlier, compared with a forecast 2% increase
Household savings ratio fell to 5.2% from 6.3%, lowest since third quarter of 2008;
Household spending rose 0.9% q/q, adding half a point to growth
Aussie dollar bought 76.63 U.S. cents at 12.21 p.m. in Sydney, compared with 76.45 cents before report
Big Picture
Household spending accounts for more than half of Australia's economy, and resurgent consumption teamed with government investment supported last quarter's expansion. Coal and iron ore prices continued their rebound in the period, providing a windfall to national income and keeping the economy on track to meet the Reserve Bank of Australia's target of 3 percent annual growth later this year.
The upswing ensured Australia avoided recession after the economy contracted by 0.5 percent in the third quarter due to bad weather disrupting residential construction and mining exports -- both were back in the black in the fourth quarter. The RBA has kept the cash rate at 1.5 percent since August as it tries to support Australia's transition away from mining toward industries like tourism and education that are sensitive to the currency's fluctuations. 

Economist Takeaways
"The income dynamics underlying the economy have improved significantly," said Michael Blythe, chief economist at Commonwealth Bank of Australia. "Australian economists can get back to boasting about our 25-plus years of economic growth and how we will soon overtake the Netherlands as the economy with the longest-running economic expansion."
The data provide some evidence that "rises in national income are filtering through into real activity," reflected in the fact "consumption growth rebounded," said Paul Dales, chief Australia and New Zealand economist at Capital Economics Ltd. "Coming alongside a 1.2 percent quarter-on-quarter rise in dwellings investment, private investment rose for the first time in two years."
Other Details
Public investment surged 7.7%, adding 0.3 of a point to the expansion
Exports advanced 2.2% in the period, adding half a point to growth
Imports gained 1.4%, subtracting 0.3 of a point from the expansion
The terms of trade, or ratio of exports to imports, jumped 9.1 percent in the quarter and was up 15.6% on the year
Watch This Next: