pursuits
Target Plunges Most in Eight Years
By and
Retailer says sales and margins will be affected by price cuts

Profit forecast trails estimates amid shift to new model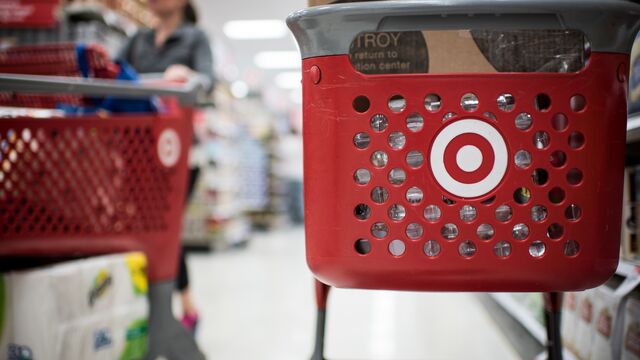 Target Corp. became a retail phenomenon -- and a stock market darling -- with a rare mix of hip products and bargain prices.
Whether the company can stick to that playbook is now in doubt.
Target stunned investors on Tuesday by abruptly announcing that it would move prices further down market, into the realm of its No. 1 rival, Wal-Mart Stores Inc., and accept lower profit margins as a result.
The news sent Target shares tumbling 12 percent, the most in more than eight years, and underscored the challenges confronting retailers caught between the twin juggernauts of American discount king Wal-Mart and online giant Amazon.com Inc.
Tuesday's move, coming after years of stagnant growth, represents a risk to Target's long-held objective of wooing more affluent shoppers -- an approach that won the company its faux French nickname, Tar-zhay. While cutting prices may draw more people in the door, it also may alienate consumers seeking a more upscale retail experience.
To hold onto those shoppers, Target will refurbish more than 600 stores and open about 100 smaller shops in cities and college campuses by 2019. It'll also introduce a dozen new store brands in areas like apparel and homegoods, trying to replicate the success it's had with labels like the Cat & Jack kids' fashion line.
Style Focus
Chief Executive Officer Brian Cornell sought to reassure investors that Target isn't abandoning the cheap chic formula that made it famous. Instead, Target will try to move away from the steep promotions it used to win back shoppers following its data breach in 2013 to focus on keeping prices low every day, Cornell told reporters Tuesday. The company still will prioritize delivering on the "style-side of the equation," he said.
"Our plan right now is to make sure we don't take our eyes off of the importance of quality, design and innovation in our stores and with our brands, but we also need to make sure we're continuing to deliver the value the guest is looking for," Cornell said. "We have to do both -- it's always going to be a challenge to keep the right balance in place."
Still, the judgment in the stock market was swift. Target's share price plunged the most since December 2008, even after Cornell's remarks.
'Better Path'
"We are stunned -- we thought they were going the other way, with higher-margin stuff," said Brandon Fletcher, an analyst at Sanford C. Bernstein & Co. "There is a better path, and we want to know why they stepped off into the wild."  
Target's new strategy follows a game plan employed over the past year by Wal-Mart. The world's largest retailer is spending as much as $6 billion to lower prices across its aisles, according to Wolfe Research analyst Scott Mushkin. Wal-Mart Chief Executive Officer Doug McMillon said last week that "customers are responding" to the reductions, after the company reported its highest quarterly same-store sales increase in more than four years.
"This is similar to the path Wal-Mart chose in late 2015," Stifel Financial Corp. analyst Mark Astrachan said in a note. "That said, Target's size relative to Wal-Mart suggests increased risk in focusing on everyday low prices."
Target's gloomy outlook signals that Cornell has more work to do to reverse the weak traffic that marred its holiday season. Only 35 percent of U.S. households shopped at Target in December, compared with 53 percent who did so in December 2007, according to data tracker Kantar Retail.

Target's fourth-quarter results came in at the bottom end of forecasts the company provided last month, which represented cuts from its original earnings guidance. Profit was $1.45 a share, trailing analysts' $1.51 average estimate. Same-store sales slid 1.5 percent, missing projections for a 1.3 percent decline.
"What they are doing is not working," said Amy Koo, an analyst at Kantar. "They need to fix their trip problem. They have to get more shoppers in the door, or get them to shop more often."
To do so, Target said it will spend $7 billion to remodel stores, expand its small store format, drive continued online sales growth, and ultimately provide everyday low prices -- an investment that will cost the retailer $1 billion in profit. The strategy represents a shift away from the heavy discounts and promotions that Cornell deployed when he took the helm at Target in August 2014.
Cornell, then an outsider coming from beverage giant PepsiCo Inc., was brought in to help the retailer rebound from exiting its Canadian business and the fallout of a massive data breach that tarnished Target's reputation among customers and analysts alike. Now he's tasked with assuring investors that while these investments will be costly upfront, it's an ultimately a plan to return to growth and stability.
Profit in the current fiscal year will be $3.80 to $4.20 a share, excluding some items, Minneapolis-based Target said. Analysts estimated $5.34, on average.
Dollar-store stocks fell on the prospect of a bigger price war among discount chains. Dollar General Corp. slipped 4.9 percent, and Dollar Tree Inc. retreated 3.6 percent.
New Brands
Even as it cuts prices on everyday goods, Target still wants to cultivate its own products. One of the major components of the updated strategy is rolling out more than 12 new brands, Cornell said. The product lines could represent $10 billion in sales, Target said, and would follow the successful introduction of home decor label Pillowfort and kids' apparel line Cat & Jack.
Still, the new items were overshadowed by Target's decision to reduce prices in the face of disappointing sales. Target said it expects a low to-mid-single digit decline in first-quarter comparable sales. The company also scrapped its long-term guidance for annual comparable-store sales increase of 3 percent.
"While the transition to this new model will present headwinds to our sales and profit performance in the short term, we are confident that these changes will best-position Target for continued success over the long term," Cornell said.
Border Tax
Cornell has been one of the more vocal executives lobbying against a potential U.S. border tax, which would punish retailers like Target by placing a levy on goods they import. He's joined leaders from J.C. Penney Co. and Best Buy Co. to try to convince President Donald Trump and Congress that the tax would ultimately burden U.S. consumers by raising the cost of goods, conversations that he describes as "productive" and "constructive."
"We have significant input costs that are coming from outside the United States today," Cornell said, referring to the $26 billion home goods and apparel categories, as well as more than 90 percent of consumer electronics that Target buys from companies like Apple Inc. and Samsung Electronics Co. that are made overseas. "There's a lot of policy dynamics in play today -- we're watching it, I'm watching it very carefully."
(
Updates with CEO comments starting in seventh paragraph.
)
Before it's here, it's on the Bloomberg Terminal.
LEARN MORE