Sessions Cites 'Dangerous' Crime Wave to Justify Tough Approach
By
Attorney general says he worries it's 'not a blip or anomaly'

Police are 'unfairly maligned,' he says, by 'viral videos'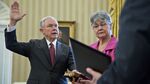 Attorney General Jeff Sessions is warning the U.S. faces "a dangerous new trend" in crime that he said requires stepped-up support for law enforcement agencies and robust prosecution of criminals.
Maintaining that crime rates are ticking up -- even as he acknowledged that they remain near historic lows across much of the U.S. -- Sessions said Tuesday that one of his top priorities will be to reverse this rise in violent crime.
"I do not believe that this pop in crime, this increase in crime, is necessarily an aberration," Sessions said in a speech to the National Association of Attorneys General during a conference in Washington. "I'm afraid it represents the beginning of a trend. What really concerns me at the bottom of all that is also the increase in drugs in America. They tend to follow one another."
Sessions used his first public speech since he was sworn in this month as the nation's top law enforcement official to justify the aggressive approach to policing and prosecution that were hallmarks of President Donald Trump's presidential campaign.
In particular, Sessions said U.S. law enforcement needs to crack down on drug use including heroin and marijuana. He denounced marijuana and what he views as "desperate" arguments that pot is a cure for opiate abuse or has other medicinal value.
"Give me a break," Sessions said. "I doubt that's true. Maybe science will prove I'm wrong."
More than half of U.S. states have legalized medical uses of marijuana despite the federal laws prohibiting its sale. Eight states and the District of Columbia have legalized recreational use among adults. The marijuana industry is estimated at more than $6 billion and will hit $50 billion by 2026, according to Cowen & Co.
Read about the marijuana industry's anger at the Trump team's approach
Sessions also said the U.S. will insist that other countries take back their citizens found to be illegally residing in America. "Some of these countries that are refusing to take them back, we have the ability and the power and the legal requirement to confront them and take action against them if they don't take them back," Sessions said, without elaborating.
"We're housing a lot of people who committed serious crimes who entered the country unlawfully who are long since due to be deported," Sessions said. "We're holding them because these countries won't take them back."
Faced with the prospect that the U.S. may send deportees from Central American countries across the Mexican border, Mexico's Foreign Relations Minister Luis Videgaray said last week that doing so would be unacceptable and unprecedented. If the U.S. follows through with the plan, Mexico will demand that the American government prove the nationality of every single deportee, he said.
Sessions also said that international drug cartels are growing stronger and that another of his priorities will be attacking their distribution networks.
'Hard-Won Gains'
In remarks prepared for the conference but not delivered there, Sessions said he worries about "a dangerous new trend that could reverse the hard-won gains of the past four decades."
In contrast to some statements made by Trump, however, Sessions acknowledged that "murder rates are half of what they were in 1980," and "the rate of violent crime has fallen by almost half from its peak in the early 1990s."
Although Trump has railed against conditions in America's inner cities, Sessions said "many neighborhoods that were once in the grip of gangs and drugs and violence are now vibrant places, where kids can play in the park and parents can enjoy a walk after sunset without fear."
'Unfairly Maligned'
Still, the attorney general blamed an uptick in crime on drug gangs fighting for territory and customers and fewer federal gun prosecutions. In a rejection of the Obama administration's pursuit of cases of alleged police misconduct, Sessions cited the "age of viral videos" that he said is making police "more reluctant to get out of their squad cars and do the hard but necessary work of up-close policing."
"Unfortunately, in recent years, law enforcement as a whole has been unfairly maligned and blamed for the unacceptable deeds of a few bad actors," Sessions said. "Our officers, deputies and troopers believe the political leadership of this country abandoned them.
"Rather than dictating to local police how to do their jobs -- or spending scarce federal resources to sue them in court -- we should use our money, research and expertise to help them figure out what is happening and determine the best ways to fight crime," Sessions said.
One-Year Increase
He said the latest official FBI data "tell us that from 2014 to 2015, the violent-crime rate in the U.S. increased by more than 3 percent -- the largest one-year increase since 1991." He said "the murder rate increased 11 percent -- the largest increase since 1968."
Preliminary FBI data for the first half of 2016 confirm the increase is becoming a trend, he said.
Sessions announced that he's creating a task force comprised of the heads of the Federal Bureau of Investigation, Drug Enforcement Administration and the Bureau of Alcohol, Tobacco, Firearms and Explosives. The task force, which will be headed by the deputy attorney general, aims to help carry out an executive order issued by Trump on reducing crime and restoring public safety, Sessions said.
It will examine deficiencies in current laws and propose new legislation, make sure agencies are collecting good crime data, and consult with law enforcement at all levels, as well as victims' groups and community groups, Sessions said.
— With assistance by Jennifer Kaplan, and Eric Martin
Before it's here, it's on the Bloomberg Terminal.
LEARN MORE