Style
Trump Official Once Wrote Book About Suits in the Voice of Machiavelli
A close examination of the sartorial prose of Michael Anton, the National Security Council's new senior communications director.
By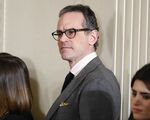 As anyone with eyeballs can read on a baseball cap, the stated aim of the Trump administration is to make America great again. Militarily, economically, bigly, the nation will regain the grandeur that distinguished it in an unspecified golden age.
But you may not know that one member of the Trump administration has his sights on another, unrelated return to glory. His goal is to "rescue an America that is shabbier than the English, haughtier than the French, more fashion-enthralled than the Italians, without style, without class, shoddy, garish, unkempt, vulgar, and enduring blemishes of every sort."
In short, someone is out to make us dress better.

Looking at Trump's inner circle, it's obvious to see who we are not quoting here. The deliberately disheveled Steve Bannon could not give one red cent what you wear. Same goes for various generals, who wisely eschewed choosing their own work clothes decades ago. Nor was it penned by one of those allegedly dapper alt-right types with their allegiance to vintage Hugo Boss (PDF).
Rather, the author is Michael Anton. Eleven years ago, the National Security Council's new senior communications director set down his thoughts on sartorial splendor and cultural decline in The Suit: A Machiavellian Approach to Men's Style.
The book would be worthy of note even were Anton not also the formerly anonymous author of "the Flight 93 essay," a pro-Trump tract decried as "xenophobic and authoritarian"" even by the conservative establishment. In early February, the Weekly Standard identified Anton as the writer of that piece. A few weeks later, the Intercept determined that he had placed 40,000 posts on the menswear bulletin Styleforum. Naturally, the latter revelation is more germane to his work in The Suit—despite the book's compelling analysis of the relationship between haberdashery and presidential power.
The book came to market in 2006 under the fake name Nicholas Antongiavanni—an alias that wasn't so much an attempt to obscure the author's identity as a nom de guerre underlining its rhetorical conceit. (Indeed, in promoting it, Anton gave an interview to the journal of the National Endowment for the Humanities, long may it thrive.) A devoted scholar of Niccolo Machiavelli's treatises on statecraft, Anton writes his book in the style of that Florentine political scientist.

The voice stunt is not mere wonkery—though it is that—but serves a narrative purpose. It can be useful, when pontificating on men's clothing, to affect a stagily antique style. It helps a fellow to bring some charm to what is essentially technical writing, to catch a good rhythm when describing small points with precision, to encourage a useful ambiguity about how seriously you take yourself. 
Anton plays the gimmick handsomely, as when transforming a basic bit of advice about the button-down collar into a piece of wit: "It should … be avoided by those ample of neck and rotund in face, because its soft folds only amplify those inherent in the wearer." He also deploys it to give disses extra sting, as when insulting pinstriped black suits: "These are popular in chest-thumping environs like the mafia and the counting houses of the City of London."
In 26 brisk chapters, illustrated only by tiny thematic drawings at each chapter heading, Anton holds forth on the basics of the suit and its accoutrements—fit, cut, pattern, neckwear, and so forth. Guiding sharply and explaining finely, The Suit compiles historical perspectives and complicates conventional wisdom. For the most part, Anton's advice (to short men, tall men, young men, all men) is extremely sound, and when his advice is unsound, he is either pungent in his fuddy-duddyism ("Trench coats are for trenches") or wrong in an intriguingly perverse way, as when positing that well-dressed men always wear suspenders.
He is essentially a fundamentalist, and his holy texts are "1930s issues of Esquire and Apparel Arts": "A wise dresser should observe such modes and never succumb either to drab predictability or vulgar showiness, but with his industry and prudence acquire varying garments of consummate style, so that he is always well dressed for every occasion." 

Anton analyzes not only the most familiar sharp dressers of the 20th century (Fred Astaire, Cary Grant, the Duke of Windsor), but also, as guided by his attention to politics and media, a few unusual suspects. His sartorial heroes include Willie Brown, Dean Acheson, Kofi Annan, Anthony Eden, and the men of 60 Minutes—"except Steve Kroft, who dresses like a Nordstrom salesman."
I benefited from reading the book. Most men will, particularly Anton's new boss, for whom Jared Kushner or someone ought to dog ear page 71, where it states: "All men … are noted for some quality or two that brings them either blame or praise. ... In the case of most men this is usually some bad habit, like tying one's tie too long." Trump could also stand to lay eyes on page 21, where Anton ventures that "nothing is more sloppy, especially for the tall man" than wearing his jacket unbuttoned.

The one place that The Suit's premise intersects with its purpose is its analysis of the practical politics of power dressing, a tour through the wardrobes of U.S. presidents, from Franklin D. Roosevelt through George W. Bush. Among other moments of brilliance, the chapter includes a paragraph on Bill Clinton, whose flashiness of attire was directly proportional to his approval ratings. When in dire straits, he dressed modestly, sequestering his double-breasted suits in the closet at the first rumor of impeachment, for instance. Anton writes of Clinton,
[W]hoever examines minutely the habits of this man will find him a most astute judge of the mood of the people and his own exposure to danger, and will see that he varied his dress accordingly, and will not marvel that he was able to escape ruin on so many occasions.
This would be the proper place to note that Anton has been playing things pretty low key since going to Washington this year, give or take a pocket square. He definitely won't be breaking out the double-breasted vests any time soon; He works for a politician, and a politician, as he writes, is "burdened by the necessity that he offend no one." It pays to be inconspicuous in that town, and the wise man knows when to play the dullard. 
Before it's here, it's on the Bloomberg Terminal.
LEARN MORE