March Hike Real for Traders as Fed Speakers Talk Up Chances
By
Trump address to Congress may reveal details on fiscal plans

Janney sees data meriting at least 50-50 odds in March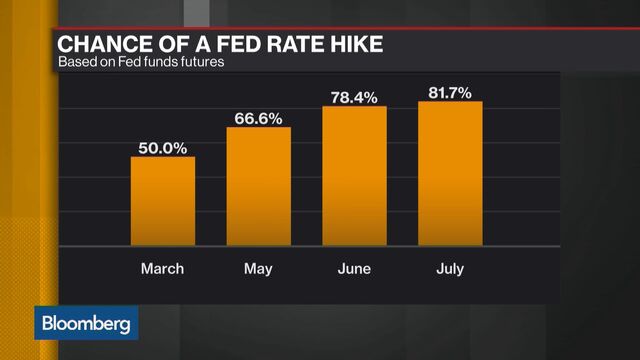 The Federal Reserve is forcing the bond market to realize interest rates may go up in two weeks.
While Fed Chair Janet Yellen had been warning that every meeting is "live," including the March 14-15 gathering, traders remained unconvinced –- until this week's parade of Fed speakers hammered home their willingness to consider a hike. The odds of an increase have jumped above 70 percent, from 40 percent on Friday, futures prices show. The two-year Treasury yield, the maturity most sensitive to Fed policy expectations, surged to 1.26 percent Tuesday in New York, heading for its steepest two-day climb this year.

New York Fed President William Dudley capped two days of hawkish comments from U.S. central bankers when he said the case for tightening has become much more compelling. His interview with CNN came hot on the heels of comments from Fed San Francisco President John Williams -- saying he expects a rate increase to get "serious consideration" at the coming meeting. Fed Dallas President Robert Kaplan said Monday policy makers should raise rates "sooner rather than later," without paying excessive attention to market expectations.
"Any time we're as close to full employment and as close to the 2 percent inflation mark as we are, and monetary policy is still accommodative, the odds of a rate hike at any given meeting should be 50-50, at a minimum," said Guy LeBas, chief fixed-income strategist at Janney Montgomery Scott LLC in Philadelphia.
Janney has called for three hikes in 2017 since the start of the year, LeBas said. And "if you're going to get to three, you probably start in March."
President Donald Trump is preparing to outline fiscal plans in a speech Tuesday night, potentially bolstering the case for a tax-cut- propelled pickup in the economy. 
No Done Deal


Looking at the U.S. overnight index swap curve, and adjusting for the spread between the policy rate and shorter-term OIS rates, the probability of a 25-basis-point increase next month stands at about 60 percent, double the odds of a week ago, data compiled by Bloomberg show.
Jeffrey Rosenberg at BlackRock Inc. and Mohamed El-Erian at Allianz SE last week joined Fed officials in saying traders haven't been doing enough to prepare in case the central bank moves. At the same time, El-Erian warned in an opinion piece that "the higher probability of a Fed hike still doesn't make it a done deal."
Even if the Fed has little true intention of accelerating the pace of rate increases, it may be helpful for Yellen that investors aren't complacent about the possibility of such a move. It would leave less work to prepare traders in case circumstances did develop to warrant a boost sooner than the second quarter, when most economists see a rate rise.
"Odds of more than 50 percent are reasonable" when betting on a March rate move, said Hiroki Shimazu, an economist at the Japanese unit of MCP Asset Management in Tokyo. "There's an optimistic tone in the stock market. There's inflation pressure. That will push the Fed to hike rates.''
The February employment report on March 10 may add evidence the U.S. economy is expanding just as policy makers prepare to meet, he said.
Inflation Potential
Rosenberg said the U.S. is on the verge of a breakout in inflation, and there are signs that costs for goods and services are gathering momentum. The price index for personal consumption expenditures probably hit the Fed's 2 percent target for the first time since 2012, according to a Bloomberg survey of economists before the report Wednesday.
A bond-market metric projecting expectations for consumer prices over the coming decade climbed to 2.09 percent last month, the highest level in more than two years. The so-called break-even rate is derived by calculating the difference between yields for nominal and inflation-linked bonds.
See also: Fed Can't Lift and Tame Prices at the Same Time
The last time futures showed a 10-point jump in expectations for the March hike was Feb. 15, when the U.S. reported an increase in its consumer price index. Yellen also spoke, saying she hopes the economy allows the Fed to raise rates at a faster pace.
It'll be up to Yellen to clarify her plans when she speaks Friday. 
"The market's a bit confused about March,'' said Peter Jolly, head of market research at National Australia Bank Ltd. in Sydney. "Janet Yellen is going to have to make the case for it if that's what they want to do. I'd still be betting against March."