France Inc. Snubs Le Pen as Campaign Shifts Onto Economic Policy
By and
Anti-euro candidate says establishment panicking at her rise

Lobbyist says Le Pen's polices out of step with their goals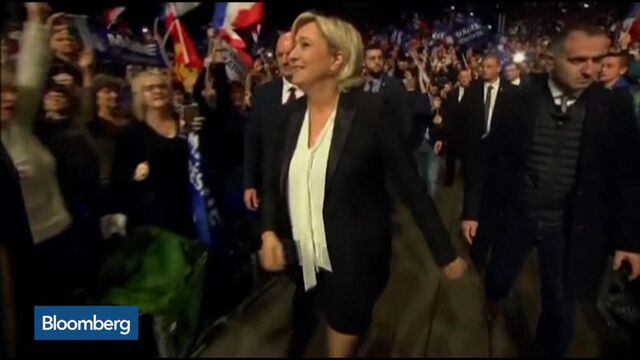 French industry is starting to signal its opposition to Marine Le Pen.
Lobby groups representing more than 13 percent of the French economy and 3.1 million jobs held a policy debate with the main presidential campaigns Tuesday and Le Pen's team wasn't invited -- her plan to pull France out of the euro and introduce protectionist measures meant that she wouldn't have made a positive contribution to the debate, industry leaders said.

"It wasn't useful to speak with candidates who don't defend European ideas," Vincent Moulin Wright, head of the Group of Industrial Federations, said in an interview.
As the 2017 campaign gathers pace, investors and executives have been unnerved by the prospect of Le Pen emerging from the most open election in living memory with a mandate to withdraw from the European currency union.
French bonds have whipsawed with the ebb and flow of her campaign. Ten-year yields reached their highest in 16 months earlier in February as the nationalist gained momentum and they've have shed 25 basis points since then as the centrist front-runner Emmanuel Macron bolstered his own bid with a series of key endorsements.
Macron will be seeking to consolidate his advantage when he sets out the detail of his policy proposals on Thursday. Le Pen will be aiming to demonstrate her own credentials on the economy when she gives a speech the same night.
Le Pen Left Out
While Le Pen is favorite to win the first-round vote on April 23, no poll yet has shown her coming within even 10 percentage points of victory in the run-off on May 7.

"I think I know why I wasn't asked to speak," Le Pen said in a statement on her website. "There's total panic in a system that is off the rails."
Also excluded was Jean-Luc Melenchon, the far-left candidate who has promised to review all of France's commitments to the European Union.
Le Pen's National Front team was left off the guest list because the discussion was focused on competitiveness within the EU and she is opposed to French membership of the bloc, according to Michel Grandjean, head of the Federation for Mechanical Industries, which represents 629,000 employees and 30,200 companies including trainmaker Alstom SA. Le Pen and Melenchon's demand for more protection for French companies also ran counter to the focus of the debate, he added.
"Competitiveness implies free trade, which is not an option that Le Pen or Melenchon have supported," Grandjean said, describing the National Front leader's response as "sharp." He said he's open to discussing protectionist measures with both Le Pen and Melenchon.
Cross-Border Operations
Le Pen has tapped into voters' concerns about immigration with a pledge to end the rules that allow EU citizens to work in other countries with their own domestic contracts, saying it hurts French workers. Republican Francois Fillon has also made opposition to the so-called guest-worker program a feature of his campaign while Macron tightened rules on European workers while serving as economy minister under Socialist President Francois Hollande.
Still, the National Front's broader proposals to erect trade barriers with the rest of Europe and bring back border controls are anathema to many French corporations whose businesses criss-cross European frontiers.
Lobbyists in industries from construction and health care to financial services or chemicals typically organize both public and private meetings with candidates during French election campaigns in a bid to shape the policy plans of the next administration.
Le Pen though has had contact with a few groups -- she was invited to the construction federation gathering last Thursday and Moulin Wright said the GFI has had talks with her adviser and life partner Louis Aliot. But most lobbyists and major corporations have ignored her, signaling that her party's history of racism and anti-Semitism makes her too toxic to meet with.
One group that was happy to meet the candidate on Tuesday were farmers. Le Pen spent an entire day at the country's annual trade fair, drawing large crowds everywhere she went as she chatted with cattle and pig farmers. An Ifop study released Feb. 27 said 35 percent of farmers would vote for Le Pen in the first round on April 23, up from 19.5 percent in 2012.
— With assistance by Mark Deen, and Gregory Viscusi
Before it's here, it's on the Bloomberg Terminal.
LEARN MORE