Fed's Williams Says March Hike to Get 'Serious Consideration'
By and
U.S. economy nearing Fed's goals on inflation and unemployment

FOMC should ease 'off the gas' to avoid overheating economy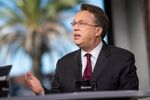 Federal Reserve Bank of San Francisco President John Williams said he expects an interest-rate increase to receive "serious consideration" when he and other U.S. central bankers gather March 14-15 in Washington.
"We're very close to achieving our dual mandate goals. Yet monetary policy essentially still has the pedal to the metal," Williams said in the text of a speech he's scheduled to deliver Tuesday in Santa Cruz, California. "We need to gradually ease our foot off the gas in order to avoid a 'too hot' economy that in the end isn't sustainable."
Investor expectations for a rate hike have been on the rise in recent days as a handful of Federal Open Market Committee members, including Dallas Fed President Robert Kaplan and Philadelphia's Patrick Harker, have expressed confidence in the economy. They have all highlighted the need to continue lifting the Fed's benchmark lending rate at a gradual pace.
The probability of a March hike implied by pricing in federal funds futures contracts rose to 52 percent Tuesday from 34 percent less than a week ago.
'Fairly Soon'
Minutes of the January FOMC meeting showed "many" Fed policy makers favored raising the benchmark interest rate "fairly soon" if the economy continued to improve in line with or stronger than expectations.
"I am confident that the economy will continue to grow at a healthy pace even as we raise rates," Williams, a non-voting member of the FOMC this year, said Tuesday.
Williams, 54, who took over for Janet Yellen at the San Francisco Fed in 2011 when she joined the Board of Governors, said unemployment in the U.S., near 4.75 percent, had reached its lowest sustainable level. While inflation has been held below the Fed's 2 percent target by a drop in oil prices and the dollar's appreciation, those forces were on the wane, he said.
"Our graph lines are moving in the right direction to reach the 2 percent goal over the next year or so," he said.
Measured by the Fed's preferred gauge and excluding food and energy components, inflation rose 1.7 percent in the 12 months through December.
Harker, speaking Tuesday in Philadelphia, repeated that he favors three quarter-point rate hikes in 2017 if the economy remains on track. On Feb. 21 he said the FOMC should be open to raising rates in March.
Kaplan said Monday he would prefer to raise rates "sooner rather than later," without explicitly calling for a March move.
— With assistance by Jeanna Smialek
Before it's here, it's on the Bloomberg Terminal.
LEARN MORE