markets
Fed Officials Signal More Willingness to Consider March Hike
By and
Dudley, Williams express confidence, sending March bets rising

N.Y. Fed's Dudley sees 'more compelling' case for tightening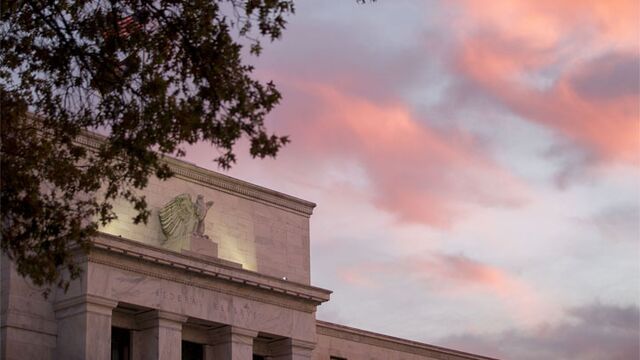 Two influential Federal Reserve officials signaled a greater willingness to tighten monetary policy, perhaps as soon as next month.
New York Fed President William Dudley, in an interview Tuesday on CNN International, said the case for tightening had become "a lot more compelling" in recent months. "The risks to the outlook are now starting to tilt to the upside," he said.
His remarks followed comments from San Francisco Fed chief John Williams, who said he expects an interest-rate increase will receive "serious consideration" at the March 14-15 meeting of the policy-making Federal Open Market Committee.
The hawkish talk from Fed officials reflected growing confidence in the durability of the U.S. economic expansion almost eight years since the Great Recession ended in 2009. Behind that optimism: surging business and consumer confidence, more buoyant financial markets and an increased likelihood of an expansionary fiscal policy under President Donald Trump.
The probability of a March hike implied by pricing in federal funds futures contracts temporarily jumped to more than 70 percent after the pair spoke, from about 50 percent earlier in the day and from 34 percent less than a week ago. The odds then settled back down to around even money as traders await a Friday speech from Fed Chair Janet Yellen.
'More Compelling'
"Put it all together, I think the case for monetary policy tightening has become a lot more compelling," Dudley said.
Lou Crandall, chief economist at Wrightson ICAP LLC in Jersey City, New Jersey, said he expects policy makers to raise rates in March unless the February jobs report, due out March 10, disappoints.
"They'll take the first opportunity to move that presents itself," Crandall said. "As long as the data stay solid, March will be the window to move."

Not all Fed watchers were so convinced. Carl Tannenbaum, chief economist at Northern Trust in Chicago, said the comments from Dudley and Williams placed even more importance on Yellen's upcoming speech.
"These could certainly be seen as opening overtures as the Fed tries to set the tone for the markets," he said. Yellen's "is a voice that really needs to be heard from before we cement the possibility of a move."
Philadelphia Fed President Patrick Harker, also speaking Tuesday, repeated that he favors three quarter-point rate hikes in 2017 if the economy remains on track. On Feb. 21 he said the FOMC should be open to raising rates in March.
Williams said the Fed was close to reaching its targets, with unemployment at its lowest sustainable level and inflation heading toward the central bank's 2 percent objective.
Inflation Target
"We're very close to achieving our dual mandate goals. Yet monetary policy essentially still has the pedal to the metal," Williams said in his speech Tuesday in Santa Cruz, California. "We need to gradually ease our foot off the gas in order to avoid a 'too hot' economy that in the end isn't sustainable."
Williams added that he's confident the economy will continue to grow even as the central bank raises rates.
Minutes of the Fed's most recent meeting, Jan. 31-Feb. 1, showed "many" policy makers favored raising the benchmark interest rate "fairly soon" if the economy continued to improve in line with or stronger than expectations.
"Fairly soon means in the relatively near future," Dudley said in his interview.
— With assistance by Jeanna Smialek, and Vivien Lou Chen
(
Updates with comments from Fed officials throughout.
)
Before it's here, it's on the Bloomberg Terminal.
LEARN MORE