Central Sydney Now Fueling Quarter of Aussie Economic Growth
By
Stark growth divides are greater than during mining boom

GDP data show 1.1% national growth in fourth quarter of 2016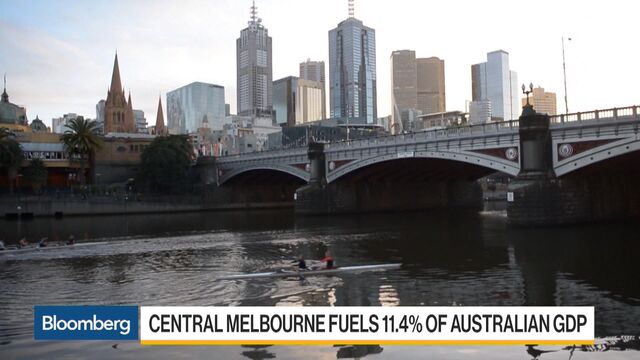 Inner districts of Sydney drove almost a quarter of Australia's expansion last fiscal year, underscoring the city's pre-eminent position in the nation's economy.
The area stretching from Sydney's central business district to Macquarie Park north of the center made up 24 percent of GDP growth in the financial year through June 2016, according to consultancy SGS Economics & Planning. Inner Melbourne contributed 11.4 percent as Australia's east coast cities perform in a similar fashion to their impact on the property market.
Australia's economy expanded 1.1 percent in the fourth quarter of 2016 versus the previous three months, and 2.4 percent from a year earlier, data showed Wednesday. A rebound in iron ore and coal prices last year may have brought some benefits to resource-rich states that have struggled since the end of a mining-investment boom: Western Australia saw its first increase in state final demand since June 2015 and Queensland also recorded a jump.
"The Reserve Bank of Australia has to manage booming economies in Sydney and Melbourne while the rest of the country is struggling to grow in the face of a range of headwinds," Terry Rawnsley, an economist at SGS, said Tuesday. "The stark contrast between growth rates across the country is greater now than at any period during the mining boom."

Mineral production in regional Western Australia contributed 6.5 percent to GDP growth in fiscal 2016, well down on previous years when construction of new mines added significantly to economic activity, SGS said. The coal-producing Bowen Basin region near Mackay also added 2 percent to growth, it said.
Taken as a whole, all districts of Sydney and Melbourne delivered two-thirds of Australia's growth last fiscal year: 38.6 percent of GDP growth was contributed by the nation's biggest city, its best performance since 1991-92; and a record 28.4 percent from its second-largest, the research showed.
Housing Boom
The construction industry and Sydney's strength in domestic and global financial markets underpinned the strong performance, Rawnsley said. The city's economic strength, combined with record-low interest rates, has contributed to Sydney's relentless housing rally. Prices in the year to February surged 18.4 percent, the most since 2002, data showed Wednesday.
"If the RBA was setting interest rates for Sydney alone, they would be at 3.75 percent not 1.5 percent," Rawnsley said. "The lack of economic growth in the rest of the country is contributing to the squeeze on first-time home buyers in Sydney."
Even so, Sydney's western suburbs have been hit by a decline in Australian manufacturing, whose share of the city's economy slumped to a record-low 5.7 percent in fiscal 2016. With much of Sydney's population living in the west, linking people to jobs and opportunities remains a challenge.
"These social outcomes, combined with feelings of disenfranchisement within communities and dissatisfaction with major political parties is changing the political landscape in many of these regions," Rawnsley said.
Before it's here, it's on the Bloomberg Terminal.
LEARN MORE