Last-Minute 'Moonlight' Oscar Marks Black Film Milestone
By
Dunaway mistakenly names 'La La Land' as year's top movie

PricewaterhouseCoopers takes responsibility for error
In an upset made all the more shocking by the way it was announced, "Moonlight" won the Oscar for best picture, a crowning achievement for African-American filmmakers after two years of controversy over institutional racism in Hollywood.
On live television in front of an audience of millions, presenter Faye Dunaway, onstage with fellow actor Warren Beatty, mistakenly said that "La La Land," the favorite, had won the best-picture award, and the winners had already taken the stage when they were corrected. Instead of the retro musical, a coming-of-age film about a black gay man, distributed by tiny A24, was Sunday night's big winner. PricewaterhouseCoopers, which manages the balloting, took responsibility for the mix-up. 

Oscar voters also honored black actors for both supporting-actor categories in a ceremony peppered with political barbs at President Donald Trump. "La La Land," distributed by Lions Gate Entertainment Corp., won six of its 14 nominations, including best director for Damien Chazelle, who at 32 is the youngest to win the award, and best actress for Emma Stone. Casey Affleck won best actor for "Manchester by the Sea."
"Moonlight," which had a budget of $1.5 million and was widely released in November, had the lowest box-office revenue of any best-picture nominee, with an estimated $22.3 million, according to Box Office Mojo. Its victory is likely to boost that total significantly, providing a huge lift for New York-based A24, founded in 2012 and originally backed by Guggenheim Partners. The firm is owned by closely held media investor Eldridge Industries, run by former Guggenheim executive Todd Boehly.
"It is a message to Hollywood to embrace these kind of movies, these kind of stories, this kind of diversity," Erik Davis, managing editor at Fandango.com, the ticketing and industry website.

Wrong Envelope
PwC, which has led the balloting process for the awards for 83 years, apologized for the mix-up that led to "La La Land" incorrectly being given the top honor. The company collects and counts the votes, and brings a backup set of envelopes with the winners to the event. For best picture, Beatty said he was passed a card with Emma Stone for "La La Land" -- the best-actress award she had won earlier in the evening.
"The presenters had mistakenly been given the wrong category envelope," PwC spokeswoman Caroline Nolan said in an e-mailed statement. "We are currently investigating how this could have happened, and deeply regret that this occurred."
To read about PwC's apology for envelope mix-up, click here.
The mix-up marred an evening of triumph for African-American filmmakers. Mahershala Ali's portrayal of a drug-dealing father figure in "Moonlight" and Viola Davis's embattled housewife in "Fences," both supporting roles, were early winners in Sunday night's ceremony. Ali is also the first Muslim to win an acting Oscar, according to the Los Angeles Times. Barry Jenkins and Tarell Alvin McCraney won for adapted screenplay for "Moonlight," the first time multiple African-American writers have received an Oscar in the same year.
"This goes out to all those black and brown boys and girls and all those non-gender-conforming," McCraney said. "This is to all of you."

Ali and Davis were two of six black actors nominated for an Academy Award after two years when people of color were snubbed. In response to complaints about a lack of diversity, the Academy of Motion Picture Arts & Sciences last year brought in 683 new members, almost double the number added the previous year, to include a more diverse group of people.
The Academy Awards, hosted this year on ABC by Jimmy Kimmel, can boost the fortunes of small films and create new power brokers in Hollywood. More importantly, they're a cultural touchstone, drawing more than 30 million viewers in the U.S. alone.
A lack of diversity remains an issue in front of and behind the camera, and the #OscarsSoWhite Twitter campaign of the last two years clearly bruised Hollywood, normally known as a bastion of liberalism. The election of Trump, a Republican, in November also gave this year's awards ceremony special significance, since actors such as Meryl Streep have directly drawn the president's ire for using their celebrity to make political statements.
"Thank you, President Trump," Kimmel said in his opening monologue. "Remember last year when it seemed like the Oscars were racist? That's gone, thanks to him."
That was one of several jokes at the president's expense, including several entreaties by Kimmel for Trump to tweet about the proceedings. As of the end of the ceremony, he hadn't obliged.
The show attracted an audience of 32.9 million viewers, ABC said Monday in a statement. That was down 4.4 percent from the 34.4 million who tuned in a year earlier and the smallest Oscars audience since 2008, according to ratings data from Nielsen.
Blue Ribbons
Few other presenters or winners made overt political statements. Ruth Negga, nominated for her role in "Loving," and Lin-Manuel Miranda, creator of the musical "Hamilton," were among actors wearing a blue ribbon Sunday night in support of the American Civil Liberties Union, which has battled Trump's immigration restrictions in court.
Director Ava DuVernay, whose film "13th" about mass incarceration was nominated for best documentary, posted a picture of herself on social media holding a sweater with the name Trayvon, in memory of Trayvon Martin, the teenager gunned down in 2012. Her film lost to "O.J.: Made in America," which explores the racial themes behind the 1995 murder trial of the former football star O.J. Simpson.
This year the Oscars has been directly affected by President Trump's policies. Asghar Farhadi, the Iranian director of best foreign film winner "The Salesman," said in a statement read at the ceremony that he boycotted the event in solidarity with those affected by "inhumane" travel restrictions Trump attempted to impose on Iran and other majority-Muslim countries.
"Dividing the world into the 'us and enemies' categories creates fear," said Farhadi. His film was distributed by Amazon.com Inc., whose Chief Executive Officer Jeff Bezos was in the audience.
Amazon, Netflix
Khaled Khateeb, the Syrian cinematographer of documentary short-feature winner "The White Helmets," was barred entry to the U.S, according to the Associated Press. The film, distributed by Netflix Inc., is about volunteer rescue workers in war-torn Syria.
"The Salesman" and "The White Helmets" were the first Oscar wins for Amazon and Netflix and the first for streaming-video services, a reflection of how the technology industry is infiltrating Hollywood. Amazon's "Manchester by the Sea" also garnered a best original screenplay award for Kenneth Lonergan.
Watch Next: How Lions Gate Beat Hollywood With 'La La Land'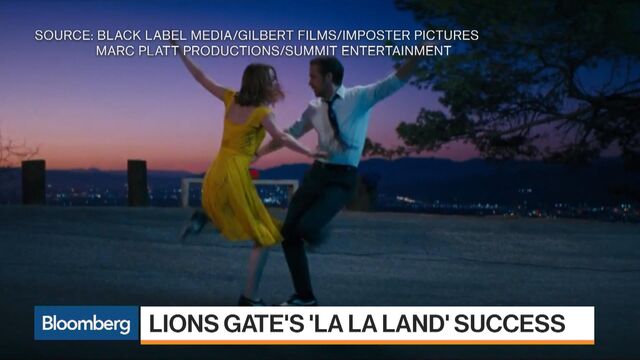 Streep, nominated for best actress this year for "Florence Foster Jenkins," drew Trump's attention after a speech at the Golden Globe awards criticizing the president and urging viewers to support a free press. Trump responded by tweeting that Streep, a 20-time Oscar nominee and three-time winner, is an overrated actress.
Kimmel led the Academy Awards audience in a standing ovation for Streep, saying she was due a "totally undeserved round of applause."
— With assistance by Joe Mayes
Before it's here, it's on the Bloomberg Terminal.
LEARN MORE