Style
This Preppy Hunting Jacket Is Now Office-Appropriate
Waxed jackets, quilted gilets, and other sporty outerwear take over the suit-and-tie uniform in time for spring.
By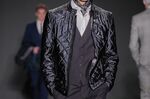 Here they come now, as sure a sign of fading winter as the return of morning birdsong. Young New York finance guys are beginning to sport the new outerwear of their tribe on the cusp of spring, fusing navy-blue gilets, olive-green waxed jackets, and gray fleece vests with the standard uniform of city business.
Thus merging town and country, they're evolving the professional wardrobe in the direction of an American hybrid—equal parts Edwardian sporting party, Dartmouth keg party, and party of four with an 8 p.m. reservation at Dorsia. The quilted gilet (rhymes with filet, if you're being fancy about it) made its presence strongly felt last fall. Now, with its sartorial cousins that have descended from hunting gear, it has shoved aside all objections to emerge as a mainstream weekday must-have for a certain sort of moneyman.

I sighted my first specimen of the season (or, at least, my first very well dressed one) the other morning on the subway. He was standing on the 4 train, sedately surveying the universe from his smartphone as we rode from Brownstone Brooklyn to Grand Central Station, whereupon he picked up his sturdy, structured canvas tote by its leather handle and strode in the direction of JPMorgan Chase.
He wore suit trousers of subtle blue—more exciting than navy, but not so exciting as to agitate a conservative client—and a necktie with a half-Windsor knot and nut-brown leather shoes with low-key broguing. Topping all this, on a morning when the Fahrenheit thermometer was hitting the mid-40s and heading toward 57, he wore an olive-green quilted jacket from Barbour. To him I say, excellent choice, sir. To you I say, please hold his image in mind for a moment and ponder its significance.
Yes, significance, no scoffing. This might seem not very important to you, but dressier men experience certain agonies of outerwear as the vernal equinox approaches. It's too warm out for a heavy wool topcoat, and you're sick of that thing anyway. It's not right to wear a raincoat, under the fair skies of February. And while it's possible to play the sophisticate in a garment such as a car coat or commuter coat, today's young professional views that particular kind of finery as the province of oldsters and Euros.

Thus, just as brogues have made a passage from country shoes to urban standbys, just as the business suit itself transcended its origins as a thing worn to lounge around a rural estate, these pragmatic horse-country classics have taken the town. That they follow in the wake of athleisure's reformatting of office formality has been key to their broad acceptance. That they boast preppy pedigrees—sleeveless or not—surely doesn't hurt their approval among the financial sector set. Nor does the fact that these garments, especially those cut to liberate biceps, encourage a swaggering gait. 
While a variety of clothiers are doing good work in this arena, it is clear that the most correct logo to flash belongs to Barbour, founded around 1894 and since favored by potentates including Queen Elizabeth (with Wellington boots, at a horse show) and your boss (with duck boots, back in boarding school). When I asked the nice people at Barbour whether they had any further advice to give men on this subject, they simply plugged their classic Beaufort waxed jacket and Heritage Liddesdale quilted jackets as particularly appropriate to pair with office wear. This left me to loiter outside 270 Park Avenue, the better to describe phenomena and prescribe behavior.
My sincerest condolences to the guy who spoiled the look of a good suit by wearing over it a quilted jacket that was shorter than the suit jacket, creating an unfortunate flounce. To be clear, the fellow on the 4 train merits special mention partly because of his success in avoiding such layering foibles. Was he even wearing a suit jacket under there? I'll never know, and that's part of his success.
To the young fellow sporting a plain white broadcloth dress shirt beneath his trim quilted gilet: Congratulations on your internship! With time and experience, you'll realize that your shirtsleeves, thus exposed, ought to offer a bit of color or pattern or texture or something. (I'm assuming that you want your gilet get-up to look like a considered outfit, as opposed to a hasty concession to the weather.)
To the dudes wearing their trim quilted gilets and jackets beneath buttoned suit jackets with nary a sign of strain: Thumbs up! Please send memos to your colleagues whose underlayering garments are not so trim. They bulge like tufted ottomans.

Props to the men wearing barn jackets as topcoats with the correctly relaxed footwear. Loafers, as opposed to uptight wingtips, are a good choice here: The shoes help a person wearing a barn jacket carry off the affect of owning, among the many outbuildings at his country estate, a proper barn. 
To the guy wearing a down vest on top of a suit jacket: For real? Is there even an analogy to explain the enormity of this crime against sense and proportion? This look does not say, "going to the office with a full sense of purpose." This look says, "complying with a fire drill in inclement weather."
Before it's here, it's on the Bloomberg Terminal.
LEARN MORE