Dijsselbloem Says Labor Not Out as Wilders Holds Poll Lead
By and
Freedom Party leads Rutte's Liberals by 4 seats: Peil.nl poll

Finance Minister's Labor Party support collapsed after 2012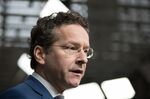 Dutch Finance Minister Jeroen Dijsselbloem said it's too early to count out his Labor Party as populist Geert Wilders maintained a poll lead less than three weeks before general elections.
Dijsselbloem, who has served as finance minister in a coalition government with Prime Minister Mark Rutte's Liberal Party since 2012, is fighting for his political future in the March 15 elections. Dijsselbloem also leads the group of euro-area finance ministers, and a poor showing that cost Labor its coalition slot could put his post in doubt.
"I am optimistic, we have had highs and lows, we will just need to keep on fighting," Dijsselbloem, who is third on the Labor Party's list of candidates, said at an event in Amsterdam on Sunday. "At home and relaxed, I get somber, but as long as I remain busy I get the feeling we are getting an extra seat."
The Netherlands is holding the first of three major elections in Europe this year that will determine whether the populist surge that delivered the Brexit vote in the U.K. and helped Donald Trump into the White house will spread into the European Union's core.
While some polls have suggested Wilders's Freedom Party may be losing support, a regular survey published by Peil.nl on Sunday gave him a four-seat lead over Rutte's Liberals for the second straight week. That raises the prospect of an anti-Islam party that wants to halt immigration and re-establish borders placing first in one of the EU's six founding members, just as voters in another -- France -- make the anti-euro National Front favorite to go through to May's presidential election runoff.
Immigration Focus
Almost all the established Dutch parties, including the Liberals and Labor, have excluded governing with Wilders, but that doesn't stop them chasing his votes. Immigration to the Netherlands featured in a televised debate among party leaders on Sunday evening, with Labor and the opposition Christian Democrats both arguing for a halt to new arrivals.
The Freedom Party would place first with 29 out of the 150 seats in parliament compared to 25 seats for the Liberals, according to Peil.nl. Labor under Deputy Prime Minister Lodewijk Asscher's leadership would take 12 seats, down from 38 seats at present.
For a summary of Dutch voting intentions from recent polls, click here
Labor lost support after it formed a coalition with the Liberals and implemented a range of reform measures. The coalition passed a 22 billion-euro ($23 billion) austerity package that included cuts in health care and old-age care, an increase in the pension age and reform of the housing market. Rutte will lead the first government to complete a full term since Prime Minister Wim Kok in 1998.
"It has been a journey through the desert, but we are now the most competitive economy of Europe and also one of the fastest growing, with the largest drop in unemployment in 10 years," Rutte said in an interview in Het Financieele Dagblad on Saturday. "So that's quite an achievement."
Rutte said in a radio debate on Friday he would prefer to be in a coalition with the Christian Democrats and the Democrats. According to the Peil.nl poll, this group would get 57 seats, short of the 76 needed for a majority.
If Labor declines to serve in a coalition, Dijsselbloem may have to step down as chairman of the Eurogroup as soon as a new government has been installed. Alexander Pechtold, leader of the Democrats, said in an interview on Dutch TV-program Buitenhof that Dijsselbloem could stay in the post and should be able to finish his full term as leader of the group, which ends in December. Dijsselbloem, however, said he wouldn't support that scenario.
Before it's here, it's on the Bloomberg Terminal.
LEARN MORE