business
Brexit Bulletin: EU Lose Too
A look at what the EU stands to lose from Brexit.
By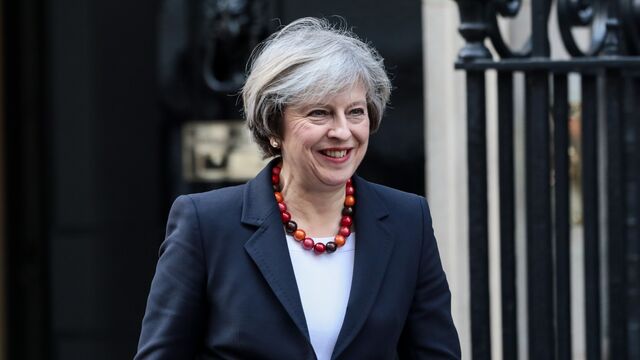 Sign up to receive the Brexit Bulletin in your inbox, and follow @Brexit on Twitter.
The European Union will not just lose its most awkward member when Britain leaves, but also a source of revenue, security and financial services.
When the U.K. finally does walk away, it will deprive the bloc of the region's most powerful army, a seat at the top table of international policymaking, a world-dominating banking hub and hefty budget contributions.
Bloomberg's Ian Wishart illustrates just what all that means in a series of charts, which in turn demonstrate why the EU should be careful of isolating Britain too much in the divorce.

Still, Swedish Enterprise and Innovation Minister Mikael Damberg became the latest EU policy maker to remind Prime Minister Theresa May that "if you're not a member of the club, you can't have the benefits of the club."
"It will cost Great Britain to leave the European Union," Damberg said in an interview with Bloomberg.
May Prepares for Lords
Immigration is returning to the fore of the Brexit debate as the House of Lords mulls whether to amend the draft law that will allow May to trigger Brexit.
Many of the unelected peers want to guarantee the residency rights of EU citizens already in Britain. Some also want to secure a binding vote on May's final Brexit deal.
Such maneuvering is forcing the government to set aside time for a parliamentary battle to overturn such changes. May's team has now told fellow Conservatives to be ready to vote the week of March 13, Bloomberg's Tim Ross reports, citing a person familiar with the situation who declined to be named. The law is expected to be sent back and forth as the House of Commons overturns changes made by the Lords.

Home Secretary Amber Rudd said on Sunday she will unveil post-Brexit plans for overhauling migrant-worker rules later this year.
Rudd said her office is "looking at all the different options" for managing future immigration from the EU. It could include the merits of a work-permit scheme, a multi-year visa system and scrapping the right of migrants to claim social-security benefits while working.
The Sunday Times cited unnamed officials saying ministers were planning a work-visa regime for new arrivals from the EU. Monday's Daily Telegraph reported May will say next month that EU citizens who travel to Britain after its withdrawal begins will not automatically have the right to stay.
Brexit's Front Lines
In a new series, Bloomberg reporters will track smaller British companies to see how they fare through the twists and turns of Brexit.
In the first story, published today, Edward Robinson showcases Funding Circle, a peer-to-peer lender which initially worried it would suffer from last June's referendum decision, only to then go on a tear.

The firm originated more than £530 million ($660 million) in loans during the second half of 2016, a 50 percent jump from the same period in 2015, according to AltFi Data. In the fourth quarter, Funding Circle's U.K. division became profitable for the first time.
Brexit Bullets
London Stock Exchange Group Plc said its $13 billion tie-up with Deutsche Boerse AG is unlikely to proceed after a regulatory hurdle 
CEO of Australian developer LendLease says London will continue to draw international capital even amid a Brexit slowdown or disruption
U.K. services firms plan to increase prices by most since February 2007, according to the Confederation of British Industry, which also noted confidence is the highest since the Brexit vote
The European Commission plans to take a tough stance on rules governing how banks access the EU after Brexit, according to a staff paper obtained by the Financial Times
Spain supports tough line on Britain, El Confidencial reported, saying its government is worried Brexit may fuel skeptcism about the EU
The U.K. financial sector may lose 12 to 18 percent of its revenue, resulting in a 7 to 8 percent drop in employment, according to a report for the Peterson Institute for International Economics
U.K. government to spend money on robots and artificial intelligence to boost post-Brexit economy
UBS Chairman Axel Weber told Die Presse that New York will be the big Brexit winner
Bank of England policy maker Michael Saunders told the Press & Journal that Brexit will have a long-term "modest adverse" effect on U.K. economic growth
Finnish President Sauli Niinisto urged Europe to increase NATO contributions and focus more on security
BMW is weighing building an electric Mini in German factories rather than the U.K., Handelsblatt reported
Danish lawmakers are seeking an agreement to thwart a referendum on EU membership, said Danmarks Radio
U.S. billionaire Robert Mercer, who helped bankroll Donald Trump's presidential campaign, also played a key role in the Brexit push, the Observer reported
A small Canadian company helped the Brexit campaign win on social media, according to the Daily Telegraph
On the Markets
The pound fell against all its major peers after the Times reported that May's government is preparing for Scotland to potentially call an independence referendum in March. The newspaper said May could agree to a new Scottish vote, but on condition it is held after Brexit. Sterling hit its lowest since February 17 against the dollar.

And Finally…
The U.K has launched a recruitment drive for trade experts that may run into market obstacles.
The Government Legal Department has published vacancies for as many as 17 London-based trade lawyers who would receive a starting annual salary of £48,400. While the going rate for British government lawyers, that's as much as 60 percent less than what similar private-sector positions offer, according to Bloomberg's Jonathan Stearns and Patrick Gower.
"You really can't get anyone with any experience in trade law for that price," said Mark Husband, a head hunter at Cogence Search. "It's probably the lowest conceivable entry point. It's about two-thirds of what someone would require for anyone with any degree of experience," he said, and "about a fifth of what someone with any experience of trade negotiations would demand."
Separately, the Sunday Telegraph reported the government is recruiting trade negotiators from across the Commonwealth to help train civil servants in how to land trade deals.
For more on Brexit follow Bloomberg on Twitter, Facebook and Instagram, and see our full coverage at Bloomberg.com
Before it's here, it's on the Bloomberg Terminal.
LEARN MORE