Coverage May Decline With Obamacare Repeal, Governors Told
By and
Consultants offer estimates to governors meeting in Washington

Expansion of Medicaid program for poor targeted for cutbacks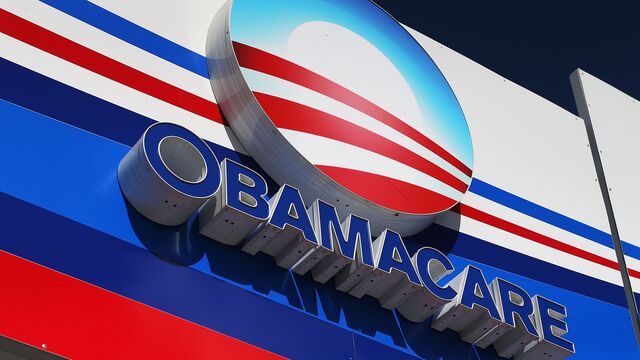 Policies supported by Republican congressional leaders to repeal and replace Obamacare could lead individuals to lose their health coverage, according to a presentation to state governors who met Saturday in Washington.
The number of people covered by Obamacare through the individual insurance market could be slashed by as much as 51 percent in an hypothetical state that chose not to expand Medicaid coverage under Obamacare, and by 30 percent in one that did increase the federal-state health program for the poor, according to the analysis, a copy of which was obtained by Bloomberg News. Changes could limit funding and reduce enrollment by an unspecified number.
The presentation, from consulting firms Avalere Health and McKinsey & Co., separately estimates that changes to Medicaid could limit funding for the program, reducing enrollment, without estimating exactly how many people would lose insurance.
"Tens of thousands who would not be able to afford their coverage and would lose their coverage," Democratic Governor Jay Inslee of Washington said after the closed-door meeting. "It was a pretty disturbing briefing." He has been a critic of Republicans' repeal plans.
Republicans have campaigned for years on a promise to repeal the 2010 health law known as Obamacare, and Donald Trump's election victory put that goal within reach. Now, however, they're confronting the task of coming up with a replacement, mindful of the 20 million people who've gained health insurance under the law and the billions of dollars it sends each year to states.
Trump Goals
Asked whether Trump can guarantee that no one will lose coverage under his plan to replace Obamacare, White House spokeswoman Sarah Huckabee Sanders said that was the aspiration.
"The goal is that we make sure that people don't lose their coverage and that we have to put a high priority on people that need it most," Sanders said on ABC's "This Week" program Sunday.
The McKinsey estimates on individual market coverage declines were based on an analysis of a 2015 Obamacare replacement proposal from then-Georgia Representative Tom Price, who's now secretary of Health and Human Services. The analysis of state coverage levels only took into account a change in subsidies from those offered under Obamacare, not proposals such as high-risk pools that could help some gain coverage, and shouldn't be extrapolated nationally, said Erica Hutchins Coe, the McKinsey partner who gave the presentation.
Winners, Losers
Some states could see increases in funding or coverage gains, while others could see losses, depending on the entirety of what's proposed for the individual market, Hutchins Coe said. Another slide shows policy goals that could stabilize the individual market, decreasing premiums and boosting enrollment, though those estimates are based on Obamacare's current subsidies remaining in place.
McKinsey is in the process of analyzing more recent policy proposals, so the firm doesn't have an estimate of how the changes under discussion would impact enrollment in the individual insurance market nationally, she said.
"It actually varies quite significantly market-by-market,'' Hutchins Coe said in an interview. "There are polices that are being discussed that could reduce the cost of care and dramatically improve coverage when you look at everything holistically.''
The Avalere presentation on limits to Medicaid revealed that a hypothetical state that expanded Medicaid could lose 24 percent of federal dollars spent on the program over five years, requiring $6.2 billion to make up the gap. The scenario is based on Congress repealing the expansion and implementing a per-person funding mechanism. A hypothetical state that didn't expand the program could lose 6 percent in federal spending.
Funding Gaps
"Medicaid caps are likely to result in state funding gaps,'' according to Avalere. "Because states must balance their budgets annually, reductions in federal funding may lead to cuts in eligibility, benefits or payment rates.''
Caroline Pearson, a senior vice president at Avalere whose name was on the presentation, declined to comment.
Republican leaders in Washington are considering ending the Medicaid expansion, as well as setting per-person caps on federal funding of the program. But Republican governors in states that expanded Medicaid have been telling their congressional delegations for months that repealing the health-care law without an adequate replacement would cost their budgets and hurt hospitals.
Ohio Governor John Kasich has been among GOP leaders urging prudence, after expanding Medicaid in his state under the law. He's advocated maintaining the expansion, but has said the income limit for the program should be lower.
Political Challenges
"There's going to be a problem in the House of getting anything out of there that still provides coverage to people,'' Kasich said on CBS News's "Face the Nation" Sunday. "There are some very conservative Republicans in the House who are going to say, just get rid of the whole thing. And that's not acceptable when you have 20 million people, or 700,000 people in my state, because where do the mentally ill go? Where do the drug addicted go?"
Connecticut Governor Dan Malloy, a Democrat, told reporters Saturday that Republican state leaders are considering a deal with the Trump administration that would lower the income limit for Medicaid to 100 percent of the poverty level from 138 percent. His remarks came after a meeting with Health and Human Services Secretary Tom Price. The arrangement would provide federal funding for Medicaid through block grants, Malloy said.
"It's clear this administration has no desire to keep Medicaid expansion," Malloy said.
Price, after meeting with governors on Saturday behind closed doors, declined to answer questions from reporters. His office later issued an e-mailed statement saying he listened to their concerns and discussed "real, positive solutions."
Trump Meeting
Governors have been meeting with Trump as well. On Saturday, the president discussed the Affordable Care Act with Florida's Rick Scott and Wisconsin's Scott Walker, both Republicans. The topic was "how best to solve the problems of Obamacare, with a special emphasis on the states role in health care," according to information provided to reporters. Kasich met with Trump on Friday.
Democratic governors are reaching out to Republican colleagues in states that expanded Medicaid and "now have a very sick feeling in their stomachs," Malloy, who's chairman of the Democratic Governors Association, told reporters Saturday at an earlier press conference. "I know that there is tremendous pressure on them, but we have to stand tall and make sure our fellow Americans have the coverage that they need.''
— With assistance by Mark Niquette, and Billy House
Before it's here, it's on the Bloomberg Terminal.
LEARN MORE