Deutsche Boerse-LSE Deal in Danger as EU Demand Rejected
By
LSE says regulators unlikely to approve deal over MTS stake

Deutsche Boerse said it expects EC decision by end of March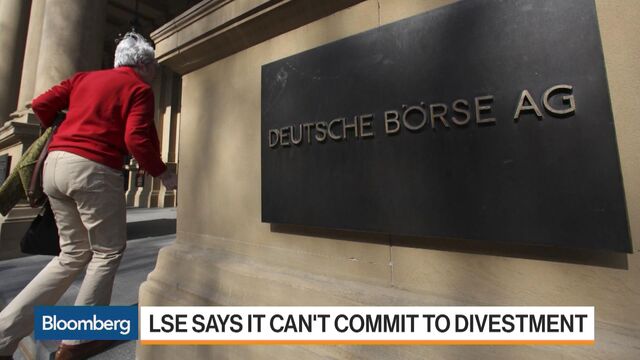 Deutsche Boerse AG's $13 billion bid for London Stock Exchange Group Plc headed toward collapse after the U.K. market operator rejected demands by European regulators to sell one of its holdings.
LSE said it couldn't commit to sell its stake in MTS, an electronic trading platform for government bonds, and declined to submit a counter proposal after European Union officials made divesting the unit a condition for approval. Shares of Deutsche Boerse fell as much as 4.1 percent on Monday, while LSE dropped as much as 3.5 percent.
"Based on the commission's current position, LSEG believes that the commission is unlikely to provide clearance for the merger," LSE said in a statement Sunday night. The European Commission said it had no comment. Deutsche Boerse said it was still waiting for European regulators to make a final decision.
The breakdown marks the latest combination thrown into disarray by EU Competition Commissioner Margrethe Vestager, who has taken a tough stance with global giants. While she has only blocked one merger -- CK Hutchison Holdings Ltd.'s bid for O2 in the U.K. -- she imposed a 13 billion-euro ($13.7 billion) bill for back taxes on Apple Corp. and demanded concessions from acquirers such as Anheuser-Busch InBev SA and DuPont Co.
A failure to overcome regulators' concerns may invite new deals involving LSE, which has been a takeover target for almost two decades yet has never consummated a deal of this scale. It also raises questions about its chief executive officer, Xavier Rolet, who under terms of the takeover would step down if it succeeds.
In the past year, LSE avoided a potential offer from U.S.-based Intercontinental Exchange Inc. Now, ICE has another opportunity to try to buy the London exchange company. Analysts have speculated that, should Deutsche Boerse's takeover of LSE fail, a company like electronic market operator NEX Group could become a target for LSE.
Relief for Some
Smaller exchange companies in Europe, meanwhile, could get some relief from the competitive threat that a combined LSE, Deutsche Boerse would have posed.
The companies' ambition was to create Europe's dominant operator in everything from indexes to stock markets and clearing, with businesses in more than 30 countries. It would potentially be the most profitable company in its industry. Some have said it could bridge financial centers at a time when politics threatens to pull them apart.
"Without this merger, we don't have a big European exchange, but that's what we need," said Michael Fuchs, a German lawmaker who deputy leader of the governing party's coalition. "Frankfurt alone and London alone" can't stand against the big U.S. exchanges.
LSE said it couldn't sell MTS, which plays an important role in trading Italian government bonds. Based on dialogue with Italian officials, LSE said it was "highly unlikely" that a satisfactory sale could be achieved and that such a move would hurt its relationships with those regulators.
Shares Drop
Deutsche Boerse declined as much as 2.39 euros to 79.24 euros and traded 2.9 percent lower as of 11:10 a.m. in Frankfurt. LSE was down 3.3 percent.

The two operators have been down this road before, with Deutsche Boerse previously failing in an attempt to buy LSE, whose roots going back more than 300 years. Given past failures, it's an open question whether European exchange operators will be able to consolidate in a way that gives them the stature of large companies in the U.S. and Asia.
"Never say never," said Thomas Caldwell, chief executive officer of Caldwell Securities Ltd., a money-management firm in Toronto. "If something makes good business sense, eventually exchange executives will find a way. This was an anomalous event. You had the Brexit vote, it surprised everybody, and we're still in the post-trauma phase."
Previously, the only offer from the two to appease antitrust regulators had been LSE's proposed sale of its French clearinghouse. LSE said the commission unexpectedly brought up new concerns about the planned sale of the French unit and its relationship to MTS.
LSE and Deutsche Boerse proposed a remedy that EU officials rejected. The commission's demand for the divestment of LSE's majority stake in MTS was too much for LSE, the company said on Sunday.
Continued Push
LSE said in the statement on Sunday that the board still backs Rolet and his management team.
"If it doesn't run, the skids are under Xavier," said John Colley, a professor at Warwick Business School. "It's quite difficult for him to stay."
Regulators are due to rule on the takeover by April 3, but Deutsche Boerse said in a statement Sunday that it expects a decision by the end of March. The German state of Hesse, a vocal critic of the deal, regulates Deutsche Boerse and will review the deal if it survives EU scrutiny. State officials declined to comment on Monday.
The discussions about cash fixed-income seemed to surface relatively late in the game. LSE and Deutsche Boerse have fought back against the EU's long list of competitive inquiries, such as their combined power over market-data fees and indexes. But interest-rate derivatives and clearing were usually seen as the biggest obstacle. Such regulatory concerns are the reason the German company's bid for NYSE Euronext was blocked in 2012.