Too Many 'Red Lines' Would Cost EU in Brexit Talks, Sweden Warns
By
Says EU needs to have one position in U.K. Brexit talks

Says it will cost the U.K. to leave the European Union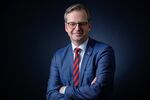 European Union countries should avoid pitching individual agendas or risk undermining the bloc's position in exit talks with the U.K., Sweden warned.
Sweden will largely avoid staking out its own position, cognizant of the fact that there are not 28 negotiators but two -- the EU and the U.K., according to Swedish Enterprise and Innovation Minister Mikael Damberg.
"I don't think it would be good for Europe if we had 27 positions," he said in an interview in London on Friday. "So we should have one position."
Europe's nation states haven't been short on opinions that sometimes make the union look less unified. Prime Minister Theresa May, who's now working toward invoking the start of formal exit talks, has said the U.K. plans to quit the EU's single market, to stop sending money to Brussels, to clamp down on immigration and to recapture law-making powers.
The EU looks set to take a tough negotiating position to ensure other countries aren't tempted to follow the U.K. out of the bloc. Just last week, Austrian Chancellor Christian Kern said Britain should be charged about 60 billion euros ($63 billion) when it leaves the bloc.
Damberg also said the U.K. will probably have to pay up, even though Sweden wants to strike a "good deal."
"But if you're not a member of the club, you can't have the benefits of the club," he said. "So it will cost Great Britain to leave the European Union."
Damberg did mention one "red line" for Sweden, though the point is more of a demand directed toward the EU. 
"For us, it would be important to see that, post-Brexit, the European Union 27 doesn't increase its spending," he said. "We don't want to see Sweden having to pay more to stay in the European Union. You have to kind of adjust your economy within the European Union, and that is a red line that we're working quite hard at."
Sweden has already warned the U.K. against becoming a corporate tax haven after an exit.
"If you're into negotiations, you should have clear standpoints, and you shouldn't be played off by your opponent," he said.  
Before it's here, it's on the Bloomberg Terminal.
LEARN MORE