Trump Signs Executive Order to Impose Additional Layer of Oversight on Regulations
By
'Excessive regulation is killing jobs,' president says

Designates 'regulatory reform officer' for all agencies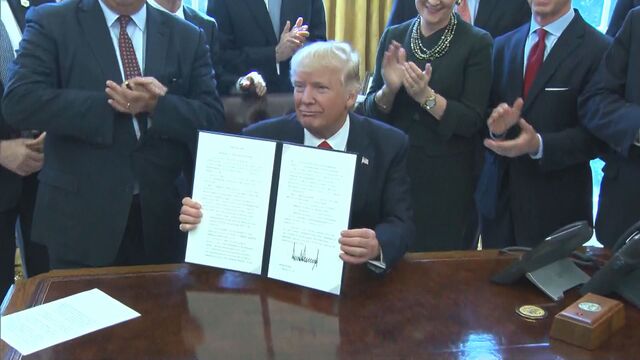 President Donald Trump signed an executive order to impose additional oversight on government regulations, designating officials within government agencies who will monitor rule-making and identify needed policy changes, he said.
"Excessive regulation is killing jobs," Trump said at an Oval Office signing ceremony Friday. "Every regulation should have to pass a simple test: Does it make life better or safer for American workers or consumers? If the answer is no, we will be getting rid of it."
Several corporate chief executive officers joined Trump for the event, including Dow Chemical Co. chairman and CEO Andrew Liveris, who leads Trump's advisory council on manufacturing.
The order, titled "Enforcing the Regulatory Reform Agenda," directs heads of departments and agencies to designate a "regulatory reform officer" to oversee implementation of regulations and identify needed changes, according to Bloomberg BNA. The text of the order was not immediately released.
The White House has an entire agency, the Office of Information and Regulatory Affairs, that reviews all government regulations before they are issued. It was not immediately clear how the new officials would work with that office.
The order calls for each federal agency to create a task force to review existing regulations and make recommendations about which should be repealed or modified.
Trump has called for a major overhaul of government regulations, saying they stifle economic growth. He signed an executive order on Jan. 30 requiring government agencies to identify two regulations for elimination for every new regulation issued. He has also signed legislation undoing some regulations initiated by former President Barack Obama.
During a speech at the Conservative Political Action Conference earlier in the day, Trump said he supports strong regulations but "we don't need 75 percent of the repetitive, horrible regulations."
Under the order, the task forces are required to report to their agency heads within 90 days, identifying regulations that should be repealed, replaced or modified.
Other corporate CEOs present for the order's signing included Marilyn Hewson of Lockheed Martin Corp., Gregory Hayes of United Technologies Corp., and Mario Longhi of United States Steel Corp.