Trump Fumes About Anonymous Sources After Anonymous Briefing
By
President's aides briefed reporters two hours before speech

Trump was speaking at Conservative Political Action Conference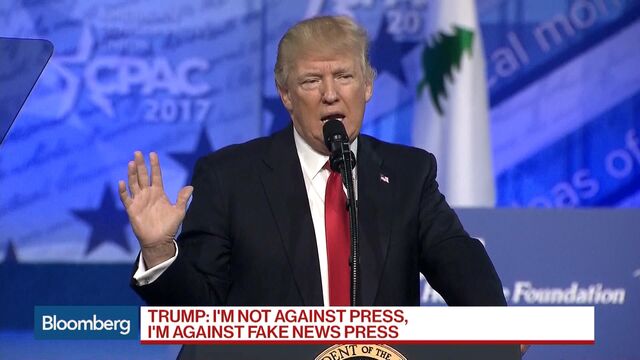 President Donald Trump assailed the news media's use of unnamed sources on Friday, just hours after White House aides briefed reporters on condition of anonymity about their efforts to debunk a New York Times article on contacts between Trump's campaign and Russian officials.
About two hours after his aides sought to counter a CNN report that White House chief of staff Reince Priebus had inappropriately discussed the Times story with the FBI, Trump repeated a familiar complaint about the "dishonest media" with a new twist, charging without evidence that news organizations fabricate sources for stories.
"I'm against the people that make up stories and make up sources," Trump said to cheers at the Conservative Political Action Conference in suburban Maryland. "They shouldn't be allowed to use sources unless they use somebody's name. Let their name be put out there. Let their name be put out. A source says that Donald Trump is a horrible, horrible human being. Let them say it to my face. Let there be no more sources."'
Trump himself has disseminated information via his Twitter feed and in speeches that he's attributed to unnamed people. Infamously, he tweeted in August 2012 that "an 'extremely credible source'" had told him former President Barack Obama's birth certificate was "a fraud," a false claim.
GOP Senators Embrace Awkward Russia Probe That Could Hurt Trump
While presidents of both parties in the modern era have complained about the news media and sought to counter negative stories, Trump's sustained attacks at the start of his presidency and his labeling of at least some news outlets as the "enemy of the people" are unusual.
Trump emphasized on Friday that he considers only "fake news" to be the enemy. He identified "fake news media" who are the enemy on Feb. 17 as the New York Times and the television networks NBC, ABC, CBS and CNN.
Also unusual are Trump's public admonishments of the FBI.
"The FBI is totally unable to stop the national security 'leakers' that have permeated our government for a long time," Trump said in tweets Friday morning. "They can't even find the leakers within the FBI itself. Classified information is being given to media that could have a devastating effect on U.S. FIND NOW."
The FBI didn't immediately respond to a request for comment.
Since the presidential campaign, Trump has been dogged by reports about Russian government attempts to interfere with the U.S. election and allegations of links between his allies and Russian officials. FBI Director James Comey has discussed Russian influence on the 2016 campaign with members of the Senate Intelligence Committee, who have promised to pursue an investigation.
Flynn Resignation
Calls for a probe intensified after Michael Flynn resigned as Trump's national security adviser on Feb. 13 after misleading Vice President Mike Pence and other officials about having discussed U.S. sanctions on Russia with the country's ambassador in December.
The most recent spark for Trump was a CNN report Thursday evening that Priebus had asked the FBI to knock down media stories about Russia contacts with Trump campaign. A senior administration official, who would only speak anonymously, told a group of reporters Friday that the request was only made after an FBI official indicated to the White House that the bureau didn't believe the news reports were accurate.
The administration official said that the bureau's deputy director, Andrew McCabe, instigated the discussion on Feb. 15, the day after the New York Times published a report on contacts between Trump campaign aides and Russian officials. McCabe asked Priebus for extra time at the end of an unrelated meeting at the White House, the official said, and then told the White House chief of staff that the FBI didn't consider the Times report to be accurate.
Request to FBI
Priebus asked McCabe if he could say so publicly, according to the official. McCabe said he'd consider it, then called Priebus back later and declined, saying the FBI didn't want to criticize journalists, the official said.
A second administration official, who also requested anonymity, said there was nothing inappropriate about Priebus's communication with the FBI over public-affairs issues. Priebus was discussing media coverage, not the ongoing investigation, the official said.
House Democratic leader Nancy Pelosi accused the White House of trying to pressure federal investigators. "Political interference in the integrity of an FBI investigation into the conduct of White House officials is a grave abuse of power," she said in a statement.
Trump has been a semi-regular participant at CPAC, and told an adoring audience on Friday that he would be there every year during his presidency. At his last appearance in 2015, Trump teased the possibility he would actually mount a presidential campaign, saying he wanted "badly" to run.
Campaign Themes
Much of his speech this year was a compilation of red-meat rhetoric from his campaign speeches.
He renewed his vow to build a border wall, with construction "to start soon, way ahead of schedule." He elicited boos in tallying the cost of U.S. involvement in Middle East wars over the past 15 years at $6 trillion while "our own infrastructure crumbles." He boasted of already fulfilling campaign promises to withdraw from the Trans-Pacific Partnership trade deal and putting the blocked Keystone Pipeline back on track.
He promised "bold action" to put coal miners back to work, "a massive budget request for our beloved military," and action "to keep radical Islamic terrorists the hell out of our country."
"The era of empty talk is over -- it's over," Trump said to cheers. "Now is the time for action."
But Trump hasn't always been a favorite of the activists at CPAC. When he decided during the election campaign last year to skip the gathering, the conference tweeted that his absence sent "a clear message to conservatives."
Trump said he thought last year he'd be "too controversial" for the event.
During the 2015 speech, he garnered boos from the assembled crowd when he said he wanted to use ground troops to combat Islamic State. In 2013, hundreds of seats remained unfilled at the future president's 8:45 a.m. appearance.
Trump's address followed appearances on Thursday by several top White House and administration officials, including Vice President Mike Pence, Priebus and chief strategist Steve Bannon.
Before it's here, it's on the Bloomberg Terminal.
LEARN MORE