business
SoFi Raises $500 Million Led by Silver Lake for Global Expansion
By
Funds will be used for new products and international growth

The investment is said to value SoFi at $4.3 billion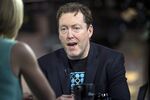 Social Finance Inc. said it raised $500 million in a financing round led by private equity firm Silver Lake Partners. It plans to use the funds for international expansion of its online lending business and development of new financial products.
Other investors in the round include SoftBank Group Corp. and GPI Capital, and the funding brings SoFi's total investment to $1.9 billion, the company said. Several sovereign wealth funds from countries in Asia and Europe invested as well, said Mike Cagney, SoFi's chief executive officer and co-founder. The international group will purchase SoFi's loans in addition to taking an equity stake, he said.
"Our challenge has always been our reliance on wholesale capital markets," Cagney said. "Silver Lake is not a balance sheet partner, but their investor base is hugely important to us, and there's a big overlap between their limited partners and our loan buying universe."
SoFi said it plans to develop new personal finance tools, including mobile deposit, credit and payment products that will be rolled out this year. It also anticipates bringing its lending products to Australia and Canada by the end of the year.
Since starting in 2011 with a focus on refinancing student loans, SoFi has aimed for much loftier goals. The company has expanded into personal loans, mortgages, wealth management, life insurance and other areas. Bloomberg reported last week that SoFi was in fundraising talks with Silver Lake and that the round would value the company at $4.3 billion. Its previous valuation was $3.2 billion, people familiar with the matter have said.
Before it's here, it's on the Bloomberg Terminal.
LEARN MORE