Duterte Accused of Silencing Critics After Senator's Drug Arrest
By and
Lawmaker who led opposition to drug war surrenders to police

Vice president says government using courts to quash dissent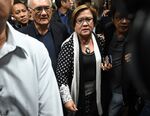 President Rodrigo Duterte's political opponents accused him of attempting to quash dissent in the Philippines after police arrested one of his toughest critics on drug-trafficking charges.
Senator Leila de Lima, who has been criticizing Duterte's drug crackdowns since he was a local mayor, was arrested Friday on allegations that she let illegal narcotics flourish inside the national jail while serving as justice secretary -- claims she calls "lies." Her surrender outside her office in Manila, where she had spent the night, recalled past scenes of Philippine politicians prosecuted after clashing with the government.
"Our history as a nation is marred by instances where government officials use the processes of criminal justice to cow, silence, and eliminate critics," Vice President Leni Robredo, who hails from a different political party and has been sidelined by Duterte, told reporters on Friday. 
She called de Lima's arrest "the latest move in a persistent campaign of political harassment" against a member of Congress, and called on supporters to "fight for the right to speak dissent." Robredo resigned as housing secretary in December after she expressed concern over alleged extrajudicial killings and the president barred her from cabinet meetings.
The arrest was the latest sign of political strain eight months into a presidency in which Duterte has shut mines, waged a bloody crackdown on drugs and distanced the Philippines from the U.S., its longtime ally. Duterte has remained popular, even after criticism at home and abroad led him to suspend police involvement in a drug war that has killed more than 3,000 people. 
De Lima has been a leading critic of his police practices, something she's been doing since leading a Human Rights Commission investigation into his drug crackdowns as mayor of the southern city of Davao. 
Duterte has accused her of drug-trafficking and carrying on an extramarital affair. "She will have to face the music," CNN Philippines quoted him as saying last week.
Stocks Fall
The Philippine benchmark stock index fell 1 percent, halting a four-day advance, after de Lima's arrest. The peso was little changed against the U.S. dollar after hitting a 2006 low earlier this week.
"I am innocent and there is no truth to allegations that I benefited from the illegal drug trade, that I took drug money, that I protected drug convicts -- these are all lies," de Lima said before her arrest, adding she wouldn't stop "fighting for truth and justice against the daily killings and other abuses" under Duterte. "It is my honor to be jailed for the things I fight for." 
Such prosecutions have a long history in the Philippines. Former dictator Ferdinand Marcos jailed then-Senator Benigno Aquino Jr. for subversion after declaring martial law in 1972. President Benigno Aquino III -- the late senator's son and Duterte's predecessor -- prosecuted President Gloria Arroyo on accusations she misappropriated charitable funds in 2012, only to have the Supreme Court dismiss the case in July.
Duterte's legal counsel, Salvador Panelo, said in a statement Thursday that the case against de Lima was more solid than the one against Arroyo, whom she prosecuted as justice secretary. "The law of karma has finally caught up with the senator in terms of being arrested and detained," Panelo said.
'Personal Vendetta'
A Philippine court ordered de Lima's arrest Thursday after she was hit with three separate indictments last week accusing her of conspiring to distribute illegal drugs while she had oversight of the prison system from 2010 until 2015. She could face life imprisonment and a fine if convicted. 
Justice Secretary Vitaliano Aguirre has denied pressuring prosecutors to indict de Lima, saying probable cause was established after a careful study of the evidence. De Lima's lawyers asked the court on Friday to recall its arrest warrant, Rappler reported, citing her media officer.
"Not only Congress, but other pillars of Philippine democracy from the press to the judiciary, should be worried about the future," Phelim Kine, deputy Asia director at Human Rights Watch, said in a statement. "The arrest of Senator de Lima suggests that Duterte is willing to debase Philippine governance to the level of personal vendetta."
— With assistance by Clarissa Batino
Before it's here, it's on the Bloomberg Terminal.
LEARN MORE