Mnuchin Tells Carney to Expect America-First Push on Regulation
By
U.S. Treasury Secretary says meeting with FSB chair productive

G-20 leaders to hold regulation talks in Germany next month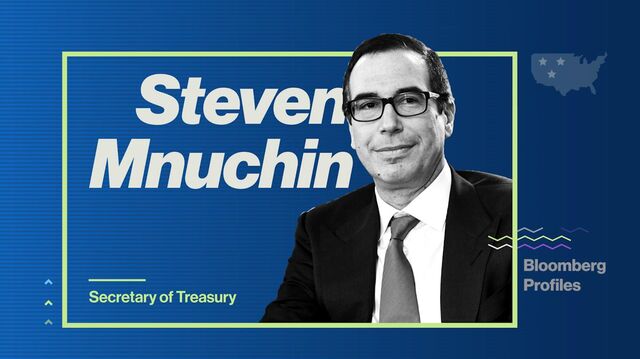 Treasury Secretary Steven Mnuchin told Mark Carney that Donald Trump's administration will promote U.S. national interests in global talks on financial regulation.
Mnuchin's meeting with the Bank of England governor, who also chairs the Financial Stability Board, was probably the first in person since the secretary took office. It took place during a previously unannounced visit to the U.S. by the U.K. central bank chief.
"Secretary Mnuchin underscored that he looked forward to working with Governor Carney on international financial regulatory issues and noted that one of the administration's core principles for financial regulation is to promote American interests in international financial regulatory negotiations and meetings," the Treasury said in a statement released late on Thursday.
The discussion between the two Goldman Sachs Group Inc. alumni provides further clues on the tone of engagement that President Trump's administration may seek to adopt in its international financial diplomacy. Such contact occurs against a backdrop of contention on U.S. cooperation on global regulatory matters, in particular involving the Federal Reserve.
The Treasury's statement echoed the language of Trump's Feb. 3 executive order on financial regulation, which says the U.S. will "advance American interests in international financial regulatory negotiations and meetings."
'Grand Champion'
The statement also said that the U.S. would work with its partners.
"The secretary stressed the importance of cooperation between the United States and other G-20 and Financial Stability Board members to achieve our common goals of addressing financial stability risks, fostering efficient global financial markets, and promoting a global level playing field," the Treasury added in its statement.
The Bank of England confirmed the meeting took place but declined to give further details. The FSB declined to comment on the discussion, which took place three weeks before Group of 20 finance chiefs are due to gather for the first time since Trump's election in the German spa town of Baden Baden.
It followed a day of renewed rhetoric on foreign exchange matters, with Mnuchin signaling the U.S. won't rush to label China a currency manipulator, before Trump offered a less nuanced remark that the country is a "grand champion" on that front.
Mnuchin's foray into regulatory diplomacy follows a spat on the Fed's role in such matters. Patrick McHenry, the North Carolina representative who is vice chairman of the House Financial Services Committee, said in a Jan. 31 letter to Chair Janet Yellen that it was "unacceptable" for the Fed to conduct international talks after Trump took office but before his own people were in place. He also echoed common Republican criticisms over "secretive structures" that allow foreign nations to impose their views on U.S. rulemakers.
"Productive mtg w/ @BankofEngland Gov. Mark Carney," Mnuchin tweeted after the meeting. "Look fwd to working on international financial issues together."
— With assistance by Lucy Meakin, and John Glover
Before it's here, it's on the Bloomberg Terminal.
LEARN MORE