Food
Is the Instant Pot the Magic, One-Stop Kitchen Solution Fans Claim It Is?
The one-pot cooker has become a home chef sensation. We put it through its paces.
By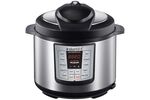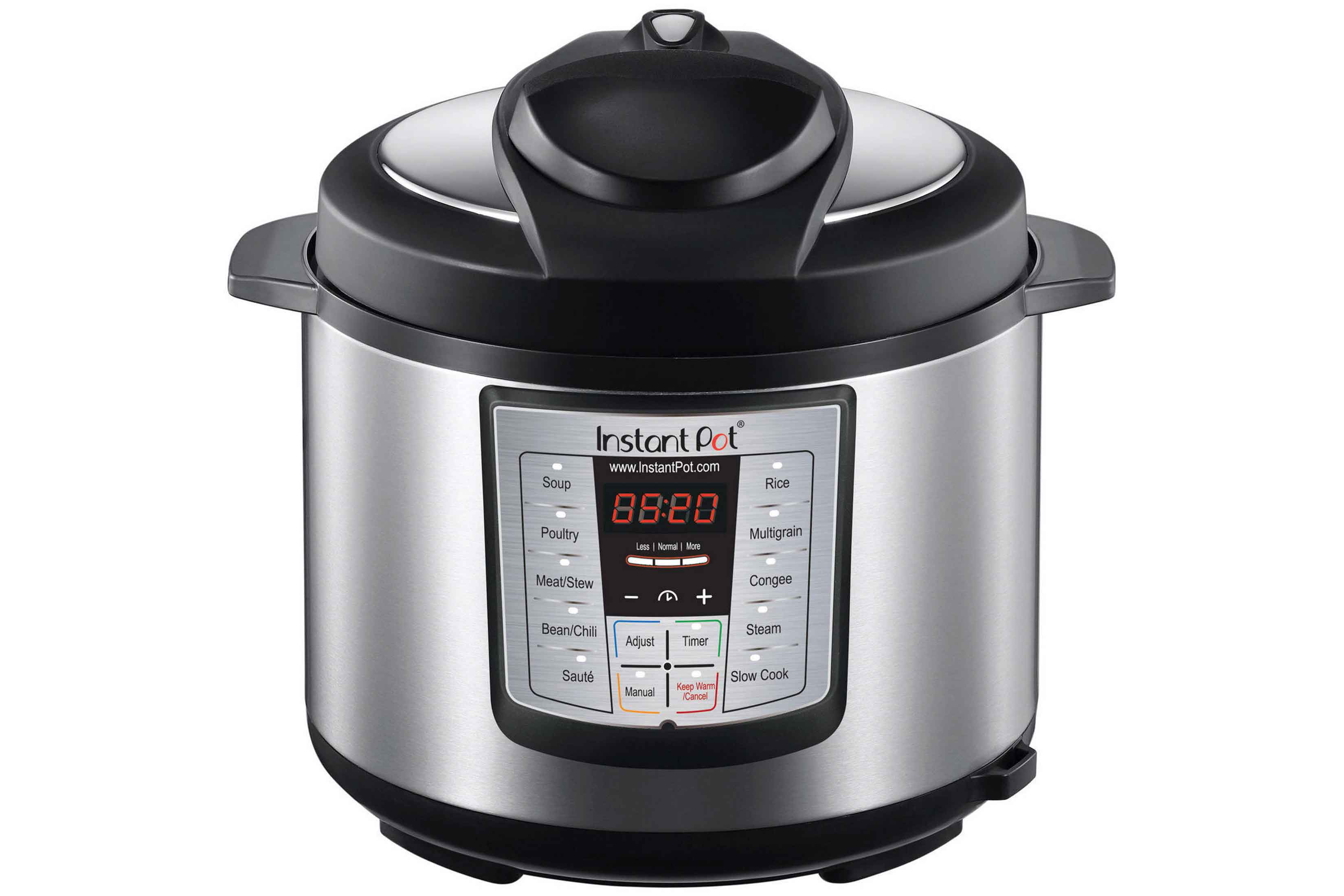 Plenty of kitchen gadgets have their die-hard fans, but it's rare to see a mania grow as quickly as that surrounding the Instant Pot. Although the pressure-cooking gadget has technically been around since 2010, it has enjoyed months of attention after becoming the surprise bestselling item on Amazon.com's annual Prime Day last July. 
Since then, home cooks can't seem to get enough of the device, which makes a hefty promise to slow cook, steam, sauté, and make yogurt—all in a faster, safer way than other kitchen appliances. There's a dedicated community group on Facebook, almost 400,000 people strong, where members can post their success stories, trade recipes, and generally extol how the IP (as they call it) changed their lives.
Someone named Amber writes, "Can I just say I've cooked more things in this Instant Pot in two weeks than I have in my life? Made things I've never attempted pre-Pot. I can't imagine life without my magic pot!" A few posts down, Rhanda says: "Me, tucking my 9-year-old daughter into bed tonight: I love you more than anything. Daughter: Even more than the Instant Pot?"
Facing my legitimate fear of my mother's pressure cooker, which was swiftly replaced with a Crock Pot after one-too-many accidents in our family's house (including one particularly scalding explosion that left our kitchen a mess),  I decided to give the Instant Pot a try. I spent a full day cooking from it—from the more straight-forward recipes (such as risotto) to the more off-book (such as cheesecake)—to see if it could live up to all the breathless hype.
Initial Setup
One can choose among a few different types of Instant Pot—including one without the yogurt function (the 6-in-1) and another that has Bluetooth capabilities (the Smart)—but I decided to go with the No. 1 bestseller: the 7-in-1 Pressure Cooker. The machine consists of an electric cooker, a pot, a steam rack, a measuring cup, and various serving utensils. Setup is intuitive: Plug in the machine, choose your cooking style (preset buttons include Soup, Meat/Stew, Bean/Chili, Poultry, Slow Cook, Sauté, Rice, Multi-Grain, Porridge, and Steam), and go. You can adjust the time and tweak the pressure/heat settings as needed.
Once you've found your optimal settings, cooking automatically commences, and the indicator on the front will change to read On.
When cooking is done, the machine will beep; from there, as with any pressure cooker, you can either allow the machine to depressurize (as in, the steam release handle at the top of the machine will flip to the "Venting" position, which can take up to 30 minutes), or you can release the steam yourself by manually flipping the handle, which takes only a few minutes. I tried both methods and found that the latter saved time without affecting the quality of the food in any way.

Experiment No. 1: Bread
For my first trial, I decided to jump in the Instant Pot deep end and make some bread. When I turned to the Facebook group for a good recipe, someone named David responded to my request immediately: "Do you like your bread with a nice, soft, airy, fluffy, delicious inside and a crunchy outside crust?" "Yes, definitely!" I replied. "Yeah, use the oven." Not exactly a vote of confidence.
Still, I soldiered on, finding a recipe from a site called Hip Pressure Cooking, which claimed to make soft bread in just 20 minutes—no starters, no proofing. 
The process was easy enough: Make a dough from four ingredients (flour, salt, baking soda, and yogurt), put in a small container, such as a coffee can, and cook using the Steam function. The results? A bona fide failure.
After the allotted 20-minute cooking time, the bread was still completely raw. After another 20, the outsides were slightly browned but the interior was still doughy; the "loaf" resembled gluey mashed potatoes. David from Facebook, I should have listened.

Experiment No. 2: Cheesecake
To sweeten my mood after that first disaster, I attempted an Ina Garten-inspired New York-style cheesecake. The recipe used the same principle as the bread, steaming the cheesecake in a water bath, so suffice to say I was pretty skeptical.
Preparation is a bit of a pain compared with your average, oven-baked cheesecake. First you need to line the bottom of the pan with paper towels and foil to prevent water from leaking onto the cake and also make a foil "sling" to make the cake easier to lift out of the pot. And my pan, though it was small and fit the dimensions of the pot, ended up being a tight squeeze. These process problems were frustrating enough to cloud the quality of whatever I ended up with.
Still, it did work. After letting the steamed cake cool for about an hour, I took a bite and was pleasantly surprised at how light and airy it was, particularly in comparison with the dense New York standard. This is the difference steaming vs. baking makes—if you don't like your cheesecake so rich, the Instant Pot version is a winner. If you do, move along. 
Also worth noting, I initially forgot to move the steam release control back to its original "Sealing" setting, so no pressure was actually being created in the pot. Translation: Nothing actually baked, although the machine appeared to be working and didn't warn me I'd skipped a step. An irritating flaw, to be sure, but an easy mistake to make. There are limits to Instant Pot's set-it-and-forget-it magic.

Experiment No. 3: Sous Vide Duck
After the relative success of dessert, I moved to making a main course: sous vide duck. Sous vide involves vacuum-sealing a piece of food, then cooking it in a temperature-controlled water bath. For such a precise method of cooking, I wasn't sure how the Instant Pot—which comes with no temperature controls or special equipment—was going to fare. The short answer is beautifully.
Placing my seasoned duck breast in a regular old Ziploc bag, I submerged it into the Instant Pot—filled part way with warm water and preheated for 20 minutes using the "Keep Warm" function—and let the duck cook for a little more than half an hour. The resulting meat was juicy, tender, and perfectly pink; it was shockingly impressive, considering this was my first time preparing duck.
Yet, like any sous vide preparation, if you want some crisp on the exterior—and you definitely want some crisp on the exterior—you'll need more equipment. Even on the hottest sauté setting, it didn't do a great job of making the skin crispy, as I couldn't control the heat beyond the three settings (which are "less," "normal," and "more"). Either the oil would not be hot enough or it would spatter. True, the recipe recommended crisping the skin in a separate pan, but like the IP's most strident followers, I wanted to try doing the whole dish in the unit. There are limits.

Experiment No. 4: Mushroom Risotto
The best discovery of the day was that you could use the Instant Pot to make flavorful, velvety risotto in less than 30 minutes, start to finish—even with the cream omitted.
Using a recipe from Serious Eats' Kenji López-Alt, the first step was breaking down the mushrooms and onions using the sauté function, which worked significantly better than when I used the same setting to sear my duck. Once that was done, all I had to do after only a few minutes was add my rice and broth and let the risotto cook on low pressure for five minutes more.
When I first removed the lid, the risotto was still a bit soupy, but within moments, it had thickened up decadently. As the flavors continued to seep into the rice, the dish tasted even better—the most delicious version came when I heated up leftovers for lunch the next day. It was hard to believe that something this rich and complex had  cooked for only five minutes.

Experiment No. 5: BBQ Pulled Pork
For my last trial, I searched BBQ Pulled Pork recipes on the Instant Pot community group and found a post in which someone had simply instructed to season the pork with a dry rub, brown it a little on the sauté function, add barbecue sauce, and cook for a little more than an hour. Could it really be so simple? The answer is yes. I even cut my pork into four pieces after browning it, which cut my cooking time down to just under an hour.
At the moment of truth, the pork pulled apart effortlessly. It had the kind of depth of flavor that tasted as though it had been cooking all day. Although you could, I went full Sandra Lee and didn't even make my own dry rub or barbecue sauce—I used a store-bought version from 17th Street Barbecue—but it still felt homemade. This recipe had by far the best flavor-to-ease ratio: You can literally come home and, without prepping anything, have a show-stopping piece of pork on the table in an hour.
Conclusions
At the end of the day, I invited my friends to taste and rank the dishes from best to worst. The duck and pork came out on top, followed by the risotto, then the cheesecake, and the bread—well, that just went in the garbage.
If you're like me and resist purchasing expensive cuts of meat for fear of overcooking or otherwise ruining them, the Instant Pot is an exciting development. Its ability to sous vide effectively and produce restaurant-quality meat without any specialized equipment is a game-changer—provided, of course, what you're cooking falls into one of the three "keep warm" temperatures (133°F to 165°F). The success of the risotto speaks to the raves the IP gets for making beans, grains, and other types of stews in far less time than it would take on a stovetop.
It's also worth noting that the Instant Pot makes cleanup really easy. Because most all the cooking was happening in just the one pot, I had barely any dirty dishes after a full day of testing.
Where the Instant Pot fell short was, predictably, baking. I loved the cheesecake, but it probably would have been easier to make it in an oven (no water bath, no foil covering, no difficulties jamming the pan into the pot). And the bread, well, speaks for itself.
For already-short cooking times, it also doesn't make sense. My morning oatmeal takes just a few minutes in the microwave, while the IP takes about 10 minutes to build up pressure and start the timer. That logic extends elsewhere.
Nor will its sauté function replace my pans. A cheffy gadget, the Instant Pot is not. But in the case of those busy home cooks who want to be able, finally, to put certain types of hot, complete, and actually flavorful meals on the table in minutes, I'd ultimately have to concur with my new friends on Facebook: This is a magical pot.  
Before it's here, it's on the Bloomberg Terminal.
LEARN MORE