Germany, France Send Top Diplomats to Washington Looking for Answers
By and
Tillerson said to meet senior European diplomats next week

French say Europe seeking 'direct contacts' on all topics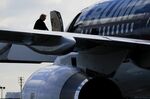 Five weeks into Donald Trump's presidency, Germany and France are sending senior diplomats to Washington to seek more clarity on the U.S. administration's foreign policy.
The joint German-French delegation will be led by the political directors of both foreign ministries, who will hold two days of talks starting March 1, according to two people familiar with the planning. Plans include a meeting with U.S. Secretary of State Rex Tillerson, one of the people said. Both officials asked not to be identified because the talks haven't been announced.
"French authorities want to engage in a dialogue with the U.S. administration," Foreign Ministry spokesman Romain Nadal said in Paris on Friday. "This dialogue also takes place through direct contacts between administrations on all topics."
While Vice President Mike Pence used a conference in Munich last week to reassure European governments of the administration's commitment to trans-Atlantic military ties and sanctions against Russia, other areas such as Trump's trade policy have yet to be fleshed out.
European Convictions
The European officials, Nicolas de Riviere of France and Germany's Andreas Michaelis, would be in Washington a day after Trump addresses a joint session of Congress for the first time, a speech in which he's expected to discuss his budget goals. A French delegation is already in Washington preparing the ground for next week's meetings.
State Department officials didn't immediately respond to a question about the visit.
Trump's questioning of multilateral trade pacts and the North Atlantic Treaty Organization alliance as well as his support for Britain's exit from the European Union have raised concern among European governments. While the president has hosted U.K. Prime Minister Theresa May, the first foreign leader he met after taking office, French President Francois Hollande and German Chancellor Angela Merkel haven't met face-to-face with Trump.
"We've said repeatedly that we don't have complete certainty about the new U.S. administration's stance on foreign, security and trade policy," German Foreign Ministry spokesman Martin Schaefer told reporters in Berlin on Friday. "That's still true today. We have every interest in engaging with important members of the U.S. administration -- to express our views and convictions."
French Foreign Minister Jean-Marc Ayrault met with Tillerson in Munich last weekend after both attended a Group of 20 gathering hosted by Germany's Sigmar Gabriel.
Tillerson and Homeland Security Secretary John Kelly focused on Mexico this week, holding talks on trade and immigration in Mexico City.
— With assistance by Nick Wadhams
Before it's here, it's on the Bloomberg Terminal.
LEARN MORE