French Prosecutors Extend Investigation Into Fillon
By and
Probe will look into possible embezzlement, influence peddling

Republican candidate's lawyers welcome prosecutor's decision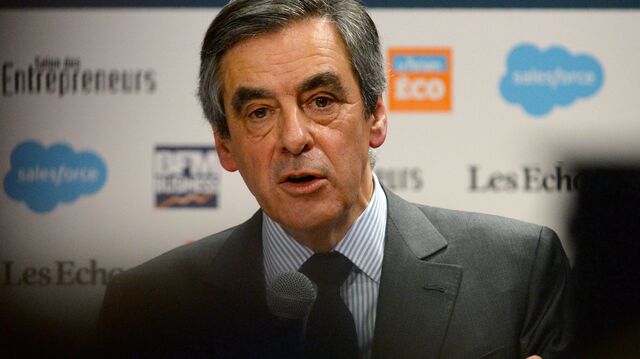 French prosecutors extended a probe into Republican presidential candidate Francois Fillon's employment of his wife as a parliamentary aide, saying further investigation is needed and pushing any conclusion of the case until after the election.
Prosecutors said that after the police conducted inquiries they decided to put an investigative judge in charge the preliminary probe "given the longstanding nature of some of the events concerned."
While the latest twist in Fillon's case will give his opponents a continued line of attack with just two months to go until the first round of voting, the decision also suggests charges won't be brought before the electorate passes its own judgement on who should be France's next president.
"Very logically, the national financial prosecutor came to the realization that its investigation couldn't continue in its current form," Fillon's lawyers Antonin Levy and Cornut Gentille said in a statement. The investigation was "unacceptable, particularly a few weeks away from the presidential election."
The investigation into unnamed persons will look into possible embezzlement, receipt of embezzled funds, influence peddling and failure to comply with declarative obligations to the watchdog in charge of transparency for public office, the prosecutor's office said Friday in a statement.
Fillon, who maintains that his wife was properly employed as his assistant, said this month he would maintain his bid for the presidency even if prosecutors open a formal investigation, contradicting an earlier pledge. The move may delay any potential order for Fillon to stand trial until after the election because of the complex procedures involved in probes by French investigative judges.
The latest opinion polls show Fillon would rank third in the first round of the presidential election slated April 23, a few percentage points behind National Front Candidate Marine Le Pen and independent candidate Emmanuel Macron. That means Fillon wouldn't qualify for the runoff between the first round's winner and his or her runner up.
Fillon, who was prime minister under Nicolas Sarkozy from 2007 to 2012, proposes to reduce the public workforce by 500,000 over five years as part of a plan to cut public spending by 100 billion euros, to roll back the 35-hour working week and loosen labor laws.
Before it's here, it's on the Bloomberg Terminal.
LEARN MORE