F-35 Partner Disputes Trump's Claim of Securing Big Savings
By
BAE Systems says cost reduction was in line with forecasts

Discount achieved through ramp-up of fighter jets, CEO says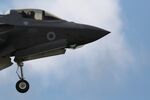 President Donald Trump's assertion that he is saving the Pentagon a fortune on its next generation fighter jet, the F-35, is being disputed again -- this time, by one of the partners in the program.
The lower price on the $8.2 billion contract is due to cost reductions achieved through a long-planned increase in production, BAE Systems Plc Chief Executive Officer Ian King told analysts after releasing the company's full-year earnings Thursday.
King's assessment came about three weeks after the ranking Democrat on the Senate Armed Services Committee said the $728 million in savings would have happened anyway, even as Trump said his personal intervention cut the burden on taxpayers. Savings on the order for 90 of the Lockheed Martin Corp. combat jets exceeded the $600 million that Trump initially said he had achieved.
"In terms of the projected prices, they were all to do with the ramp-up in rates and were well-advertised," King said on the conference call. "But if somebody wants to take credit for that finalization, negotiation, then they can take credit for that negotiation if they wish."
In an e-mailed statement Friday, BAE said King's comments were taken out of context.
Targeting Savings
"In response to a question, Mr. King confirmed that the F-35 partners continue to target cost reductions as production ramps up," the company said in the statement. "In subsequent public comments, Mr. King also confirmed that President Trump's intervention had acted as a catalyst to accelerate negotiations and agree significant price reductions over the previous contract and that remains our view."
Trump took on Lockheed in December, tweeting that costs on the military program, the Pentagon's most expensive, were "out of control." He then had a meeting with CEO Marillyn Hewson at his Florida estate and said publicly that he'd asked Boeing Co. for a competitor to the plane.
Read how Boeing's CEO listened in on a Trump call to the F-35 chief
Lockheed told Trump last month it was working on a deal with the Pentagon to lower costs "significantly" for the next production lot of fighters. When the pact was announced this month, White House Press Secretary Sean Spicer called it "another big win the president has delivered on for U.S. taxpayers."
Accelerated negotiations
The new contract is the 10th tranche in a $379 billion program. Lockheed has been circumspect about Trump's claims. It credited economies of scale and production efficiencies for the savings in the new pact, but also said in a statement that Trump's personal involvement "accelerated the negotiations and sharpened our focus on driving down the price."
At a White House meeting Thursday with manufacturing CEOs including Hewson, Trump said his Democratic presidential candidate Hillary Clinton would have been less effective. He also praised Hewson's negotiating skills.
"She's tough, but it worked out well I think for everybody," he said of Hewson. "And I think -- I have to say this, Marillyn, you've gotten a lot of credit because what you did was the right thing. So we appreciate it. She cut her price over $700 million, right? By over $700 million. Do you think Hillary would have asked for $700 million?"
'Taking Credit'
Defense Department officials and Lockheed had been negotiating for more than a year and "were very close on price prior to President Trump's involvement," Frank Kendall, the Pentagon's chief weapons buyer under President Barack Obama, said earlier this month. Senator Jack Reed, the ranking Democrat on the Armed Services Committee, told CNBC three weeks ago that the cost reductions "would have happened anyway."
"This is simply taking credit for what's been in the works for many months," Reed said.
BAE Chairman Roger Carr told Bloomberg TV last month that Trump was seeking a 10 percent discount on the price. Excluding the propulsion system, the London-based company has a 15 percent work-share on each plane, including construction of the fuselage, tail and wing parts.
The Pentagon's F-35 program manager, Lieutenant General Chris Bogdan, told a House panel last week that "I am in the throes of negotiating" the next order of 120 airplanes that's "going to be somewhere in the order of above $10 billion."
— With assistance by Anthony Capaccio
Before it's here, it's on the Bloomberg Terminal.
LEARN MORE