Trump Scraps Obama Bathroom Policy for Transgender Students
By
The issue is for Congress and states to decide, Sessions says

Republican Ros-Lehtinen calls it 'lamentable decision'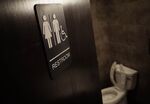 The Trump administration rescinded an Obama-era policy intended to protect transgender students in public schools from discrimination, handing a victory to social conservatives who have challenged the directive in more than a dozen states.
The Justice Department and Education Department announced Wednesday that they were withdrawing legal guidance issued last May directing schools to allow transgender students to use bathrooms consistent with their gender identity.
"The prior guidance documents did not contain sufficient legal analysis or explain how the interpretation was consistent with the language of Title IX," a federal law that forbids gender discrimination in schools, Attorney General Jeff Sessions said in a statement. "Congress, state legislatures, and local governments are in a position to adopt appropriate policies or laws addressing this issue."
The Obama administration weighed in on the issue after North Carolina passed a law requiring people to use public restrooms consistent with their gender at birth. Similar legislation has been proposed in 14 other states this year, according to the National Conference of State Legislatures.
The federal government has been blocked from enforcing the Obama-era guidance by a Texas federal judge's August 2016 temporary order, which remains in effect.
Supreme Court Case
The administration's new stance could scuttle an upcoming U.S. Supreme Court showdown over the rights of transgender students. The justices are scheduled to hear arguments March 28 on an appeal by a Virginia school board that wants to prevent a transgender high school boy from using bathrooms designated for males.
The Trump administration sent a letter to the court Wednesday evening alerting it to the decision to withdraw the guidance.
Read more: A QuickTake explainer on the transgender debate
The change was met with criticism by advocates for transgender people and by at least one Republican, Representative Ileana Ros-Lehtinen of Florida.
"This lamentable decision can lead to hostile treatment of transgender students and studies have shown that bullying and harassment can be detrimental to the emotional and physical well-being of teenagers," Ros-Lehtinen, whose son is transgender, said in a statement.
Eight civil-rights groups, including the NAACP Legal Defense and Educational Fund, the Human Rights Campaign and the American Civil Liberties Union, issued an unusual joint statement criticizing the Trump administration.
'Deeply Troubling'
"They have sent a deeply troubling message to students that the administration will not stand up for students' civil rights," the groups said. "We condemn the administration's decision, vow to fight to enforce Title IX, which continues to protect transgender students, and call on individual schools and districts to treat students consistent with their gender identity and consistent with the rescinded guidance that accurately explained the law."
Education Secretary Betsy DeVos released a statement separately from Sessions that vowed to preserve protections for lesbian, gay and transgender students.
"We have a responsibility to protect every student in America and ensure that they have the freedom to learn and thrive in a safe and trusted environment," DeVos said in the statement. "This is not merely a federal mandate, but a moral obligation no individual, school, district or state can abdicate.
"At my direction," she added, "the department's Office for Civil Rights remains committed to investigating all claims of discrimination, bullying and harassment against those who are most vulnerable in our schools."
President Donald Trump has sought to balance his insistence that he is a gay rights supporter against campaign appeals to social conservatives. By rescinding the Obama guidance, he has signaled he'll fashion social policy to meet the key demands of cultural conservatives, who have a prominent voice in Trump's administration in the form of Vice President Mike Pence.
'Big Price'
The North Carolina law escalated controversy over bathroom use to a national issue, stirring boycotts of the state by sports and entertainment figures. PayPal and Deutsche Bank were among companies that cited the bathroom restrictions in canceling plans to open or expand facilities in the state. The law likely factored into former North Carolina Governor Pat McCrory's defeat for re-election, despite Trump winning the state.
"North Carolina did something that was very strong and they're paying a big price. There's a lot of problems," Trump told NBC's "Today" in April. 
Weeks later, after facing backlash from social conservatives, he vowed in an interview with the Washington Post to rescind the Obama administration's actions guarding against transgender discrimination in schools and health care, but also said that government must act "to protect all people." Transgender people should be protected by the law, he said, and states would "make the right decision."
"The president has maintained for a long time that this is a states' rights issue and not one for the federal government," White House press secretary Sean Spicer said Tuesday.
Civil Rights
An estimated 150,000 people in the U.S. between the ages of 13 and 17 — 0.7 percent of the population in that age range — identify as transgender, according to the UCLA School of Law's Williams Institute.
In the case the Supreme Court is now considering, a federal appeals court sided with the transgender boy, Gavin Grimm, and said it would defer to the Education Department interpretation of Title IX that the Trump administration is now rescinding. The department read the implementing regulations for Title IX, a 1972 federal civil rights law, as requiring schools to treat students in accordance with their gender identity. Title IX bars discrimination in schools on the basis of sex but doesn't specify how that requirement applies to transgender people.
The Supreme Court could now return the case to the appeals court to directly consider what the Title IX regulations require. Both Grimm's lawyers and the Gloucester County school board, however, say they want the high court to decide that question itself, rather than sending the case back to the appeals court level.
— With assistance by Greg Stohr
Before it's here, it's on the Bloomberg Terminal.
LEARN MORE