Trump Deportation Plan Dominates Mexico Trip by Kelly, Tillerson
By and
Kelly says no 'military operation' needed to enforce plan

Tillerson, Kelly to meet President Pena Nieto later Thursday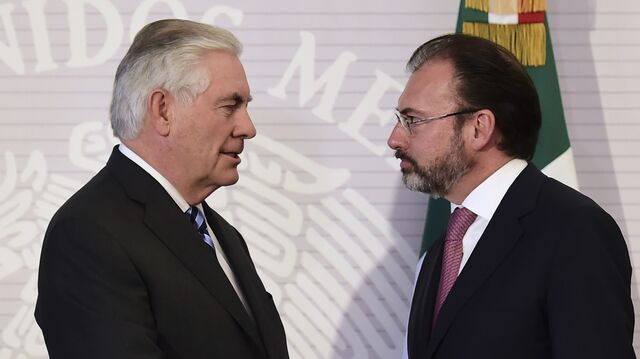 A pair of Donald Trump's top Cabinet officials vowed a cooperative approach with Mexico toward expelling potentially millions of undocumented migrants, hours after the U.S. president said a "military operation" was needed to enforce his immigration policies.
Secretary of State Rex Tillerson and Homeland Security Secretary John Kelly wanted to focus on a range of bilateral issues, including trade, in a meeting with their Mexican counterparts. But immigration concerns dominated their public remarks Thursday, with Kelly appearing to directly rebut Trump's description of his deportation policy.
"No, repeat, no use of military force in immigration operations, none," Kelly, a retired four-star general, told reporters in Mexico City.
That statement came only hours after Trump, ahead of a morning meeting at the White House, described his deportation policy as "a military operation, because what has been allowed to come into our country, when you see gang violence that you've read about like never before, and all of the things -- much of that is people that are here illegally."
White House spokesman Sean Spicer further clarified the president's statement in a briefing, saying that Trump was "using 'military operation' as an adjective'" to mean the policy is being carried out "with precision."
Non-Mexican Deportees
Kelly, whose department oversees the agencies responsible for border security and immigration, also vowed that there would be no "mass deportation" from the U.S. But neither he nor Tillerson publicly addressed one of Mexico's key objections: a plan to send non-Mexican deportees who arrived via the southern border back into Mexico.
"We shared our concerns about foreigners being deported to Mexico," Mexican Interior Minister Miguel Angel Osorio Chong said. Foreign Minister Luis Videgaray said he "told the U.S. that immigration policy can't be unilateral."
Videgaray added that he had expressed concerns about the rights of Mexicans living in the U.S. President Enrique Pena Nieto has vowed to use Mexico's network of consulates and embassies in the U.S. to provide legal support to Mexican citizens fighting deportation.
Tillerson emphasized his personal history as a Texan as a bridge between the two countries and said he recognized "the existing U.S.-Mexican cooperation to curtail irregular migration." Much of that migration now comes from citizens of Central American nations who transit through Mexico on their way to the U.S.
Bulk Cash
Tillerson also said the U.S. would work to stop "the illegal firearms and bulk cash that is originating in the United States and flowing into Mexico. There's no mistaking that the rule of law matters along both sides of our border."
The joint visit comes as relations between the countries are increasingly under strain over not only Trump's immigration policies but the still-undefined plans to renegotiate the North American Free Trade Agreement. In January, Pena Nieto canceled a trip to the White House after Trump insisted that he shouldn't come unless Mexico was ready to pay for a wall on the border to keep out undocumented immigrants.
Trump's deportation plan, outlined in a memo from the Department of Homeland Security this week, is the latest flare up in an increasingly tense relationship between the two countries that dates back to Trump's 2015 announcement that he would run for president, during which he called some Mexican immigrants rapists.
Trump acknowledged Thursday that Tillerson was going to be on a "tough trip," but said "we are going to have a good relationship with Mexico, I hope. And if we don't, we don't."
Tillerson and Kelly met Wednesday evening with officials from Mexico's defense ministry and navy, as well as U.S. Ambassador Roberta Jacobson. They're scheduled to meet with Pena Nieto and staff at the U.S. embassy later on Thursday.
Before it's here, it's on the Bloomberg Terminal.
LEARN MORE