Safran Defends $10.2 Billion Bid for Zodiac From TCI Attack
By and
Buying French seat-maker won't jeopardize finances: chairman

McInnes rejects 'short-term logic of milking the business'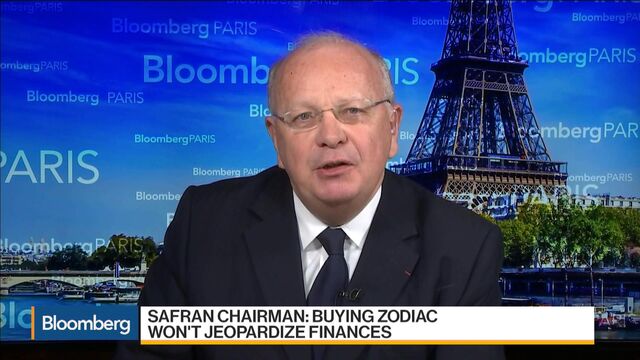 Safran SA Chairman Ross McInnes shot back at a public campaign by The Children's Investment Fund to block its 9.6 billion-euro ($10.2 billion) purchase of Zodiac Aerospace, saying the proposed deal is financially sound and consistent with the plane-engine manufacturer's strategy in aerospace.
In a six-page letter, McInnes attacked assertions that Zodiac holders would receive inequitable treatment as "baseless." The document, issued Thursday after a Safran board meeting, is a response to a filing 10 days ago by the hedge fund, run by Christopher Hohn, asking French market regulator AMF to require a vote by Safran shareholders on the purchase. TCI also wrote directly to McInnes, arguing that the deal favored Zodiac's controlling family and core shareholders to let them avoid taxes by doing a stock swap.
TCI's statements contain "some rather emphatic terms, and the publicity you have chosen to give these letters is regrettable and possibly harmful to the company of which you are a shareholder," McInnes said. A resolution opposing the merger at the annual meeting on June 15 would be "meaningless."
Safran is offering to pay 29.47 euros a share in cash for Zodiac in a tender offer that requires acceptance from investors holding 50 percent of the stock. After that, the remaining shares would be purchased in a stock swap. The combination would involve an exchange ratio of 0.485 Safran share for each Zodiac share. Safran would also pay a 5.50 euro-a-share special dividend to its shareholders before the deal closes.
Terms Dispute
Zodiac's founding families and two investment funds, who together own a 32 percent stake, agreed to accept Safran stock and hold it for at least two years, allowing them to avoid capital-gains taxes until they sell. If too many other investors opt for stock instead of cash, Safran runs the risk of the deal collapsing because not enough stock is tendered in the cash offer, effectively pressuring other Zodiac holders to accept cash, according to TCI.
In Hohn's letter to McInnes, the fund manager said it was "disgraceful that you and the rest of the Safran board have agreed to such an abusive and unfair deal structure simply to facilitate the blatant tax avoidance strategy of the Zodiac family billionaires."
McInnes dismissed an argument by TCI, which owns about 4 percent of Safran's stock, that the engine maker would do better to spend proceeds from the sale of its security business on a 3 billion-euro share buyback. The Zodiac offer price of 13 times current operating income is consistent with comparable transactions announced in recent years, McInnes said.
"We won't accept short-term logic of milking the business," the chairman said Friday in an interview on Bloomberg Television after Paris-based Safran announced 5.4 percent higher earnings for 2016 and a 10 percent increase in its dividend.
'Big If'
TCI disputes McInnes's bid price-earnings ratio calculation as it's based on a "big if" for performance, said Jonathan Amouyal, a partner at the fund who estimated the multiple at more than 40.
"We are sticking to fact," while McInnes "is sticking to opinions," Amouyal said Friday in a phone interview. "He hasn't done any due diligence on" assumptions for earnings, "and he has no certainty." Amouyal reiterated that Safran should put the deal to a shareholder vote.
Shares of Safran fell 0.6 percent to 65.57 euros as of 12:15 p.m. in Paris. Zodiac was 0.8 percent higher at 27.45 euros.
Safran has the skills required to help Zodiac, one of the two biggest airliner-seat providers worldwide, McInnes said. Zodiac is about to receive its largest-ever contracts for economy and business class seats, based on recent letters of intent from customers, he said. Rather than accede to TCI's push in 2012 to sell a stake in payment-services business Ingenico, Safran chose to wait, and made 400 million euros more than it would have following the hedge fund's advice, McInnes said.
"We're good at acquiring, we're good at integrating and, when we do decide for strategic reasons to sell, I think we sell well," he said in the Bloomberg TV interview with Anna Edwards. "I would argue that the Safran board and management are good stewards of shareholders' capital," McInnes said. "And that record shows it."
Zodiac's Lineup
Zodiac has strong market share and good financial performance, and 39 percent of its revenue comes from businesses outside seating, particularly the aerosystems division, which has a significant position in electrical systems, "something we're keen to grow," McInnes said in an interview.
"This would undoubtedly be determinant to Safran's outlook and value," McInnes wrote. "You will have noticed that none of our major competitors have adopted such a 'one horse bet' as such a strategy."
Safran posted 15.8 billion euros in revenue for 2016, with 9.4 billion euros coming from its propulsion business, which makes aircraft engines and rockets, another 5.15 billion euros from equipment including brakes and landing gear and 1.24 billion euros from defense.
Energy and savings potential amount to 200 million euros pretax profit a year, half of which would be achieved over the first year after a takeover and 90 percent after two years, he said.
Before it's here, it's on the Bloomberg Terminal.
LEARN MORE