Glencore Completes Turnaround as Profit Soars on Trading
By
Shares doubled in the past year as market regained confidence

Glencore has returned to M&A with recent Congo, Rosneft deals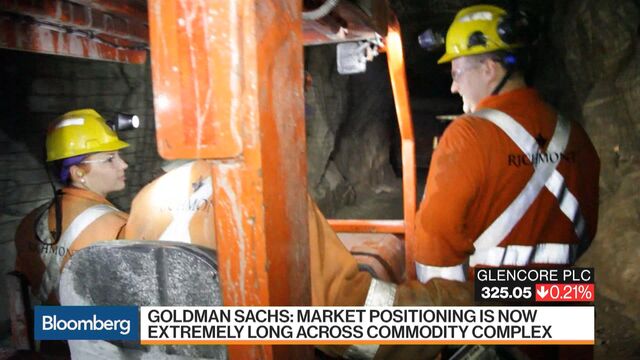 Glencore Plc signaled the end of a business turnaround with annual profit rising 48 percent on higher commodity prices and strong trading results.
The commodity trader and miner headed by billionaire Ivan Glasenberg reported earnings that topped analysts estimates and delivered the best trading results since the commodities supercycle peak in 2008. Glencore also said it may consider paying a special dividend this year.
The 60-year-old Glasenberg has turned around the business from a 2015 crisis, when investors dumped shares on concern debt was too high to weather a prolonged downturn in commodities. A little over a year later, debt levels have been cut in half thanks to asset sales, cost cuts and rebounding metals prices.
"Glencore delivered an impressive 2016 earnings result beating on earnings, Ebitda and net debt, which is a standout against peers, and likely to set the company up for a strong 2017," Heath Jansen, a mining analyst at Citigroup Inc., said in a note to clients. 
The shares added 0.6 percent to 327.80 pence as of 8:03 a.m. in London.

Adjusted profit rose 48 percent last year to $1.99 billion, the Baar, Switzerland-based company said. That compares with an average analyst estimate of $1.59 billion.
"The plan of action we initiated in September 2015 to sensibly bring down our financial leverage and strengthen our balance sheet is now complete," Glasenberg said in a statement.
Glencore's trading unit, which deals in almost 100 raw materials, performed "extremely well," the CEO said on a conference call after the results. The strong trading results could reassure investors that Glasenberg and his team have a better read of the market, after the company struggled in 2015 and the South African CEO admitted he could not interpret what was happening in China, the world's largest consumer of natural resources.
Glasenberg opened the door for a special dividend this year, saying the "time is right" to reward shareholders after two difficult years. That's on top of plans to pay almost $1 billion in 2017, with dividends of 3.5 cents a share due in May and September.
He added the company was in wait-and-see mode for further acquisitions, after recent deals to increase copper production in the Democratic Republic of Congo and oil trading in Russia.
Glencore was successful in bringing down its debt levels last year, a major concern for investors during the commodities crisis, through asset sales and higher earnings. Net debt declined 40 percent in 2016 to $15.5 billion, below the company's previous target.
Other 2016 financial highlights include:
Trading division profit outlook increased to $2.2 billion to $2.5 billion for 2017
Industrial division Ebit rose to $1.1 billion, compared with a $292 million loss in 2015
Trading division Ebit rose to $2.82 billion, up from $2.46 billion in 2015
Peter Grauer, the chairman of Bloomberg LP, is a senior independent non-executive director at Glencore.