Le Pen Praises U.K.'s May, Saying She Supports Same Policies
Svenja O'Donnell and Helene Fouquet
French anti-immigration leader says policies are identical

U.K. government has policy not to engage with National Front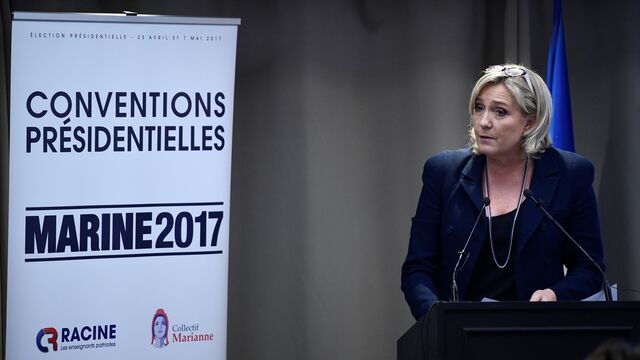 Marine Le Pen, who wants to take France out of the euro, wants you to believe she's just like Prime Minister Theresa May, who is taking Britain out of the European Union.
"She's running the U.K. using policies that I want to run" Le Pen said in an interview on TF1 television late Wednesday.
Being flattered by France's far-right leader for her "drastic limitation" of immigration and "smart protectionism" will sit uncomfortably with May, an advocate of free trade who was criticized at home for not being quick enough to condemn President Donald Trump's travel ban on mostly Muslim nations.
On Tuesday, her spokesman said that as a rule the U.K. government didn't engage with the anti-immigration National Front led by Le Pen. 
The question arose after May met with Le Pen's centrist rival for the French presidency, Emmanuel Macron. The snub didn't stop the anti-euro candidate from saying May's policies were straight out of her playbook. Le Pen said that the decision by Britons to leave the EU "has allowed the currency to return to a level that has helped exports explode."
How Do You Know a Populist When You See One?: QuickTake Q&A
"All the lights are green in the U.K. and all those who predicted apocalypse got it wrong," she said, adding that the unemployment rate has dropped since the Brexit vote and that growth has held up.
So far, the data has done little to contradict her. Net migration to the U.K. fell to its lowest in more than two years, official figures showed. And while inflation has started to accelerate, economic growth has so far held up, boosted by net trade and consumer spending.
That rosy economic future is what French voters can also look forward to, she said. Except in Britain the reality could be quite different in the long run, with May already battling with the fact that the pounds's drop since the referendum has made U.K. companies vulnerable to hostile bids.
Le Pen has made the end of the single currency and the return to a national currency, a cornerstone of her campaign. While she is the frontrunner in first-round opinion polls, no survey sees her going all the way to winning in the second round on May 7. Polls say she would lose to either Republican candidate Fracois Fillon or Macron, the candidate May did meet with in London.
Le Pen, running a populist campaign seeking to overturn France's elite, is no stranger to controversy. On Tuesday, she drew headlines on a trip to Lebanon over her refusal to wear a headscarf for a meeting with the country's highest Sunni authority and promising to restore ties with Syrian President Bashar al-Assad if elected.
As for May, Le Pen thinks she lacks foresight in who she chooses not to meet with.
"May made already a mistake because she didn't want to meet" with Trump before his election, Le Pen said. "Maybe she doesn't have the flair to grasp what's happening in the countries facing elections."
— With assistance by Mark Deen
Before it's here, it's on the Bloomberg Terminal.
LEARN MORE