business
ECB Warns of a Europe of `Small Countries' If Populism Triumphs
By and
Re-taking national control in globalized world is "illusion"

Germany's Weidmann expects debate on free trade at G-20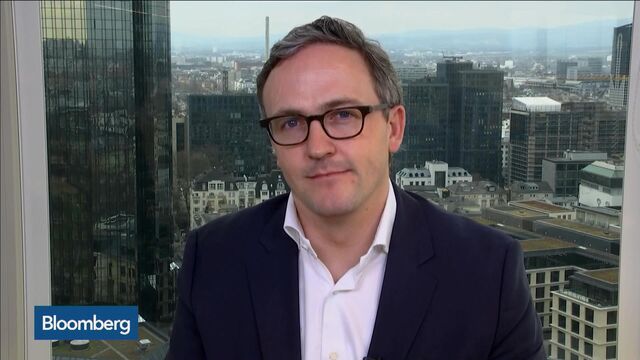 European Central Bank officials pushed back against a key populist promise, saying European countries risk becoming irrelevant on the global stage if they put national sovereignty above joint institutions.
"It's kind of dishonest to say 'I can regain control.' It's an interconnected world and small countries know that," ECB Executive Board member Peter Praet said in a speech in London, channeling one of the catchphrases of pro-Brexit campaigners. The point was echoed by Governing Council member Francois Villeroy de Galhau, who in an interview said no European country "taken separately" would have as much weight with the U.S. and China.

The warnings precede a season of elections where nationalist parties promising to claw back power from Brussels are likely to make inroads. They aspire to ride the same wave of international disillusionment against globalization, free trade and multilateralism that fueled the U.K.'s vote to leave the European Union and President Donald Trump's election in the U.S.
For the ECB, such promises could damage the economy, rather than restore prosperity.
"Regaining control as a nation state in a multilateral environment is extremely complicated. It's an illusion," Praet said at an event in London. He added that he's optimistic over Brexit talks but "things can turn nasty very quickly."
Very Nasty
U.K. Prime Minister Theresa May intends to initiate formal talks by the end of March on leaving the EU, with the aim of making good on the Leave campaign's promise to "take back control" of immigration and government budgets. In France, Marine Le Pen has promised to renegotiate the country's membership of the EU and leave the euro if she is elected president in April.
Villeroy de Galhau, the Bank of France governor, has often warned that an exit from the euro would push up the cost of France's debt and harm competitiveness.
He restated the point in an interview with L'Usine Nouvelle magazine, adding that France's role globally would be diminished after such a move.
"When the ECB president speaks at the G-20, the whole world listens to Europe carefully," he said. "We need the asset of European sovereignty."
The theme will almost certainly crop up at the next meeting of Group of 20 finance ministers and central bankers on March 17-18 in Baden Baden, Germany, where U.S. Treasury Secretary Steven Mnuchin will likely make his first international appearance. European countries are likely to seek reassurances that the U.S. still broadly stands by a global order marked by free trade, floating currencies and stability-oriented rules for banks.
Zero Sum
"The Bundesbank will reiterate its backing for open markets -- and fair trade -- at the forthcoming G20 meetings," said President Jens Weidmann, who is also a Governing Council member. "International trade is most certainly not a zero-sum game in which one country wins at the expense of another."
While admitting that for many, especially low-skilled workers, the advantages of globalization are "are drifting ever further out of focus," he said that "protectionism and insularity" wouldn't be a solution. The response is to enable citizens to better participate in the rewards of globalization through education and job-retraining.
For Europe's "small countries" that aim to regain sovereignty, the risk is facing a globalized market on their own.
The EU and the single market are "a democratic way to reap the benefits of economic integration while still protecting consumers and workers," said Praet. "A more widespread reversal of European economic integration would durably jeopardize economic prosperity."
— With assistance by Carolynn Look, and Brian Swint
Before it's here, it's on the Bloomberg Terminal.
LEARN MORE